Why the Best Way to See Iceland Is by Horse
The country's landscape is surreal and one-of-a-kind—so is a ride on the Icelandic equine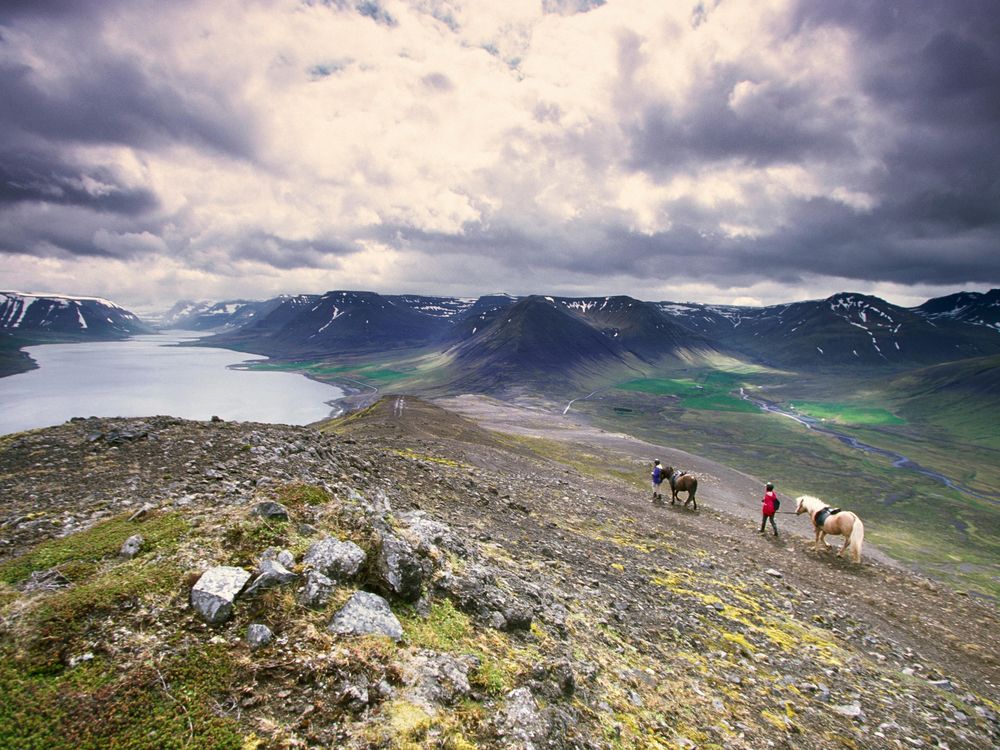 Iceland's landscapes can look post-apocalyptic: endless black volcanic sand, and nothing else visible for miles but tall power lines. There are spots with lunar-like craters—then, suddenly, a wild covering of bright-green moss. Moss and more moss, until you come to another new terrain: golden vegetation. Next, a boiling geyser, followed by waterfalls, frigid glaciers, lagoons filled with crackling ice. It's this often-surreal mix of scenery, of hot and cold and lush and open, than can make Iceland seem otherworldly, and make those who've been there sound perhaps a little loopy when describing it. But it's just that magical a place—and riding one of the country's horses unlocks even more of it.
María Tinna Árnadóttir is a stable supervisor at the Icelandic horse tour company Íshestar, based in Hafnarfjörður in the country's southeast. "In the highlands," she notes, "there are so many places you can't walk, but you can go by horse." The highlands are part of Iceland's interior, and were once almost inaccessible due to rough terrain and huge glaciers. (Outlaws would occasional brave the cold, harsh environment to hide there.) But as roads were built starting in the 1970s, the highlands—with its deserts, volcanoes and ice caps, which are part of what makes Iceland known as "the land of fire and ice"—began to open up. While it's possible to traverse many parts of the highlands by walking or by 4x4 vehicle, the most breathtaking, remote parts are inaccessible without an equine transport, since the land is too rocky.
The country's equines are a distinct breed with a unique history. As Árnadóttir explained, all of the horses in Iceland are bred from stock the Vikings are said to have brought over 900 years ago from Ireland and northern Europe, and legend has it that because their ships had limited space, they took only the best animals.
All horses have what are called natural gaits—inherent patterns of walking they don't have to be taught. But whereas other breeds share a few natural gaits—including the walk, the trot and the gallop—Icelandic horses use a gait, known as the tölt, that no other breed on the planet does. While their hooves hit the ground in the same sequence as the walk, the movement is faster, yet still smooth. And unlike some gaits, one of the horse's hooves always touches the ground. As the United States Icelandic Horse Congress writes, although horses using the tölt can reach speeds similar to fast trotting, the experience is much less jolting to the rider. Since it's so fluid, newbie riders can take an Icelandic horse through the country's wilds without worrying about a bumpy ride. "You are never bouncing in the saddle—it's more just like gliding," Árnadóttir says.
Here are five stunning locations in Iceland that are best experienced on horseback: