Why Do You Travel?
What is it we look for over mountains and across oceans? Answer our survey and we'll publish responses in the May issue of Smithsonian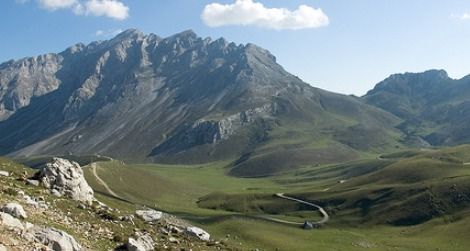 Many years ago, my dad, living in the French Alps with my mom and us kids for a year, asked his own dad if he and my grandmother would come and visit us. My grandfather, who lived in Redding, California, a semi-rural city in the southern Cascades, answered, "Why would I go to France? There are still places in Shasta County I haven't ever seen." He was only half serious—but truly, he wasn't a committed traveler. Like many others of his breed, he was content simply to stand in his own boots, anywhere.
But others of us can't quit moving. Why? What is it we look for over mountains and across oceans? Why isn't a cozy fire in the living room enough? What do we find, or hope to find, in distant locations that can't be found at home, whether we live in New York City, in Anchorage, in Austin, or in the scrubby hills of Shasta County? To have a look into the heads and hearts of other travelers, we're asking readers a few questions about  traveling. The eight-question survey can be accessed here. In answering them, we hope you learn as much about yourself as we do about you. We plan to publish some responses in the May issue of Smithsonian magazine.
Here is a sampling of our questions, and a few of my own replies to get us started:
What historical time and place would you most like to visit in a time machine?
It would be very tempting to book a dinosaur safari somewhere in Pangaea, but I think the most emotionally stirring experience would be to stay right where I am, in San Francisco, and flash back 600 years, well before any Europeans had even glanced at the California coast. I would stalk through the sand dunes of my future hometown, identifying the hills that today I ride my bicycle up, the ponds in Golden Gate Park I walk my dog around, the oak forests of which today only a few trees remain and other features of geography now covered by asphalt. I would tread carefully, for there would be grizzly bears roaming this prenatal San Francisco. I'd go in mid-August, and on those long summer days I'd walk the shoreline of the virgin Bay and the Pacific Coast, especially at low tide, when the riches of the ocean, like clams and scallops and abalone, lie exposed to sight. And I expect that from the shore of modern-day Fort Point, under the modern-day Golden Gate Bridge, I would see salmon—huge, silvery Chinooks—splashing their way by the thousands into the largest estuary on the West Coast. And perhaps I would try to explain to the indigenous people I meet on the bank that someday these wonderful fish would almost all be gone. And could I bring with me in the time machine some basic cold-water snorkeling gear? Because the life to be found in our local kelp beds is awesome in 2012, but just imagine in the pre-Colombian era! The lingcod as big as railroad ties, the clouds of rockfish, the halibut stacked in the sand—and the great white sharks. And could I bring a beer in the time machine, too? No—not to drink just yet. Instead, I would hike up Twin Peaks and dig a hole deep in the sand and rock, and bury an Anchor Brewing Company "Old Foghorn" barleywine. Then, after a long look around at the wild, almost people-less San Francisco, I'd snap my fingers and go back to the future. And go find that well aged beer.
What animal would you most like to see in the wild?
A big cat, for sure—but which one? A tiger or a leopard would be a world-class thrill, but these creatures are seen almost strictly by paying tourists on guided safaris, which in parts of Africa and Asia are the only allowed means of enjoying the back country. So, I'd stay in the New World and venture somewhere into mountain lion country. It could be Idaho, Argentina or, heck, Shasta County. A symbol of the American wilderness, this animal—called puma, cougar and a barrage of other common names—is so elusive that no tourist service could ever come close to guaranteeing clients the sight of one, yet common enough that hikers, on their own and without a guide leading the way, may encounter one if they look hard enough, long enough and far enough. Veteran hikers know that it can take years to cross paths with a mountain lion. And if that lucky moment should ever arrive, I must savor it, envying the puma's stealth, strength and beauty before it vanishes, probably forever, back into the woods.
What world festival would you most like to attend?
Wild mushroom festivals, beer festivals and salmon festivals come to mind, but I think I would enjoy none more than the World Durian Festival, in Chanthaburi, Thailand. Based in the world's center of durian orchards and culinary appreciation, this festival lasts more than a week during the height of the durian harvest season, when the market stalls and street vendors are laden with heaps of this large, spiny and notoriously fragrant fruit. Certainly, there are people who would be unable to bear the potent potpourri produced by mountains of durians. You people might go to the annual August watermelon festival in Salmanovo, Bulgaria. But for others of us who are overcome with desire when that durian smell wafts our way, Chanthaburi in May must be paradise. The festival also features other local jungle fruits, street food, crafts and jewelers—and if, after a week of feasting on creamy durian, you still want more, linger on, because in Southeast Asia fresh durians can be found all year.
What travel destination is most overrated?
Beaches are so overrated. I can't help but frown when I see yet another listing of the "world's best beaches." This almost invariably means crowds of people, colorful umbrellas, resorts, loud club music all day long and lots of sand—and every time a beach makes a list, still more people will go there that summer. For me? No beach, please—just a rocky shoreline of barnacles, kelp and tide pools.
Let us know your responses to these and other questions about travel