Where Dinosaurs Walked: Eight of the Best Places to See Prehistoric Footprints
Step in the footprints of giants on "dinosaur highways"
The dinosaur scanned the rocky ground and scrubby trees around for something to eat. Standing about 15 feet tall and 20 feet long from nose to tail, the powerful Jurassic-age creature was a predator on the prowl. If no meat could be found, the giant beast had other options—a plentiful cafeteria in the form of a valley dotted with trees, shrubs, ferns and mosses.
200 million years later, this dinosaur's footprints and those of others scamper across rocks throughout the Connecticut River Valley in western New England. Some have been exposed by road and construction crews. Others, like those at Dinosaur Footprints Reservation in Holyoke, Massachusetts, are in plain sight along the shoreline, made visible after the valley was formed by a glacier about 16,000 years ago. The reservation is one of several places around the world where you can walk in the footsteps of giants.
Ichnology—the formal study of dinosaur tracks—began here in 1836 when Amherst College geology professor Edward Hitchcock found tracks from what he thought were "gregarious" birds in a quarry. He went on to collect almost 2,000 dinosaur tracks, many of which are still on campus in the Beneski Museum of Natural History. The biggest one is 20 inches long and 14 inches wide—more than twice the size of a woman's hand.
"We don't know what kind of dinosaur made the print because we don't have the bones," Alfred J. Venne, the museum's educator, tells Smithsonian.com. "So we look for similar tracks and for ones that would have been close to where we are now." So far, dilophosaurus, coelophysis, and similar tracks found in England are the strongest contenders.
The tracks have more to tell, says Venne: For example, they can show a dinosaur's speed. "The stride is longer if the animal is going faster," Venne notes, adding that scientists have compared the tracks to those of birds (dinosaurs' closest living relatives).
About 10 miles west of Amherst, quarry owner Kornell Nash continues to unearth dinosaur footprints on the property his father, Carlton, bought in 1939. After cutting out a slice of shale, he separates it with a simple kitchen knife to reveal two prints. One half, he explains, is "negative," where the dinosaur's foot sank into the mud. It served as a mold for a "positive" print made of layers of dirt that piled up over time. Examples of both are on display and for sale in Nash's museum near the quarry.
But Massachusetts isn't the only place to visit—and even walk in—the footsteps of giants. Here are other dinosaur highways to visit:
Isle of Skye, Scotland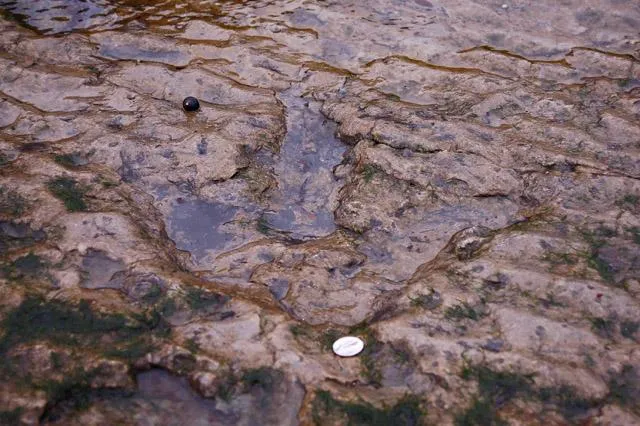 Skye touts itself as Scotland's "Dinosaur Island," and with good reason—on Staffin Beach on the east coast at low tide, you can see prints left by small dinosaurs about 165 million years ago. If you miss them, the small Staffin Museum has casts of the prints, along with dinosaur bones and other fossils.)
Farther south on the Straithard peninsula is the Valtos sandstone formation. Two tracks here show traces of a small theropod.
Cal Orcko, Bolivia
Millions of years ago, a baby T. rex scampered in the muck near a lake in what is now Bolivia. His footprints and some 5,000 others, went vertical over time when plates deep beneath the surface crashed together, thrusting the ancient stomping grounds skyward. Today, the tracks weave across a 300-foot-high limestone wall that's one of the star attractions of the Cretaceous Museum. Look closely for a trail of small footprints flanked by larger ones; some scientists believe these were made by two adult dinosaurs protecting a baby between them.    
Talmont-Saint-Hilaire, France
Hundreds of Jurassic-era three-toed dinosaur prints surface at low tide at this beach on France's Atlantic coast. Paleontologists have been studying the tracks since 1965 and estimate that they were left by a dozen different species. It's best to go during the spring equinox, observers say, when there's less marine flora covering the tracks.
Gantheaume Point, Australia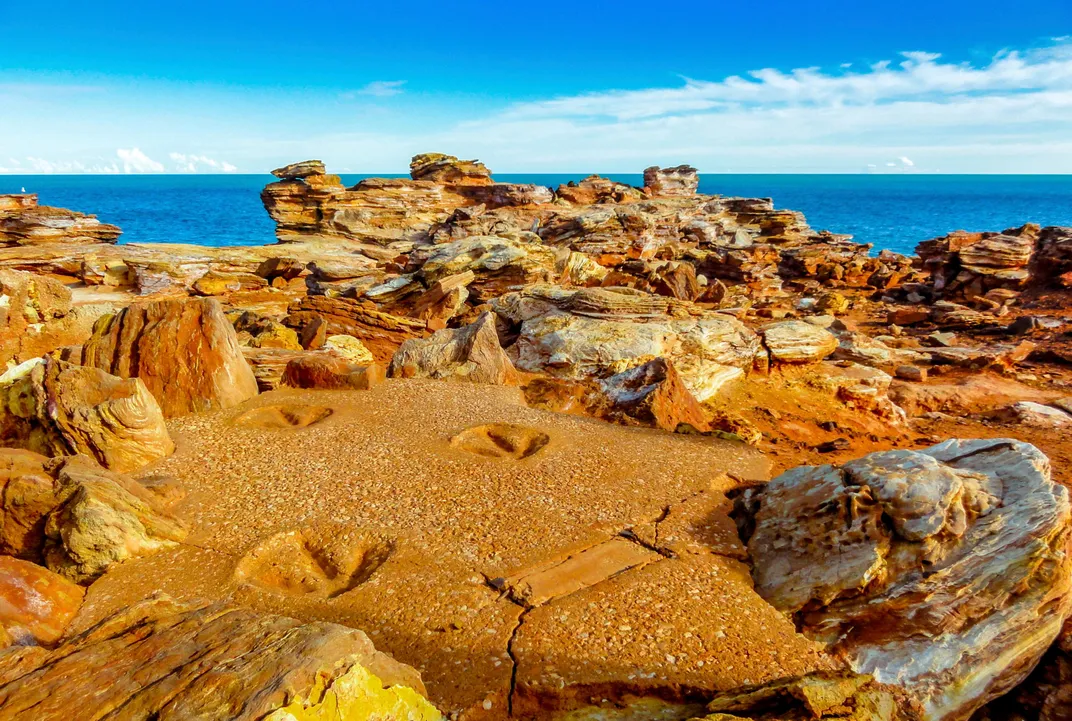 Hit the beach at this northwestern corner of Australia at low tide so you can see the tracks in the rocks. Long known to Aboriginal people, the tracks became the focus of studies in the 1940s. Scientists had to time their observations carefully—the dramatic tides here meant that some of the best tracks surfaced only for an hour or so. Today, some tourists see them aboard hovercrafts.
La Rioja, Spain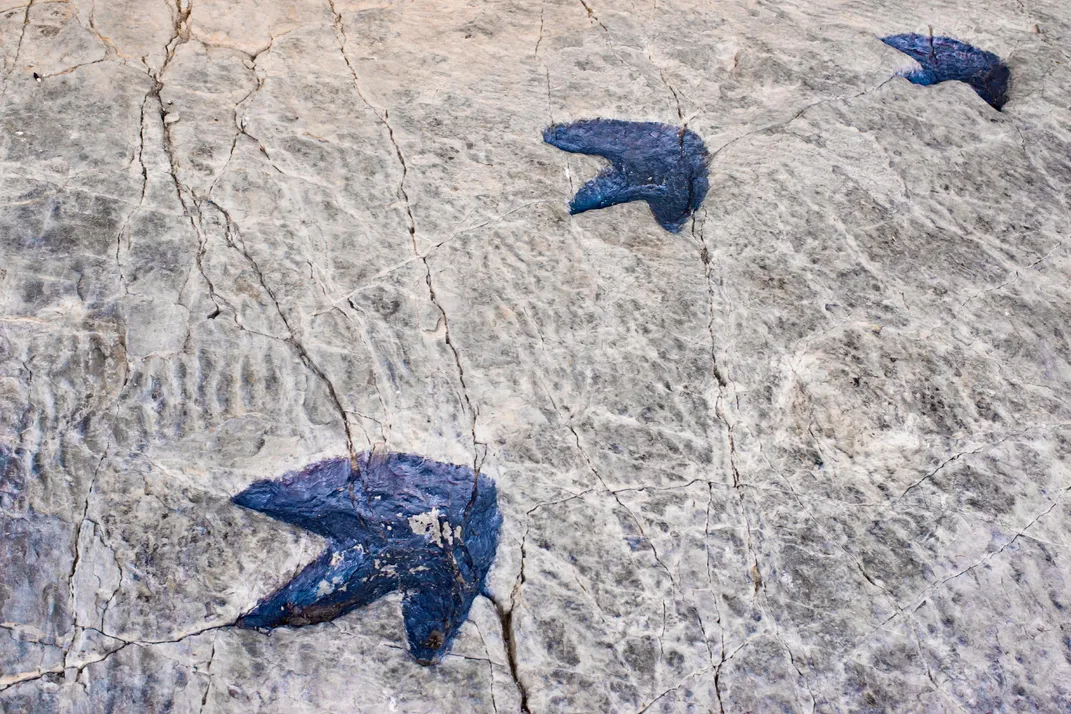 Dinosaur track hunters can easily spend an entire weekend hunting their footsteps in this region of north-central Spain that has been called the country's "Jurassic Park". First stop: Era del Peladillo, a hillside that boasts a mother lode of almost 2,000 tracks, many of which are outlined in white to heighten visibility in the gray rock. Next, head northwest to the countryside near the village of Enciso, where life-sized models of dinosaurs stand guard over ancient tracks. And if the weather isn't great for tracking, go to the La Rioja Paleontological Centre, a small museum devoted to the region's ancient history.
Dinosaur Ridge, Morrison, Colorado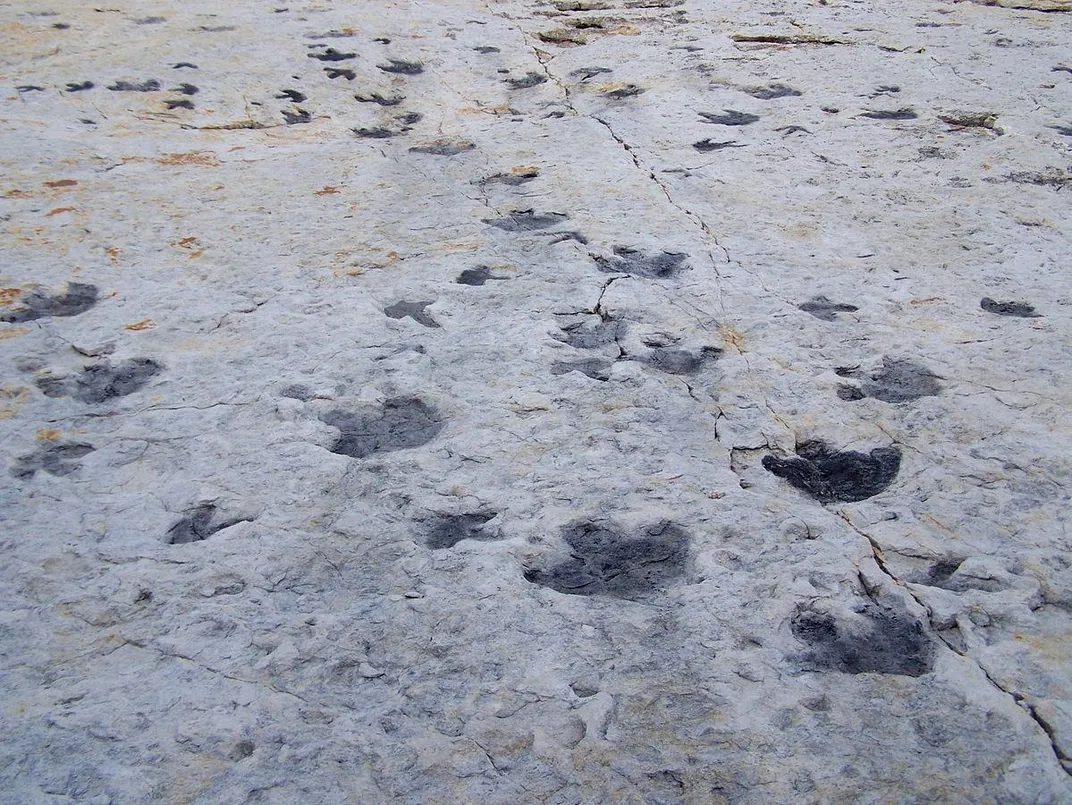 More than 300 tracks of ornithopod ("bird-footed") and theropod ("beast-footed") dinosaurs course through this park west of Denver. The creatures roamed here 100 million years ago when this part of the world was a beach along the shores of a vast ocean. They're visible from various spots along a two-mile hike through the grounds. Don't miss a visit to the park's Bone Quarry, where you can see and touch the smooth dark brown bones of dinosaurs that poke through layers of rock.