Just 50 Miles From Niagara Falls Lies the True Waterfall Capital of the World
Niagara Falls has nothing on Hamilton, a Canadian city with more than 150 waterfalls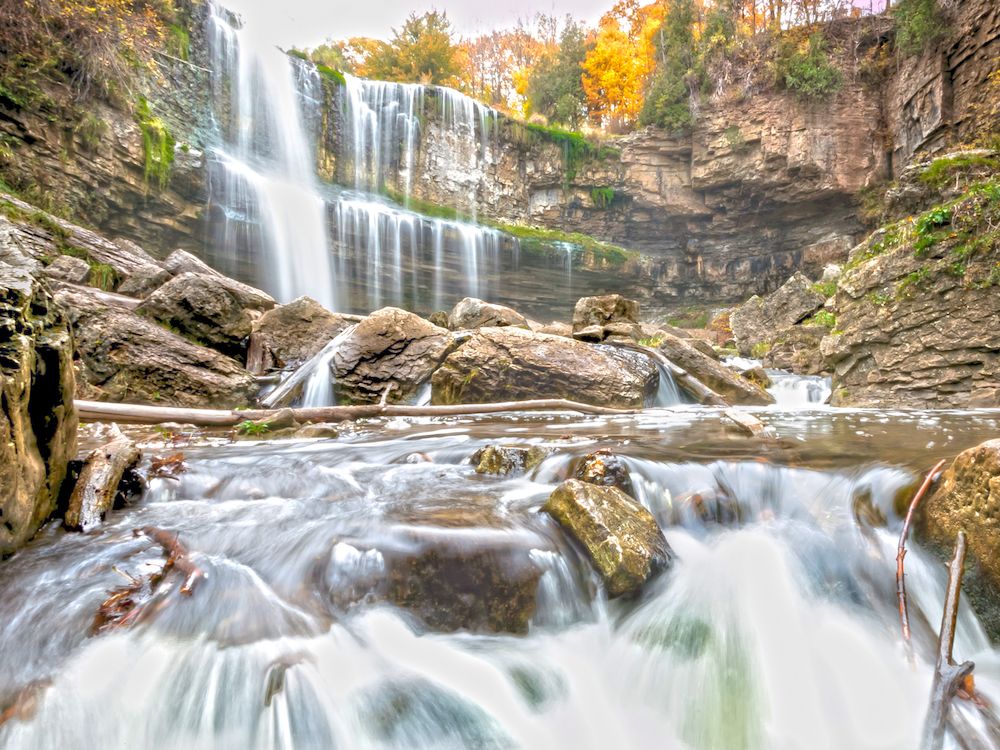 When it comes to North American waterfalls, the first one that comes to people's minds is usually the mighty Niagara Falls on the American-Canadian border. But located just 50 miles to the west sits an equally impressive waterfall destination that often gets overlooked: Hamilton.
Promoted as the "City of Waterfalls," Hamilton, Ontario, Canada, located on the banks of Lake Ontario, is home to 156 waterfalls within the city limits, the most to be counted and recorded to date by any individual city in the world. And while no single waterfall comes close to the sheer size of Niagara Falls, which stands at approximately 167 feet in height and sees six million cubic feet of water cascade over its crestline each minute, the collection of waterfalls makes up for it in sheer quantity and variety.
Hamilton's abundance of falls is thanks to its placement along the Niagara Escarpment, an arc-shaped ridge that stretches across the Great Lakes region from Wisconsin to New York, the result of years of erosion along a fault line. Due to its shape and location, it's often called North America's "back bone." 
Until recently, Hamilton's abundance of waterfalls was relatively unknown, even to the city's half-million residents. But that all changed in 2008 when Chris Ecklund, a Hamilton native, founded the City of Waterfalls, a non-profit initiative aimed at promoting the city's cascades. Up until then locals frequented some of the city's larger falls, visiting them on the weekends as swimming holes and picnic sites, but no one knew for sure the extent of liquid assets Hamilton held.
"No one knew how many waterfalls the city actually had," Jay Poel, lead volunteer for the City of Waterfalls, tells Smithsonian.com. "So a group of us got together from different local organizations and sent people out to literally walk every stream in the area in search of falls."
"For the longest time, Hamilton was known as the 'armpit of Ontario' because of the manufacturing industry located here," Poel says. "The City of Waterfalls is trying to change that thinking."
And so far it's working. The City of Waterfalls compiles a running tally of local falls on its website, which include things like access points, photos, height and the history of each cascade, to encourage visitors and locals alike to get outdoors. Of the 150 plus falls, about 50-60 flow year round.
For anyone coming to the area for the first time, Poel recommends the 72-foot Webster's Falls, one of the city's largest and part of the Spencer Gorge Wilderness Area, which contains numerous hiking trails, and the 69-foot Tiffany Falls, which has a viewing platform.
Poel says that he is currently working with city leaders to improve accessibility to more of the falls. Right now many of them are only reachable via rudimentary trails, but his goal is to create a more comprehensive trail network. He's also been busy promoting them by doing a series of illuminations monthly and on holidays like Good Friday and St. Patrick's Day. His hope is that someday visitors will automatically include Hamilton on their Niagara Falls itineraries.
"Here you can get up close and personal with the falls," he says. "You really can't do that at Niagara Falls."