Visiting Bosnia via St. Louis
A burgeoning community in the Gateway City is the place to find lepini, cevapi and other Bosnian treats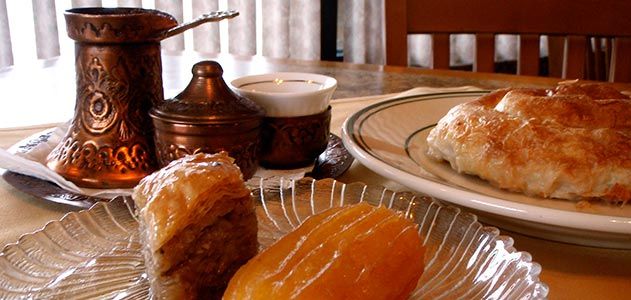 St. Louis, MO - Driving down Gravois Avenue can be geographically disorienting. The same road takes you past Grant's Farm, an Anheuser-Busch property where a herd of iconic Clydesdales entertains visitors, and the Bevo Mill neighborhood, where you'll note a high concentration of bakeries, coffee shops, restaurants and corner stores advertising European goods. You are now in Little Bosnia, where you cannot leave hungry.
Visit any one of the many Bosnian eateries in St. Louis, and you will find no shortage of affordable, satisfying, authentic fare. You will be stuffed with homemade breads, sausages and pastries topped off with a strong cup of Turkish coffee or perhaps a snort of slivovitz, a plum brandy that is the Bosnian spirit of choice.
The Bosnian community of St. Louis was established in the wake of the Yugoslav Wars of the 1990s when the U.S. government and the city's International Institute helped place refugees in the southern part of the city. Subsequent waves of immigrants followed, attracted by the presence of friends and family, some of whom had set up shop cooking and serving traditional foods.
What exactly is Bosnian cuisine? "If you just consider the geographical location, then you probably would have a nice guess," says Azra Blazevic, a research lab supervisor at Saint Louis University (SLU) who left Bosnia in 1992. (Note: Though the country's official name is Bosnia and Herzegovina, immigrants often refer to it simply as "Bosnia.") Blazevic says Bosnian fare is an amalgam of regional influences including Greek, Italian and Middle Eastern. "But we were never so rich to adopt all these expensive types of spices, and so our cuisine is pretty much more bland than Middle Eastern cuisine," she says. "We probably try to compensate for it by making very elaborate dishes. A Bosnian pita is phyllo dough filled with a lot of different stuff in it. That's a dish that you cannot make in 15 minutes."
Ajlina Karamehic-Muratovic did not hesitate when asked to describe Bosnian fare. "I would say bread is number one," she said. Originally from the town of Visoko, near Sarajevo, Karamehic-Muratovic also works at SLU, teaching in the department of sociology and criminal justice. To illustrate her point, she cited a Bosnian maxim: "We don't even eat bread without bread." She says this explains the number of bakeries in Little Bosnia, such as one called ASW, where many families buy fresh bread daily. The prevalence of bread is one of the reasons that reviews of Bosnian restaurants favor the adjective "hearty."
Bread figures prominently in Bosnian meals, as in the chewy, mild sourdough flatbread called lepini (or lepinji or lepinja). At the restaurant Bosna Gold, bread arrives both before the meal and as a substantial part of many entrees. The small link sausages called cevapi are served between enormous golden disks of lepini that are themselves almost too much to eat.
Berix Coffee & Deli is an excellent place to sample a wide array of Bosnian baked goods both sweet and savory. The pastry cases at both Berix locations—there is one in Little Bosnia and one farther out in the suburbs—are full of confections such as baklava and cupavci, a sponge cake filled with custard and dusted with shredded coconut. Its tulumba is similar in appearance to a stubby churro, and though light as a zephyr, drips with syrup. A bite of airy tulumba and a sip of thick, black Turkish coffee are a blissful yin and yang.
"One of the biggest and most important things in the Bosnian culture is Turkish coffee," says Karamehic-Muratovic. "We have Turkish coffee maybe three to four times a day, but it's not like in the U.S. where you use coffee to wake up. We use coffee to socialize," she says, adding that a single small serving may be nursed for 15 or 20 minutes. The Turkish coffee at Berix is served in an ornate set that suggests a ritual rather than a quick jolt. Why Turkish coffee in a Bosnian restaurant? A few centuries of Ottoman rule can have that effect.
Berix also excels on the salty end of the pastry spectrum, selling perhaps the best Bosnian pita in the neighborhood. These spirals of stuffed puff pastry bear little resemblance to the bread you dip into hummus, and they could easily pass for a meal on their own. Fillings include spinach (Blazevic's favorite), cheese and potato, either by themselves or together. The underside of the pastry is soft and moist, as though steamed, yet the top is as flaky as a croissant. Despite its delicate appearance, a single pita can conceal a surprising amount of finely diced potatoes and a bracing dose of black pepper. Pastry stuffed with potatoes may be unfamiliar to most American diners, but one bite makes it clear that this is comfort food.
In addition to stuffing their customers, Bosnian cooks also stuff a variety of vegetables, including cabbage leaves, peppers, tomatoes and onions. Meat, however, is a more common food and is second only to bread in its prevalence on the menus of Little Bosnia. "Bosnians are very big on meat," says Ermin Grbic, a manager at Grbic Restaurant and Banquet Center and son of the owners. Grbic Restaurant's mixed grill is one of its most popular dishes.
Because most Bosnians in St. Louis are of Muslim Bosniak ethnicity, you won't find much pork in the dishes. But beef and chicken are fairly common, as is lamb. "We like a lot of lamb," says Karamehic-Muratovic. She has known families to seek out fresh, whole lambs from Missouri farmers, especially for celebratory meals such as those that conclude Ramadan. In a harmonic twist, the lamb served at many of these Muslim celebrations is purchased from the Amish.
Smoked beef, or suho meso, is another staple protein. You'll find it as an ingredient in restaurant dishes and sold a la carte in neighborhood markets: Berix has a fully stocked small refrigerator that contains nothing else. At around $6.50 a pound, suho meso is essentially the best, cheapest, bulk beef jerky you can buy. The meat is almost impossibly redolent with smoke. Slice it as thinly as you can, serve it to friends as charcuterie and get ready to answer questions, most of which will revolve around where to purchase some.
In addition to its mixed grill, Grbic serves Bosnian and Bosnian-inspired dishes such as crab crepes, lobster ravioli, and voldostana, a broiled casserole of spaetzle, mushrooms, and grilled slices of beef and cheese. Its Web site promises "an atmosphere that transports one to the days when real craftsmen & artisans walked the earth," and surely Grbic must bear the distinction of having the highest consonant to vowel ratio of any restaurant name in the country. Ermin Grbic notes that many if not most of their clientele are not Bosnian. "People are so intrigued with the food, and they want to come in and try it. Someone comes for the first time every day."
There is far too much food in Little Bosnia to sample in one visit, so if you are planning to eat here, pick a restaurant and take time to wander through a few markets and bakeries. Leave with fresh bread, baklava, a hunk of smoked beef and a bottle of slivovitz and you'll leave happy.
Asw Bakery
5617 Gravois Ave.
St. Louis, MO 63116
district: Saint Louis
+1 314.832.2212
Bosna Gold
4601 Gravois Ave.
St. Louis, MO 63116
(314) 351-2058
Grbic Restaurant and Banquet Center
4071 Keokuk
St. Louis, MO 63116
(314) 772-3100
http://www.grbicrestaurant.com
Berix Coffee Co.
5053 Gravois Ave.
St. Louis, MO
(314) 353-5758
Berix
2201 Lemay Ferry Rd.
St. Louis, MO
(314) 845-3711
http://berixcoffee.com