The Best Italian Wine Region You've Never Heard Of
The world does not yet come to the Friuli region, and so much the better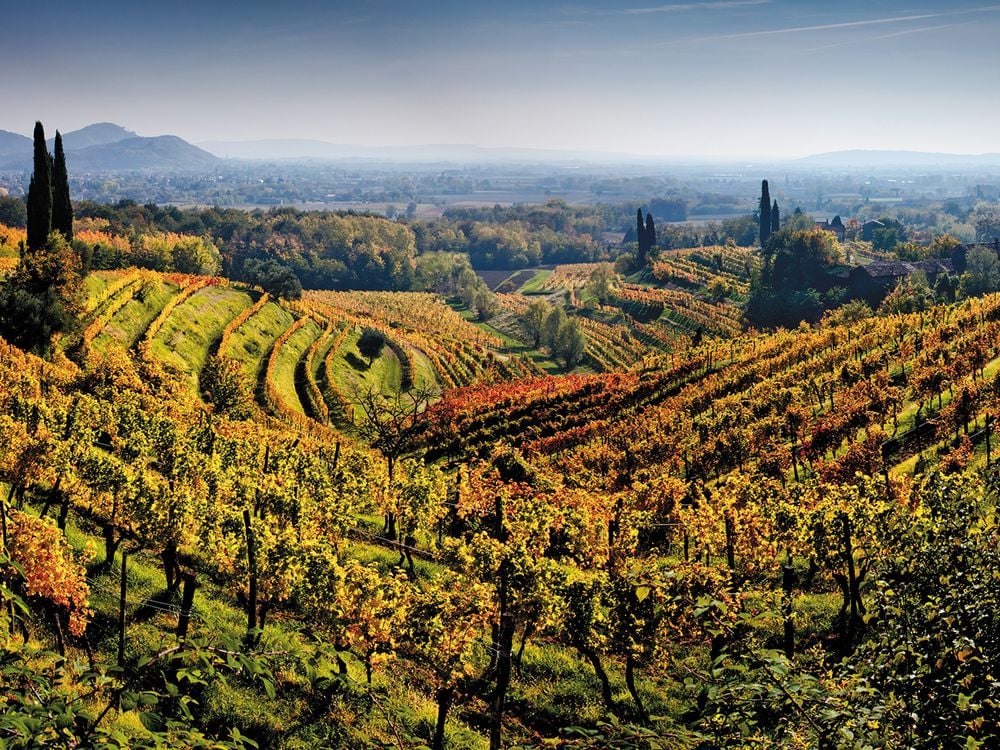 My love affair began dubiously one night at a restaurant in Venice 19 years ago when, as Americans are wont to do, I reflexively ordered a bottle of Pinot Grigio. The waiter returned with a bottle of his choosing and poured me a glass. Drinking it was like taking the first bite into a ripe golden apple, piercingly tart. I grabbed the bottle and studied the label as if it might contain the nuclear codes.
VENICA—that was the name of the producer. Below it: COLLIO. The word meant nothing to me; the word now meant everything to me. Later I did my due diligence. "Collio"—a derivation of the Italian word for "hill"—was the preeminent winegrowing district in the region just east of Venice, Friuli-Venezia Giulia. Never heard of the place. Truthfully, it had not occurred to me that there was any more east to go in Italy after Venice.
I caught a train to the immaculate small town of Cormons one morning in September. The trip took two hours and deposited me a mile from the city center. I closed the distance on foot and arrived at the tourist information center, which in fact was a wine bar, the Enoteca di Cormons. Several men with big red hands and redder faces were toasting and guffawing and flirting with the two women behind the bar, who in turn were pouring and fending off catcalls with practiced calm. Though I didn't know it yet, the men were some of the region's most illustrious winemakers, and the harvest was now behind them, though the revelry occurred year-round. I was in search of a bicycle to go visit the Venica winery. One of the bartenders, a hawkeyed woman named Lucia, spoke English and pointed me to a nearby hotel. Then she pulled out a map of the Collio wine district and traced the route to Venica in the village of Dolegna.
I mounted the only bicycle the hotel had to offer, a lowly specimen with half-deflated tires, and followed the signs to Dolegna. The air was crisp, the country road narrow and largely vacant. Just outside Cormons, the landscape exploded into cascades of terraced vines. I was immersed in a wine country I had not known existed. Twice I passed signs that read CONFINE DEL STATO. The Italian border. Slovenia lay a hundred yards yonder— indistinguishable from this sliver of Italy—and Slavic surnames were on the signs of many Friulian wineries I passed. I peddled onward. A castle loomed overhead to my right. The Judrio River to my left. Vines all around. Seven miles from where I had begun, Dolegna materialized, then disappeared, in 30 seconds' time. Just past that finger-snap of civilization, a yellow sign pointed to the Venica winery.
The slender woman who greeted me inside the gates of the neatly manicured property was Ornella Venica, the winery's domestic sales manager and wife of Gianni Venica, one of the two brothers who made the wine. I was at the time a writer for a Texas magazine, covered in sweat, with maybe 15 words to my Italian vocabulary and a boundless ignorance of the country's territory to show for myself. Ornella sat me down beside a long wooden table. She poured me perhaps ten of Venica's wines, most of them white, many with obscure grape names: Tocai Friulano, Malvasia Istriana, Ribolla Gialla, Refosco. I loved so many of them but had only one backpack. I bought four bottles, thanked her and returned to Cormons. Back at the enoteca, Lucia quickly snagged me a dinner reservation. She circled a spot on my map, just outside Cormons, and wrote down the name: La Subida.
The restaurant was illuminated and teeming with Austrians and Slovenians, many of them dressed regally, as if for the opera. The proprietress, Loredana Sirk, welcomed me with a face that radiated saintly patience. She strode past her elderly mother-in-law, tending to a child I took to be Loredana's little boy, and showed me to a table beside a crackling fireplace where her husband, Josko, was grilling polenta. Their 16-year-old daughter, Tanja, came to take my order. There was no menu. We had no language in common. With some abashment, Tanja pantomimed various offerings. I nodded to several. Josko Sirk sidled up with a ham hock on a cart and carved slices onto my plate. He poured white wine from a bottle with a large, rough-hewn letter K written on the label. The surging wine by Edi Keber and the buttery prosciutto by Gigi D'Osvaldo were a Friulian shotgun wedding in my throat. Then came venison carpaccio, Slovenian stuffed pasta, roasted veal shank, an armada of local cheeses. The last train out of Cormons would leave in 20 minutes. Josko called me a cab. We reached the station with three minutes to spare. I sat on the train with my backpack at my feet, gaping half asleep as we chugged through darkness westward toward the Venice I had always loved. It now seemed less exotic, too familiar, farther from my heart.
**********
That was 1996. I have been back to Friuli maybe 30 times since—sometimes for as long as a month, other times only for a day when I'm elsewhere in Italy and cannot bear the thought of missing at least a fleeting glimpse of the paradise I now see it as. I have come in springtime, when a gorgeous rash of wild cherry blossoms haloes the territory; in the warm growing months, when the Collio hills achieve a lascivious verdancy; in the harvest months of September and October, when the leaves are gold and maroon and the producers raucously celebrate their bounty; and in winter, when all is wood smoke and porcini mushrooms. I now frequent the austere seaside provincial capital of Trieste, make occasional pilgrimages to the craggy Dolomites off to the northwest and cross over into the somnolent hill villages of western Slovenia during nearly every visit. But mostly I stay in Cormons, essentially reenacting that first lover's leap nearly two decades ago.
A few notable things have changed in that time span. I now speak passable Italian. Lucia has left the enoteca to work for a winery; her replacement, Elena, is equally savvy and sympathetic. The enoteca's habitués—among them Edi Keber, Dario Raccaro, Franco Toros, Paolo Rizzi, Roberto Picech, Andrea Magnas and Igor Erzetic, superbly skilled winemakers who in fact own the place as a cooperative—now greet me with fond insults and lavishly fill my glass. Giampaolo Venica, Gianni's 35-year-old son, is a close friend who made me best man at his wedding five years ago. La Subida is now a Michelin-star restaurant. Josko and Loredana Sirk remain its overseers, but daughter Tanja—now 34 and the wife of La Subida's brilliant chef, Alessandro Gavagna—runs the floor, along with the little boy I once knew, her brother Mitja, today the restaurant's 22-year-old sommelier.
One other important change: The world is now discovering Friuli's wines. It's now widely understood that Italy's finest white wines are produced here—that the region's equidistance from the Austrian Alps to the north and the Adriatic Sea to the south has created a sunny and breezy micro-climate that conspires with the marlstone soil to yield grapes of astonishing fragrance and minerality. Like my first glass of Venica Pinot Grigio, the wines tremble on the tongue but are finally focused and persistent—a silver bullet to the palate, the very opposite of the buttery California Chardonnays Americans tend to associate with white wine. It happens that excellent red wines are also made here—particularly Merlots of surprising power and elegance—along with daring "orange wines" fermented in ceramic amphorae. But one properly goes elsewhere for noble reds (Piedmont and Burgundy) or for age-worthy whites (Chablis and again Burgundy) and seeks out Friuli for wines that evoke a place that remains as fresh and untrammeled as when I first laid eyes on it.
The world still does not come to Friuli. No tourist buses, no guides with hoisted flags, no selfie sticks contaminate the region. I find this as baffling as it is refreshing. Some of Tiepolo's finest paintings reside in the dignified city of Udine, the artist's second home. The beaches just beyond Grado are pale and seldom visited. The history of this oft-conquered gateway to the sea lies all around. Evidence of Julius Caesar's reach pervades the ruins of Aquileia and the charming walled city of Cividale that the emperor founded in 50 b.c. The Austro-Hungarian occupation is still manifest in the monuments and architecture throughout Cormons. World War I's devastation—felt in Friuli as nowhere else in Italy—is memorialized throughout the region, though most strikingly at the towering mausoleum in Redipuglia, built on orders of Mussolini, as well as in the war museum at the neighboring Slovenian town of Caporetto depicting the battle of the same name, immortalized in Hemingway's A Farewell to Arms. One also finds traces of Hitler's malevolence in the old rice factory converted into a concentration camp on the outskirts of Trieste, and of Soviet militancy in the ubiquitous border checkpoints, abandoned for good just a decade ago. A visitor can lodge in castles or in wineries, taste prosciutto and aged Montasio cheese that rival their counterparts in Parma, climb mountains or cycle through the hills, or accumulate calories through the heavenly Austro-Slavic-Mediterranean amalgam that is Friulian cuisine.
But until they do, it's my place.
**********
I returned this summer and made a beeline to the Enoteca di Cormons, as always. Elena wanted me to try a glass from a new producer in his 20s, Andrea Drius of Terre del Faet. His savory, silken Malvasia flickered in my mouth like a ballerina. I took my place at a corner table to get some writing done. Elena brought over prosciutto and cheese. The gregarious Igor Erzetic ambled over, delivered a glass of his transcendent white blend Capo Branko and said with a grin, "buon lavoro" (good work), before returning to his spot at the bar.
I stayed on this visit at the exquisite bed-and-breakfast of the Cormons winemaker Roberto Picech and his wife, Alessia, in a room overlooking the martial formation of their vines. Early in the evening Elena walked over from her nearby house, where she and her husband also grow grapes that they sell to some of the local winemakers. Roberto poured us a sumptuous glass of Tocai Friulano named after his daughter, Athena. Then I dined at La Subida. Tanja, now a mother of two, bustled from table to table, while Mitja sported a scruffy beard as he expertly guided me to a wine that would stand up to the grilled venison topped with trout eggs served up by Alessandro. It was a cool summer night, and among the locals there was much anxious talk about the plump grapes evident throughout the Collio. A great harvest seemed imminent.
The following afternoon I was driving through Cormons when the skies suddenly went black. I retreated into the enoteca to wait out the rain. Fifteen minutes later the sunlight had reappeared, and I returned to my car. On the way uphill to Picech's winery, I saw Elena standing outside, sweeping her sidewalk with a grimace on her face. I got out to see what was wrong.
"Grandine," she said, pointing to a rocky carpet of hailstones at her feet. In a ten-minute fusillade, nearly half the immediate area's grapes had been destroyed. For the Cormonesi, the once promising 2015 vintage was an economic disaster.
There was only one recourse. "Una cena di disperazione," Elena decided aloud as she began dialing neighboring winemakers. A dinner of despair. I told her that I was in.
That night eight of us sat around her table, with at least that number of wine bottles uncorked. Laughter came often and without effort. The vines, one could say, were half full. "Dio da, Dio prende," Alessia Picech said to me at one point—God gives, God takes—and her smile betrayed just a hint of melancholy as she slid the bottle my way.
—    The author's favorite Friuli wines    —
Venica, Ronco delle Mele Sauvignon Blanc: Italy's most acclaimed Sauvignon Blanc, with a galloping Sambuca aroma and a racy effervescence. 
Raccaro Malvasia Istriana: The very best rendition of this saline, somewhat introverted varietal that marries perfectly with most seafood.
Toros Friulano: When Franco Toros first poured me his version of the Friulano (formerly known as Tocai) grape, he described its intensity and almond aftertaste to me as "supersonico." I'll go with that.
Branko Pinot Grigio: For those who consider this ubiquitous grape to be hopelessly banal, this apple-crisp and soaring white wine offers a powerful rebuttal.
Picech Jelka Collio Bianco: A deeply personal ("Jelka" is the first name of Roberto Picech's mother) expression of the territory, blending three indigenous varietals—Friulano, Malvasia Istriana, and Ribolla Gialla—to memorably elegant effect.
(All available in the United States)
Read more from the Venice Issue of the Smithsonian Journeys Travel Quarterly.