Uphill All the Way in the Rhodope Mountains
I have my dinner—cheese, a four-pound organic tomato, a sack of figs and a jar of pickled chanterelles—and I'm ready to get lost on the mountain roads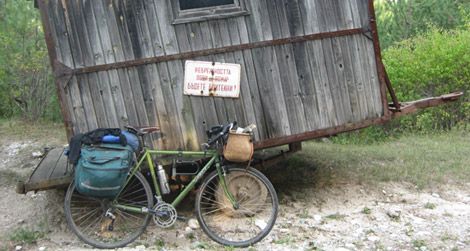 Leaving the Rhodope Mountains three days ago, I gravitated back toward Plovdiv, Bulgaria, where I had a shower and a night in a bed. At dawn the sun strikes the clock tower on Sahat Tepe, and the city wakes up. It will soon be sweltering. If I were a local man I'd just roll my T-shirt up to my ribs and belly up to the curb beneath a tree, watching the traffic and drinking espresso. Me, I flee.
I aim for the coast, but the valley is fiery hot, unremittingly flat, and as listless as the stray dogs in the dust. I crave the peace and coolness of the high country cut south to a break in the mountains. I meander up the river canyon, and the hills become peaks. They float past as I go, the landscape unfolding like a story. I go past Assen's Fortress, Bachkovo Monastery, and a large trout farm on the river. At Hvoyna, I turn up a feeder canyon toward the village of Orehovo. I have my dinner—cheese, an absurd four-pound organic tomato, a sack of figs and a jar of pickled chanterelles—and I'm ready to get lost on the mountain roads. I follow an arrow sign to one Kabata Hut. The road goes sharply uphill and almost immediately turns to dirt, then to grass and mud. I must push my bike on 20-percent grades, uphill through the trees and over fresh-cut logs and boulders. My shoulders ache from the labor. Distances in these mountains are not so great and I trust I can reach the Kabata Hut before dark. The signs continue, meant for hikers, and as dusk comes I begin to imagine that I'll find a hunting lodge full of French mountaineers cooking venison stew on a wood fire and drinking liters of red wine. They will slap me on the back when I arrive and fill me a bowl and a glass.
Finally, I see light through the trees as the grade levels. I've climbed nearly a vertical mile, and I must be there—and yes: On a level meadow of raspberry thickets I find a cluster of barns. Dogs begin to howl. I see a parked truck. The main hut is, indeed, a sort of tourist chalet, with guns and enameled shelf fungi mounted on the plank wall inside. Just one man is there, a scruffy mountain fellow named Giorgio. He's wearing boots, a huge sweater and an Elmer Fudd hunting hat, watching Baywatch on TV. I ask if I can camp. He shakes his head and smiles: Yes. And do you serve wine here, I ask? He shakes his head firmly and produces a jug of red wine he made himself. After three glasses I unroll my sleeping bag outside in the trees.
At daybreak, I have an espresso with Giorgio and continue onward. I come over the pass and descend several kilometers to the famed Wonderful Bridges, where cameras do no justice to the towering cliffs and the 100-foot-high tunnels through the rock. Continuing downhill, I'm bound for the main highway again—but I turn up another side road for the sake of exploring. I have my directions straight, and I know the main road is to my left, east, and that I want to keep moving south and that eventually an intersecting stream valley will lead me down to the region's big town, Chepelare—but it's farther than I expect. I push my bike uphill for miles, through the mud puddles of the prior day's thunderstorms, and clouds are building again. The road goes in unexpected directions, and I have soon regained thousands of feet of elevation. In the thick mossy woods, weary-faced mushroom hunters tote sacks of porcini.
A voluminous man drinking beer under a tree in a clearing points back the way I've come when I ask, "Chepelare?" No way am I turning back, so I point ahead and ask, "Where?" He shakes his head. Is that a yes? I continue anyway, past a cozy little chapel overlooking a canyon—and then downward into the void. If this road dead-ends, I'm done. I have no energy to climb back. It's now past 4:00. Rain is falling, and I haven't eaten since last night. Hunger claws at my stomach. I fight with the shrubbery for a few raspberries, but it's not worth the effort; I'm reminded of a grizzly that expends 1000 calories digging out a 250-calorie ground squirrel. I bounce down the bumpy, rocky road—and abruptly it turns to brand new, black-topped asphalt. I whoop with excitement and I fly at 30 miles per hour straight into Chepelare. It's pouring rain now. I eat a melon under a tree in the square, buy cheese, wine and olives and get a hotel room for 10 leva—7 bucks. Sleep comes easily.
It's not every morning that a man says over coffee, "Today, I think I'll go to Greece." But I'm just 48 miles from the border crossing at Zlatograd, and tonight, with any luck, I will be gazing over the Aegean.