From Star Trek to Killer Baby Unicorns, Five Over-the-Top Themed Corn Mazes to Visit This Fall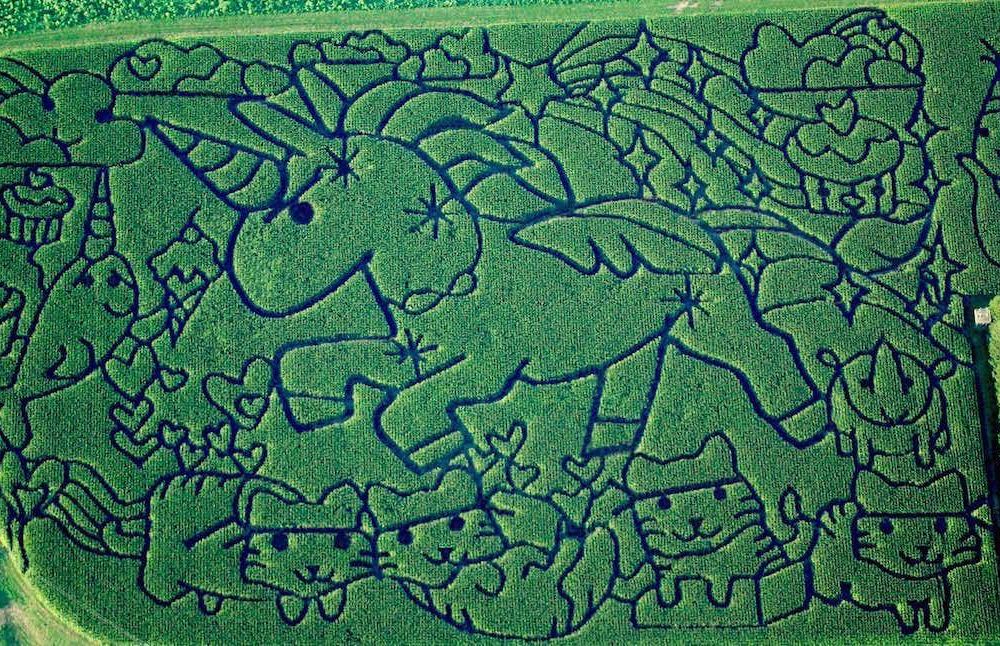 This story originally appeared on Modern Farmer.
When the sun sets a little earlier, the leaves change from green to ruby red and lemon yellow, and the mornings carry a chill in the air, the time of the corn maze has arrived once again. And this year, they've arrived in more ways than one.
Back in 1998, there were only around 50 or so corn mazes across the country, according Corn Mazes America. But by 2013, corn-maze making companies (yes, they exist) created more than 400. There are a handful of companies specializing in this niche market, but some farmers, like Alan and Angie Treinen of the 200-acre Treinen Farm in Lodi, Wisconsin, design and execute their own each year.
The Treinans have been in the corn-maze business since 2001, and each year they've gotten bolder with their designs: In 2002, they created a wooly mammoth and in 2012 they designed Da Vinci's Vitruvian Man, which was given a nod by Jay Leno in one of his The Tonight Show monologues. The family continues to up their game, which landed them on USA Today's 10 best corn maze list last year.
Angie considers herself an artist (whose medium of choice is a corn field), and admits that each year the family feels the pressure to out-do themselves. She designs the maze—a process that takes about 35 hours—and a crew of six and eight people take three or four days to cut the design into the field. They opt to not use GPS—the go-to technology for executing maze designs these days—relying instead on an old-school system, which makes Treinen Farm's mazes that much more impressive.
"We start getting the questions right away: 'What's the maze design going to be this year?' and there's a lot of excitement—so of course we always have to come up with something amazing and unique, and interesting, and complex enough to easily generate lots of conversations," Angie tells tells Modern Farmer in an email. Adding to and improving the attractions at the farm each is critical to their success, she says. 
Kittens and a Killer Baby Unicorn
This year, Angie and Alan Treinen went with a wild design featuring a unicorn and a bevy of other cute critters (see image above). As Angie says, "Unicorns are fine, but killer baby unicorns with ninja kittens, a narwhal offering ice cream, a baby rhino, and happy clouds makes people go 'What?' and give them something to talk about." We'd say she's right about that.
Star Power
Sometimes you need to harness a little star power to up your corn-maze game: The Farmsteadin Meridian, Idaho, has an 18-acre maze featuring Jimmy Fallon. Jimmy Fallon? Yes, the new The Tonight Show host and comedian is writ large in corn. According to their website, The Farmstead "… wanted a design this year that would invite everyone to escape the seriousness of the world… Maybe, if we can get inside Jimmy's head, we can all come out a little more lighthearted."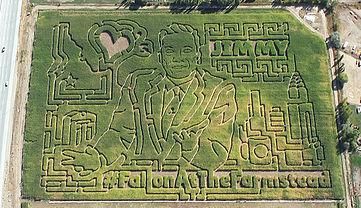 Go Big, or Go Home
Sometimes going big is the best way to get noticed. While most corn mazes are between five and 20 acres, Cool Patch Pumpkins in Dixon, California, has a maze that comes in at a whopping 63. A previous version of the maze landed in the Guinness Book of World Records, and has also led to more than one 911 call from within the maze by folks who couldn't find their way out.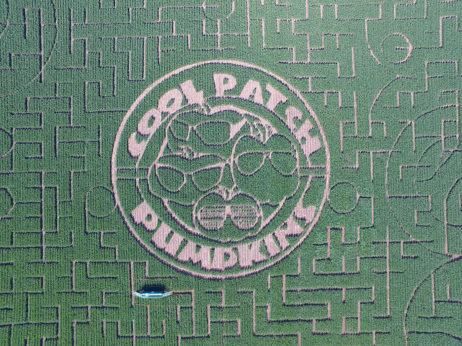 Good Grief, It's Peanuts Mania, Charlie Brown!
This year's 50th anniversary of the Peanuts' film It's the Great Pumpkin, Charlie Brown motivated several farms to design mazes featuring Snoopy, Charlie, and their pals, including the Wright Family Farm, in Warwick, New York; the Kraay Family Farm in Lacombe, Alberta, Canada; Applestem Corn Maze in Vaughn, Montana; and Sauchuk's Corn Maze & Pumpkin Patch, in Plympton, Massachusetts.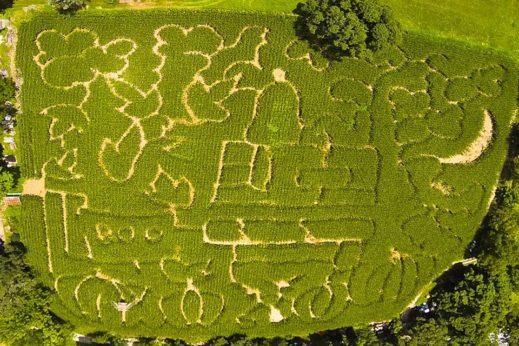 Trekkie's Delight
What's better than Captain Kirk and Mr. Spock? How about a 33-acre Star Trek-themed corn maze? This year Richardson Farm, in Spring Grove, Illinois, is celebrating another 50th anniversary, this one for the much-beloved Star Trek television series that first aired on NBC in 1966. Besides the captain and the science officer, the maze also features the Starship Enterprise so you too can boldly go where no man has gone before—or at least get lost in a bunch of corn for a bit.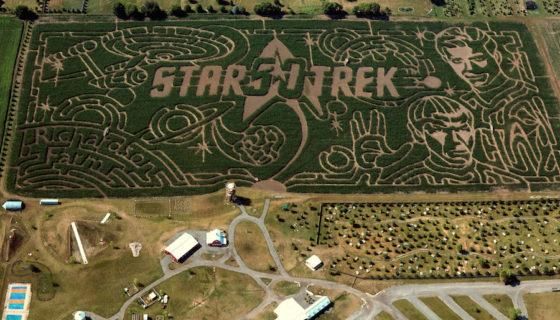 More stories from Modern Farmer: