Underwater Pumpkin Carving Among the Wrecks in New York's Finger Lakes
Just in time for Halloween, scuba divers test their Jack-o-lantern-making skills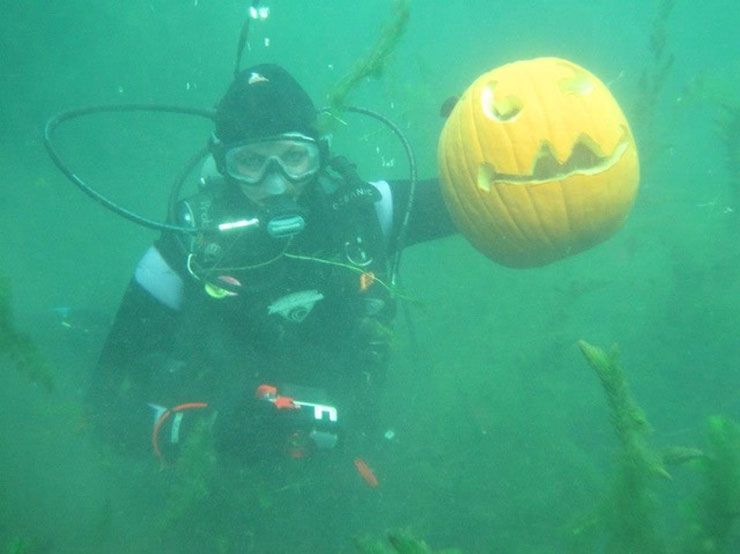 It's challenging enough carving a pumpkin into a jack-o'-lantern on dry land, but try doing it underwater. That's exactly what a group of scuba divers gathers to do right around Halloween in the Finger Lakes in Upstate New York. Dressed in masks and flippers and equipped with oxygen tanks and carving knives, the divers test their mettle against one another during the annual Underwater Pumpkin Carving Contest.
This year's event took place October 23 at Watkins Glenn marina on Lake Seneca, the largest of the Finger Lakes, and has been organized every year for almost a decade by the Finger Lakes Underwater Preserve Association FLUPA, a local diving club.
"It's a hand-me-down tradition amongst divers," Robert Byland, president of FLUPA, tells Smithsonian.com.
Byland, who has been a certified scuba diver since 2004, has been a participant himself most years, and says the most challenging part of the contest is dealing with buoyancy.
"Once underwater, a pumpkin will want to float to the surface," he says. "If you're not paying attention—poof! There it goes and you have to chase after it."
Because of this, scuba divers work together in groups of two, with one person holding the pumpkin while the other one carves it. Then they swap places and the other person carves his or her pumpkin.
Another problem: visibility—or the lack thereof.
"The lake is not like swimming in a pool, since there's sediment at the very bottom," he says. "So if you move around too much, you might kick up some silt with one of your flippers and then your visibility drops to zero and you can't see what you've carving. Another issue is the temperature. Even though you're wearing a wetsuit and gloves, your hands can go numb." Byland says that the marina's temperature is usually in the mid 50s this time of year.
The contest is more than just a Halloween spectacle. The entry fees go toward helping preserve the numerous wrecks that dot the bottoms of the Finger Lakes, supporting the creation of mooring buoys where ships can tie up rather than drop anchor, potentially damaging the sunken ships below. Seneca Lake, the deepest of the 11 lakes, was once a busy waterway when the Erie Canal opened in 1825, linking the Great Lakes with the Atlantic Ocean. Numerous barges and tall ships sailed these waters, and, due to storms and accidents, some remain preserved on the lake floor for divers to discover. FLUPA publishes a map of accessible wrecks.