TV's "Pan Am:" A Case of Misplaced Nostalgia
Who doesn't miss the retro glories of the early Jet Age celebrated in the ABC series? But enough with the sexy stewardesses already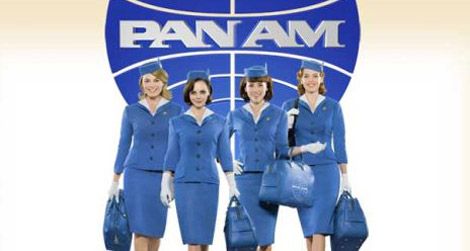 Eleven million people tuned in to the first episode of ABC's new series "Pan Am," a paean to the glory days of commercial aviation, before security pat downs, luggage restrictions, bring-your-own-dinner-in-a-bag and all the other indignities of contemporary air travel. (Ratings have since nosedived, placing the show in danger of cancellation.)
Much has been made about the banality of the plot and characters, and the series' nostalgia for the bad old days before the Women's Liberation Movement. In a recent episode, one stewardess, who is also an undercover CIA agent, blunders her way through a top secret assignment while her sister and co-worker, the show's ditzy blond, escapes from her girdle to Frug all night long in Jakarta Were young women ever so jejune? Whatever happened to "I am Strong, I am Invincible, I am Woman?"
Viewers must bear in mind that Helen Reddy's hit song and the bonfire of the brassieres came later. Set in 1963, "Pan Am" still flies through the cloudless skies of Ole Blue Eyes and Coffee, Tea or Me?, a risqué memoir written in 1969 by two stewardesses who had to weigh-in before work and retire at 35.
All that went the way of Pan Am, which folded in 1991 (but is still fondly remembered by the Pan Am Historical Foundation, dedicated to preserving the airline's culture and contributions). The 1964 Civil Rights Act started the process by prohibiting the airlines from forcing stewardesses to resign if they got married, pregnant or turned older than 35 and effectively opened the profession to men, who now comprise about 20 percent of in-flight attendants. Since then the profession has yielded to more mature personnel because salaries and plum assignments are pegged to seniority, meaning employees tend to stay on the job longer.
That's progress on a social level; I doubt that even the most haggard frequent fliers rue it. But in terms of aesthetics and comfort, air travelers today are infinitely poorer. The series capitalizes on that and a rekindled appreciation for Mid-Century Modern style by lovingly recreating the accoutrements of the Jet Age. With consultation from veteran Pan Am employees, designers pay undivided attention to authenticity, from the reconstituted cockpit of a vintage Pan Am clipper that serves as one of the sets to swizzle sticks bearing the blue Pan Am logo served with in-flight martinis.
Costumes, too, are pitch-perfect, offering new ideas for Halloween. The show's website supplies patterns for make-your-own stewardess caps; bags and totes with the company's insignia are available at travel gear retailers like Flight 001, inspired by Pan Am's famous round-the-world service, launched in 1947.
Never mind the trim, blue-suited stewardesses. I'm nostalgic for Flight 001, which originated in San Francisco, stopping in Honolulu, Hong Kong, Bangkok, Manila, Calcutta, New Delhi, Beirut, Frankfurt and London before landing in New York; Flight 002 circled the globe the other way around from the airline's headquarters at JFK Airport in New York (known as Idlewild at the time).Pan Am's old Worldport terminal is still there as Delta's T3, though the original 1961 parasol-roofed design has been all but obliterated by renovations and the building is slated for demolition. Classic Mid-Century Modern architecture is now best appreciated at Jetblue's T5, where modernization has maintained important aspects of the winged TWA Terminal, built in 1962 by Eero Saarinen.
When I puddle up on the couch on Sunday nights to watch "Pan Am," it's things like that I dream about. And, frankly, I'm hoping the series lasts for another year at least so we can see what happens to the ditzy blonde when she gets pregnant after passage of the 1964 Civil Rights Act.