Travel to Europe's Most Stunning Landmarks in Under Four Minutes
Spanning three months, 21 countries and thousands of photos, "Nightvision" celebrates the finest architecture in Europe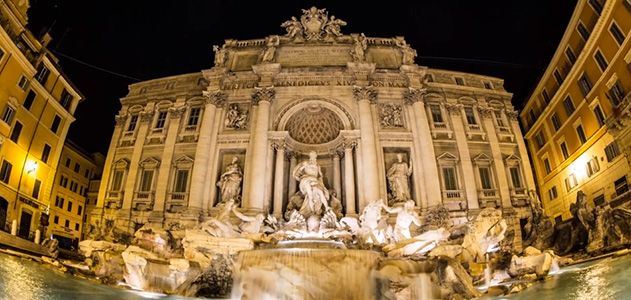 Living as nomads and traveling across Europe on a budget of less than 35 euros per day, recent college graduate and photographer Luke Shepard and his friend Henry Miller managed to brilliantly capture hundreds of years of architecture in one stunning video.
As with so many creative projects nowadays, the video started out as a Kickstarter. Shepard needed the funds that would allow him to purchase the right gear to make his "Nightvision" project achieve the look he envisioned. Sheppard offered a variety of incentives for contributing, including digital copies of his video, t-shirts or postcards from the field.
Smithsonian.com recently had the chance to interview Shepard via email about the highlights and lowlights of creating "Nightvision" and what the future holds for the recent college graduate.
Why did you choose these buildings?
My main priority when choosing buildings to capture was diversity. I wanted to include buildings of all different types and from all different time periods. Aside from that, there were limitations on time and budget. We had to choose a path through Europe that was efficient, which sometimes meant we had to skip incredible structures that I would have loved to include. We often spent only a night or two in a city before we were hopping on a train to the next destination.
Tell me about the Kickstarter that helped you create "Nightvision."
A few years back I created a video focused on the prominent monuments and buildings of Paris titled 'Le Flaneur.' When making the video there wasn't the stabilization technology in software that exists today. It was this new software, new equipment and a refined technique that was going to take my image sequences to another level. I didn't have the funds to bring my idea to life and found that Kickstarter was a great option. In about 30 days I was able to raise almost $20,000. It was unbelievable generosity of 174 people that brought my project into existence and I am so grateful to them.
How did you achieve the timelapse effect? What kind of gear did you use?
The video is composed completely of photographs. The primary gear that I used was a Canon 5D Mark III, several Zeiss / Canon lenses and a tripod. When shooting an image sequence, I would manually move the tripod and aim the camera with as much precision possible before taking each photo. The distance between each picture depended on how fast and far I wanted the camera to move. Keeping the distance consistent, along with helping to lift and move the tripod, was Miller's role during the shoot. The timelapse effect is a product of the amount of time this process takes. In post-production, I string the images into a sequence in Adobe After Effects where I am able to stabilize them.
What is your background? Are you a photographer by trade?
I've never really considered myself a photographer until recently. I have always been interested in making videos. Photography came afterwards, mostly as a tool for making videos. I fell in love with the combination of photography and videography because of the amount of control it allows. When shooting image sequences I am able to precisely map out my movement and take my time to line up each individual frame.
Why did you shoot only at night?
The sequences at night possess aesthetic qualities that present the architecture from a more surreal and unfamiliar perspective. The long exposure images help to transform the buildings, making them appear differently than they may in real life. In addition, at night there is greater contrast between the sky and the structure, allowing the viewer to focus on the brilliance of the architecture more so than the passage of time. Furthermore, shooting these image sequences during the day would be far more difficult as there would be many more people around to interrupt.
What were some of the difficulties you ran into while shooting?
The biggest obstacle was the weather. The video was shot over winter so weather wasn't ideal. Rain and snow kept us from shooting many nights and set us back often. When I wanted to capture a building and the weather was poor, we either had to stay in the city another night or two, leave and come back later, or skip it altogether. Also, some nights it was absolutely freezing out and when shooting an image sequence there is no real opportunity to move and get the blood flowing. Sequences could take several hours to shoot so we had difficulty with numb fingers and toes. I couldn't wear thick gloves or I'd have trouble manipulating the camera.
One of the most frustrating difficulties we encountered was interruption. Whether it was sudden precipitation, police informing us we couldn't use a tripod at the location, the lights turning off on a building, or even a group of tourists that wanted to jump in front of the camera to get their picture taken. When interrupted we had to start all over, often, we had already been an hour or two into the shoot.
What locations caused you the most trouble?
Of the locations represented in the film, the Arc de Triomphe was the most difficult to capture. To achieve this shot we had to cross a few streets and finish halfway across the Champs-Élysées. We waited until 2 a.m. when there seemed to be the least traffic. We slowly crossed each street taking a picture every few inches. Whenever cars were coming, we used chalk to mark our location and ran out of the way. The shoot became more complicated when the military guards patrolling around the monument saw us shooting in the middle of the street. They yelled to let us know this was not allowed, but we were already a couple hours into the shoot and I did not want to give up. We continued, but now we had to wait until the guards were on the opposite side of the Arc de Triomphe and no cars were coming. Each time the guards made their way back around we would stand off to the side and pretend to do something else. This shot took over five hours and we finished just as dawn broke.
What were the highlights of the project?
Creating this project was one of my most amazing and rewarding experiences. Witnessing Europe at the pace we did there was never a dull moment. Our surroundings were constantly changing: different cities, languages, food and culture. We lived on trains and in hostels, carried around several articles of clothing with the equipment and managed a budget of about 35 euros per day for food, shelter and any additional costs. We were nomads. It was intense but awesome.
All in all, I would say that the biggest highlight was the many friends we made along the way. We met people from all different walks of life under many different circumstances. This is something that social media is great for. Just 10 years ago it would have been far more difficult to keep in touch with these new friends. One thing I knew after this trip was that no matter how the video turned out, there were no regrets and this was an incredibly educating and unique experience that I will carry with me for the rest of my life.
If someone went on an architectural tour of Europe, what sites can't they miss?
Places like Paris, London, Prague, Rome, Vienna and Budapest are certainly worth visiting. These were the locations where it was difficult to decide what to shoot. One just needs to walk in any direction and they are bound to discover architectural beauty. Two of my favorite buildings in Europe are the Sultan Ahmed Mosque in Instanbul and the Sagrada Familia in Barcelona. I feel it is impossible to properly depict their excellence in a video. Lastly, the Grand Place in Brussels is surrounded by amazing buildings and has to be one of the most beautiful squares in the world.
What's next for you?
I recently graduated from The American University of Paris with a degree in film. I have a few projects I am considering but nothing definitive in place.
List of the sites in the order in which they appear:
Brandenburg Gate, Berlin, Germany
Arc de Triomphe, Paris, France
Philharmonie Luxembourg, Luxembourg City, Luxembourg
Atomium, Brussels, Belgium
Palace of Westminster, London, England
Copenhagen Opera House, Copenhagen, Denmark
Trevi Fountain, Rome, Italy
Belém Tower, Lisbon, Portugal
L'Hemisferic, Valencia, Spain
Berliner Dom, Berlin, Germany
Guggenheim Museum Bilbao, Bilbao, Spain
Cologne Cathedral, Cologne, Germany
Hungarian Parliament Building, Budapest, Hungary
Oslo Opera House, Oslo, Norway
The Shard, London, England
Fernsehturm Berlin, Berlin, Germany
Bode-Museum, Berlin, Germany
Sultan Ahmed Mosque, Istanbul, Turkey
Alexander Nevsky Cathedral, Sofia, Bulgaria
Tower Bridge, London, England
Prague Astronomical Clock, Prague, Czech Republic
Fraumünster, Zurich, Switzerland
Palau de les Arts Reina Sofia, Valencia, Spain
Rathaus Vienna, Vienna, Austria
National Theatre, Budapest, Hungary
Sagrada Familia, Barcelona, Spain
Roman Colosseum, Rome, Italy
Under Krystallen, Copenhagen, Denmark