Traveling to the Danube? Here's What You Should Read, Watch and Download
Know before you go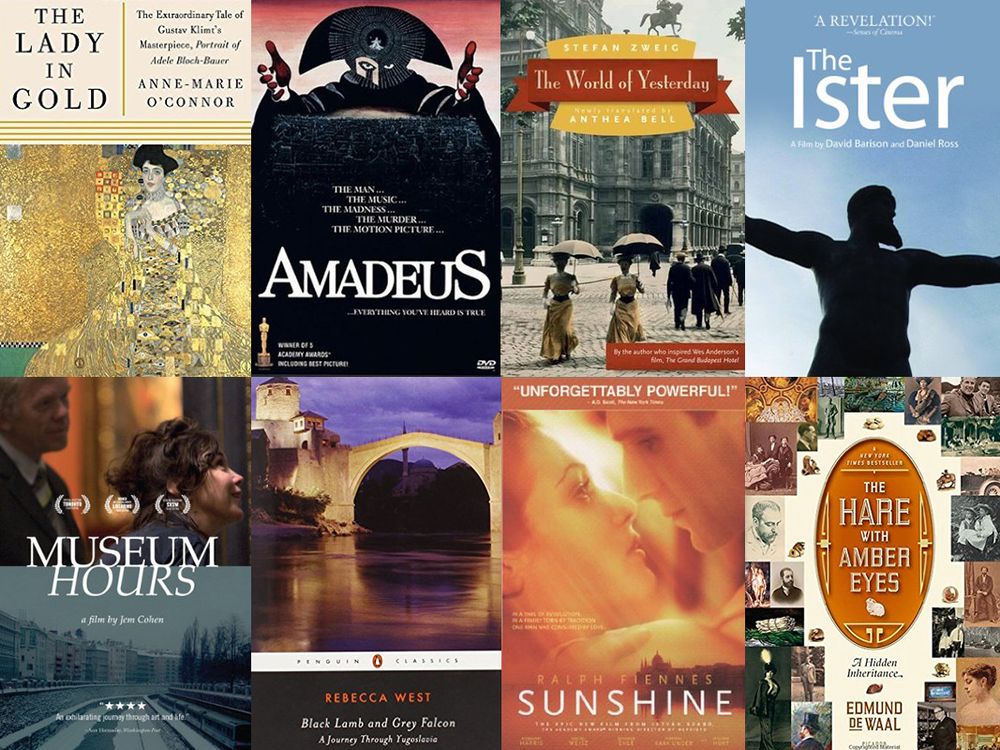 We surveyed our contributors and other Danube buffs for their suggestions on what to read, see, and gather before traveling.
Movies
A Habsburg court composer describes his competitive relationship with Mozart in Miloš Forman's Amadeus (1984).   
Converting to Christianity doesn't spare a Hungarian-Jewish family pain in István Szabó's drama Sunshine (1999). A writer investigates a friend's death in Carol Reed's film noir The Third Man (1949). 
A French woman and American man meet on a train, then wander Vienna's streets in Richard Linklater's Before Sunrise (1995). A museum guard befriends a Canadian woman in Jem Cohen's Museum Hours (2012). 
An arranged marriage in Serbia goes comically awry in Emir Kusturica's Black Cat, White Cat (1998), and a Romany teen uses telekinetic abilities in another Kusturica film, Time of the Gypsies (1988). 
In Nae Caranfil's Closer to the Moon (2013), based on real events in communist-era Romania, five friends plot to rob the national bank. 
The Ister (2004), an avant-garde documentary by David Barison and Daniel Ross, brings into relief the life of philosopher Martin Heidegger, warts and all, while the film travels the Danube upstream to its source.
Michael and Rita Schlamberger's Donau: Lebensader Europas (2012), a documentary TV series, features stunning wildlife cinematography.
Instagram
Romanian photographers capture beauty and whimsy in @everydayromania.
Maximilian Reiss (@maxolut) and a photographer named Wolfgang (@famiglia_vienna) seek out Vienna's urban art.
Kurt K. (@curtiscovers) photographs the Viennese in motion.
Apps
Belvedere Museum Vienna and Kunsthistorisches Museum Vienna offer interactive information about their collections.
The Vienna Project memorializes victims of National Socialism by mapping "memory spaces" with tours and oral history videos (select English). 
Pocket Guide has themed audio tours, such as "Budapest's Silicon Valley" and "Communist Bucharest."
Belgrade Talking "augments reality" by superimposing information on city landmarks seen through your smartphone camera—sans roaming charges. 
Blogs & Websites
The Danube River Project is an artistic and scientific compendium of audio, video, and photos taken at water level to show what lies above and below.
Vienna Unwrapped suggests attractions, tours, shopping, and hotels to fill any itinerary.
Metropole, a website and print magazine, offers a local take on Viennese art, books, and pressing regional issues.
Vienna Würstelstand or "sausage stand," chronicles the city's best—you guessed it—sausage stands, along with other gastronomic and aesthetic ventures.
Still in Belgrade features dining, lodging, and tour recommendations, as well as museum exhibits and social events. Gallery 12 Hub attracts experimental performance artists from Belgrade and beyond.
The Balkanist provides a sharp analysis of politics and culture, covering the Balkans and Eastern Europe.
The Vienna State Opera streams live performances online. (Subscriptions are about $19 per month.) 
Be Budapest offers recommendations for sightseers, museumgoers, and food lovers. Baths Budapest catalogues an array of thermal springs and baths.
Dance & Music
George Balanchine's ballet Vienna Waltzes (excerpt) pays homage to the once banned dance.
The world-renowned choral group Le Mystère des Voix Bulgares sings traditional and contemporary Bulgarian folk.
Prolific musician Šaban Bajramović earns his moniker in the Gypsy King of Serbia CD (2002). 
Last but not least, Johann Strauss's choral waltz, "The Blue Danube," composed to uplift Vienna after Austria's military defeat by Prussia, still resonates today.
Books
In The Danube: A Journey Upriver from the Black Sea to the Black Forest, Nick Thorpe travels its full 1,770 miles, taking in the landscape, history, and people. Patrick Leigh Fermor's Between the Woods and the Water recounts his yearlong walk in 1934 from the Great Hungarian Plain to the Iron Gates, revealing ways of life long vanished. 
Rebecca West writes of the Balkans with eloquence and prescience in her 1941 classic Black Lamb and Grey Falcon: A Journey through Yugoslavia. In The Memoirs of Elias Canetti trilogy, the Bulgarian-born Nobel laureate shares his memories of Mitteleuropa. 
Stefan Zweig's The World of Yesterday, translated by Anthea Bell, hauntingly describes life and loss in Vienna from the turn of the century to the rise of Nazism. Simon Winder gives a humorous yet erudite account of Europe's longest ruling family in Danubia: A Personal History of Habsburg Europe. 
Anne-Marie O'Connor's The Lady in Gold: The Extraordinary Tale of Gustav Klimt's Masterpiece, "Portrait of Adele Bloch-Bauer," investigates the theft of the Viennese Jewish elite's art collections during the Anschluss. Edmund de Waal's The Hare with Amber Eyes: A Hidden Inheritance traces his family's tragic losses. 
Having endured a concentration camp and communism before leaving Romania, Norman Manea goes home in The Hooligan's Return. Isabel Fonseca's Bury Me Standing: The Gypsies and Their Journey sheds light on a mysterious, often misunderstood nomadic group.
Robert Musil's novel, The Man Without Qualities, follows a cerebral ex-soldier in Vienna before World War I. Sándor Márai's Embers centers on a broken friendship between boyhood friends, now old men, who meet for dinner in a Hungarian castle. 
Gabriele Fahr-Becker's Wiener Werkstätte contains beautiful illustrations of Vienna's iconic furniture and crafts company.