Top 10 Things You Didn't Know About San Francisco's Cable Cars
Ever since they became a part of the city's transit system, they have been iconic mainstays of its cityscape
Only 44 Cable Cars Are Left in Operation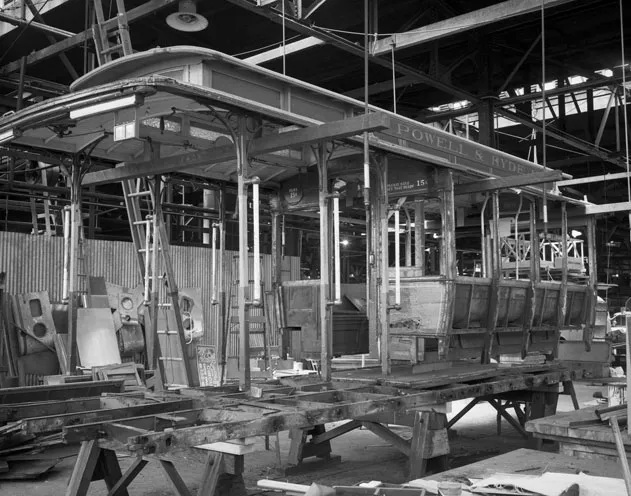 Before the Great Earthquake of 1906, there were more than 600 cable cars in San Francisco. By 1912, there were less than 100. Today, there are 44. Every few years, a cable car must be replaced—a process comparable to building a sailboat, or high-end cabinetry. Several dozen Union carpenters, machinists, electric transit mechanics, painters, glaziers, pattern makers and transit operators participate, taking great pride in a world-renowned tradition of craftsmanship.
Above, Cable Car 513 is seen under construction at the historic Elkton Shops, which were built the year after the earthquake as a "temporary facility." They lasted 70 years, closing in 1977. Today, new cable cars are built in San Francisco's trendy Dogpatch neighborhood (a former shipbuilding area) on the former site of the old Tubb's Cordage factory.
Each Cable Car is a Work of Art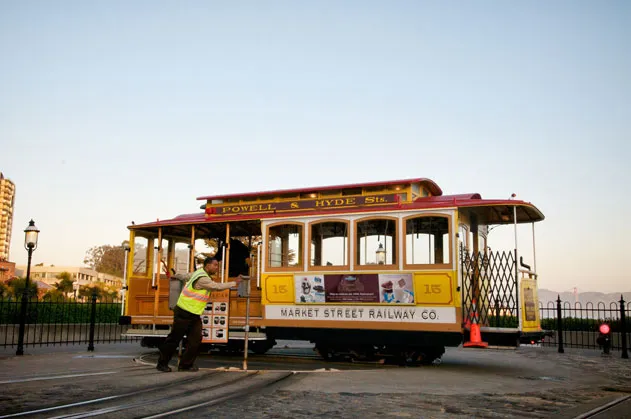 Building a cable car is an exacting art that takes several dozen craftsmen 18 to 24 months to complete.
"Skilled carpenters create the frame and body, mainly of oak and other hardwoods" says Norbert Feyling, whose family has worked in cable car maintenance for three generations—since the 1880s. "The roof is tongue-and-groove Alaskan spruce, covered in canvas. The fittings are of iron, steel and polished brass. The fresh wood smell and bare oak grain of an unpainted cable car is a thing of rare beauty."
New cable cars are painted at the cable car barn. The seats, stanchions and ceiling receive multiple coats of varnish. "It's a slow, precise process, all hand brushed," Feyling adds reverently. "No spray guns are used."
Streetcars Are Different From Cable Cars – Ask New Orleans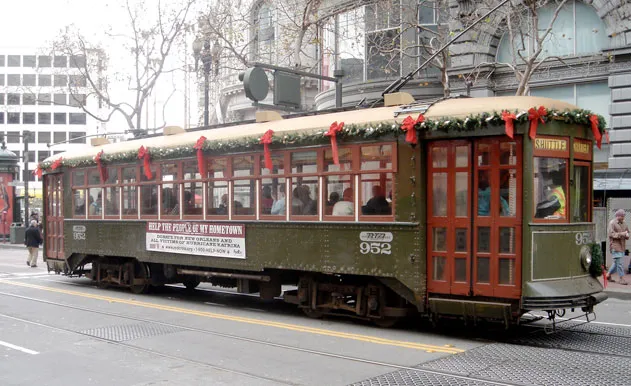 San Francisco's MUNI system is replete with historic vehicles—and not all of them are cable cars. With
A Streetcar Named Desire
, Tennessee Williams created what might be America's most famous public transit vehicle—albeit in New Orleans. But along with cable cars, the Muni system is famous for its fleet of heritage trolleys. Two such relics are Streetcars No. 913 and 952, which plied New Orleans' "Desire" line—along Bourbon Street and through the French Quarter. New Orleans removed the streetcars from this line in 1948. San Francisco acquired two of these 1923 vehicles, and—maintenance permitting—drafts them into service. "In 2005," Market Street Railway President Rick Laubscher recalls, "Streetcar No. 952 was decorated for the holidays to match the New Orleans tradition, and carried banners raising money for victims of Hurricane Katrina."
The Head of Muni Was Paid More Than the Mayor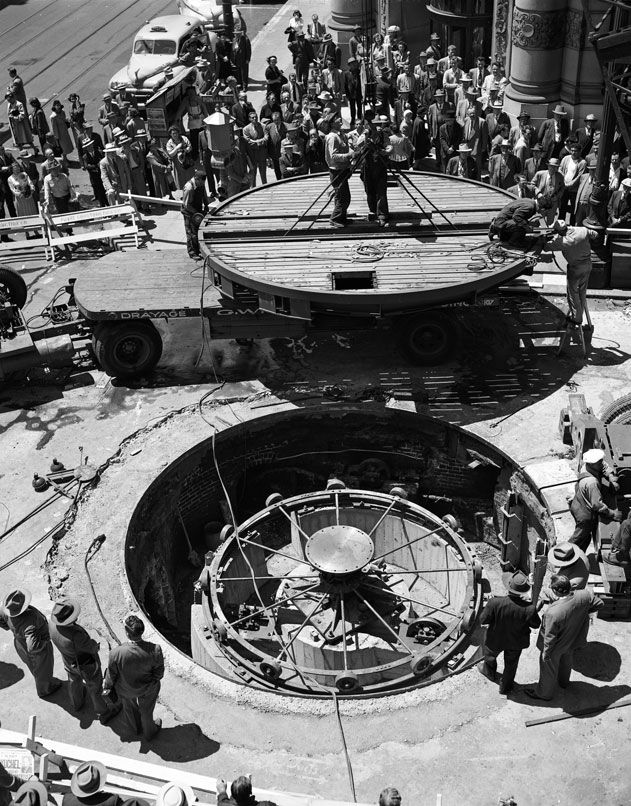 The newly-founded Muni moved from strength to strength. When the Panama-Pacific International Exposition opened in February 1915, thousands of passengers were carried to the site without a single accident. In 1917, San Francisco's 2.27-mile-long Twin Peaks Tunnel became the longest street railway tunnel in the world. By 1918, Muni was so flush with cash that it helped finance the San Francisco Public Library. Muni was so successful, in fact, that its fare remained 5 cents – until 1944.
A major force behind the system's success was Limerick, Ireland-born Michael O'Shaughnessy, the city engineer responsible for the expansion of Muni and the building of the Hetch-Hetchy reservoir and electric plant (which supplies power to the overhead lines and electric motors that run the cable cars). O'Shaughnessy was considered such an asset that his salary was more than that of the Mayor, city attorney and police chief
combined
.
The War Opened Doors for Women and African Americans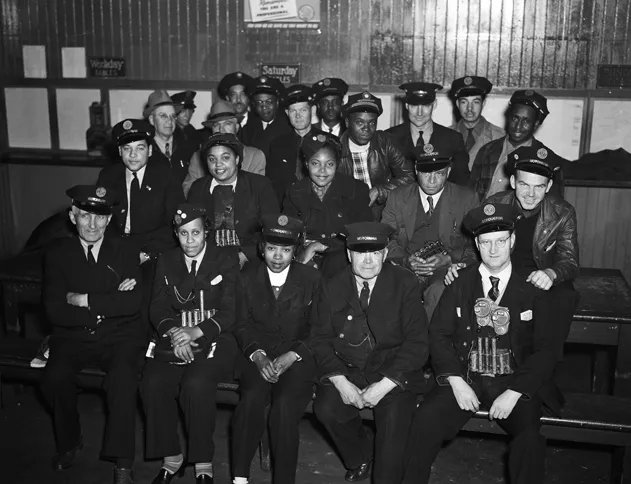 From 1912 until 1944, there were two major street railways in San Francisco – one public (Muni) and one private (the Market Street Railway). The war effort led to a surge in the hiring of women and minorities. But while the private company promised women permanent jobs after the war's end, Muni offered only "the duration and six months." But one of San Francisco's first African-American streetcar conductors—on the Market Street Line—was the poet Maya Angelou, who wrote about the experience in her autobiography,
I Know Why the Caged Bird Sings
. Angelou never actually worked for Muni; she left before the two railways merged in 1944. This photo, taken three years later, showcases the system's diversity.
The Most Popular Driver Was Given a Trip to Hawaii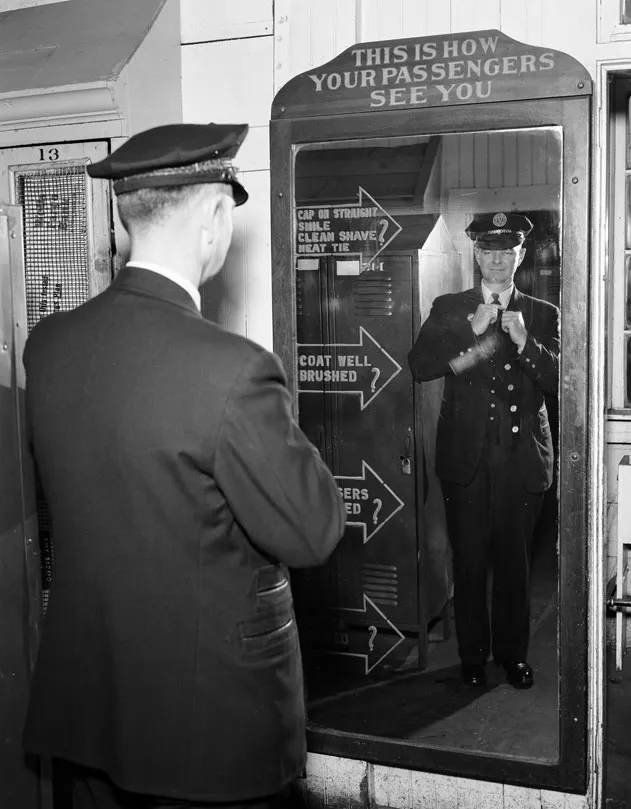 The cable car and trolley and operators have always served as the public face of the San Francisco Muni, as this fussy mirror reminded the system's motormen. Early on, stand-out employees were given "Courtesy Citations." The program became the popular "Muni Man of the Month." (The name was eventually changed to "Person of the Month," after Cable Car conductor Mary Alice Ball won the honor in 1953.) It was an open competition; Muni asked the public to "Tell us by note or postcard any unusual example of service and courtesy, giving Muni operator's cap number." Twelve drivers each year received cash prizes, and their names were placed in a pool. One of them would win an all-expense-paid trip to Hawaii.
The First Female Was Hired as a Gripman in 1998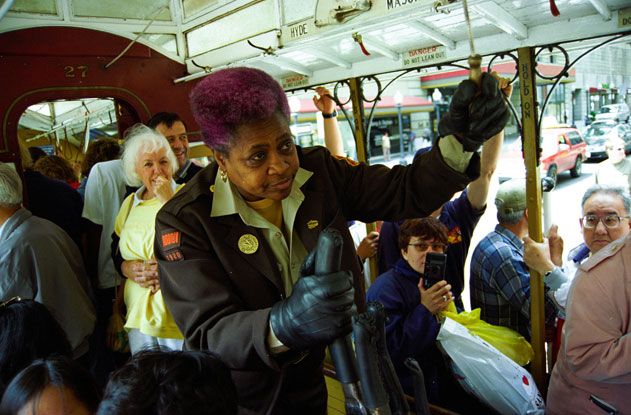 San Francisco's cable cars take two people to operate: a conductor, and a gripman, who—among other tasks—handles a 365-pound device that literally grabs the cable as it rattles under the track at 9.5 mph. "Gripping" a cable car is a highly demanding physical task that requires upper body strength, delicate balance, and superb eye-hand coordination.
Fannie Mae Barnes was 52 when she took Muni's 25-day grip course in late 1997. She'd been a conductor for six years – but no woman had ever made it past the first day of training. Barnes passed, and became the first woman to operate a cable car grip in January 1998.
"The cable car itself weighs eight tons, empty," Barnes recently told an interviewer. "It's a miniature train. A lot of guys try to muscle the grip, but it's really more a finesse thing."
In 2002, Barnes carried the Olympic torch up Hyde Street as part of the relay leading up to the 2002 Winter Olympics in Utah.
Muni Holds a Bell-Ringing Competition Every Year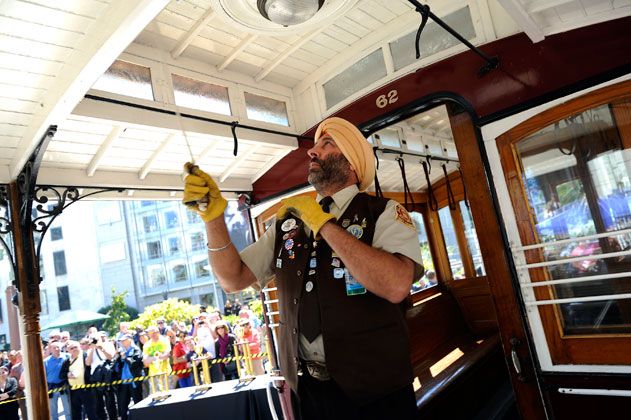 Informal bell-ringing competitions have long taken place, but the contest didn't become a real event until the early 1950s.
"San Francisco is a diverse city," says Emiliano Echeverria, a retired cable car signal operator and one of Muni's most eloquent historians. "You have operators from India and the American South; there have been Cubans, Puerto Ricans, African Americans, Italians—all bring their own backgrounds and traditions. You'd be amazed at the intricacy and complexity of the rhythms. You get some pretty interesting tunes out of those bells, considering it's just one note!"
The 49th Cable Car Bell Ringing Contest took place on September 6, 2012, amid crowds of spectators in Union Square. A tense draw was decided when gripman and conductor Trini Whittaker, 45, bested three-time champion Leonard Oats.
Listen to the rings here:
Singh b. Rai
Trini Whittaker
San Francisco's Cable Cars (and Streetcars!) are Iconic Movie Setpieces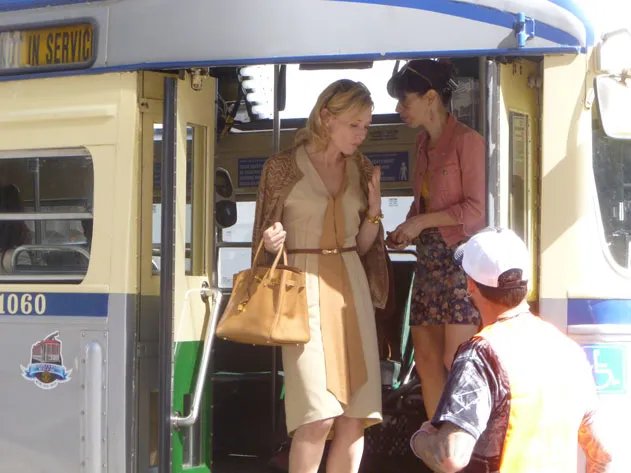 In September 2012, director Woody Allen shot his new movie with Cate Blanchett (above)—so far untitled—in San Francisco. It will join a long list of films that feature the SF Muni's cable cars, trolleys and streetcars.
Here's a short list:
—
Dark Passage
(1947), with Humphrey Bogart aboard Powell Street car No. 20;
—
Yours, Mine and Ours
(1968), featuring Lucille Ball and Henry Fonda's first date, also on a packed Powell Street cable car;
—
Dirty Harry
(1971), with streetcar interiors filmed in the Elkton Shops;
—
The Laughing Policeman
(1973), in which Walter Matthau and Bruce Dern investigate a mass murder on a Muni bus;
— A Muni driver hitting on Robin Williams (in drag) in
Mrs. Doubtfire
(1993);
—
The Net
(1995), featuring Sandra Bullock on the California Line
When the System Opened, It Was Derided as Socialism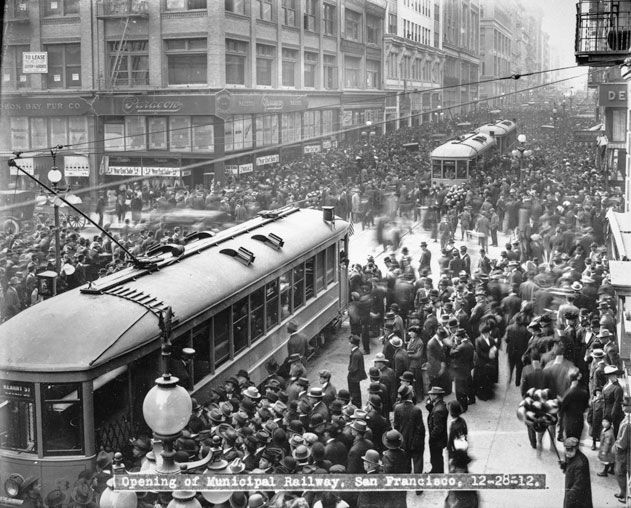 When San Francisco launched its municipal railway system (Muni) in December 1912, the trade journals of the day called it an "experiment in Socialism." In a way, it was: a government agency was taking over an industry previously dominated by private companies.
Since 1900, one of the provisions of San Francisco's city charter had been the eventual ownership of
all
the city's utilities– not only its cable cars, but its streetcars and trolleys as well. The city raised funds and issued bonds to make this possible. But the Great Earthquake of 1906 scuttled these plans. The money went instead (and appropriately) to rebuilding the city's streets. New funding and legislation was adopted in 1909. The Geary Street Municipal Railway was built in 1912, opening to great fanfare on December 28—becoming the first metropolitan street railway to be owned and operated by the people of an American city. The cable cars became part of Muni in two phases, 1944 (Powell lines) and 1952 (California line).