Tintin is Everywhere in Brussels
The famed comic book character, now a Steven Spielberg-Peter Jackson film, is a nifty way to know the Belgian capital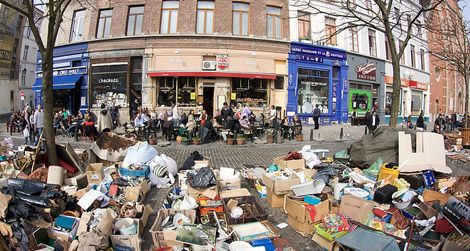 Any Tintin fans out there?
I'm pretty sure there will be once The Adventures of Tintin, directed by Steven Spielberg with the assistance of motion-capture expert Peter Jackson, opens next week.
For many Americans—young and old—the appearance of the Belgian comic book hero on the silver screen will be a first encounter because Tintin never caught fire in the U.S. the way he did everywhere else. Since his adventures first appeared in a Belgian newspaper in 1929, books based on the strip have sold 250 million copies, translated into 100 languages (most recently, Yiddish). But America had its own indigenous cartoon tradition, featuring heroes like Superman and Catwoman, so when Tintin's creator Hergé approached Disney in 1948, he was turned down flat.
Enter Spielberg, who got to know Tintin in the early 1980s. It took 20 years for the movie project to find its perfect medium in motion-capture, a computer-assisted technique proved by Jackson in his Lord of the Rings trilogy.
The film opens with Hergé's intrepid boy reporter at a flea market where he finds a model boat with a secret inside. Anyone who has been to Brussels will immediately recognize the setting: the Place du Jeu de Balle in the Marolles, where Belgians sell bric-a-brac from their attics. I've bought my share of precious junk there. When the sun occasionally shines on the Belgian capital, it's one of my favorite haunts.
Hergé was scrupulous about verisimilitude, which is why travelers can't crack open a Tintin album without recognizing real-life sites and scenes that, like the Place du Jeu de Balle, served as models for frames in the strip.
The Belgian Royal Palace on a hill above Brussels' medieval Grand Place stands in for the Royal Place of Klow in King Ottokar's Sceptre (1939), capital of the Eastern European nation of Syldavia.
The Seven Crystal Balls (1948) features the Belle Époque Hotel Metropole, opened in 1895 on the downtown Place de Broukère.
Out in the suburb of Uccle the Belgian Royal Observatory gives frissons of deja-vue to fans who know Destination Moon (1953) and Explorers on the Moon (1954), in which Tintin completes a lunar landing 16 years before Apollo 11.
And here's an extra-Belgian ringer. Marlinspike, ancestral home of Tintin's Scotch-swilling buddy Captain Haddock, is the 17th century Chateau de Cheverny in the Loire Valley of France, without its two side wings. It's not clear that Hergé ever went there because he wasn't much of a traveler, poor soul. But Tintologists—a serious tribe of scholars who have investigated every aspect of the strip—found a tourist brochure for Cheverny among Hergé's papers with a faint pencil drawing of Tintin and Haddock walking toward the chateau's entrance.