These Volcanic, Italian Islands Have Been Beloved by Travelers Since Homeric Times
The Aeolian Islands have been drawing visitors, fictional and real, for centuries
"Should I bring another bottle of wine?" asked Enzo Anastasi.
The two of us had been sitting in silence on the spacious terrace of Hotel La Canna, Anastasi's 14-room refuge on the island of Filicudi. The water of the Tyrrhenian Sea, a few hundred feet below us, looked like gray-green glass. Filicudi is the second-farthest west of the Aeolian Islands, a volcanic archipelago that stretches for 50 miles north of Sicily. Several of the other Aeolians were visible on the horizon, and as Anastasi uncorked our second bottle, I watched pink popcorn-shaped clouds puff up among them, like a luminous island chain of their own.
"People here love silence," Anastasi told me. He is 55, with serious eyes and a clean-shaven head. "We're not here to know our neighbors." Of course, there aren't many neighbors to know. Filicudi, which has an area of less than four square miles, is home to around 200 people. When I arrived that afternoon, to thunder and lashing rain, I felt like I could have been the only one on the island. Anastasi gave me the key to my room and the run of the place. Despite the weather, he planned to drive down the mountain for his daily swim at one of the narrow, rocky beaches. "Enjoy the view," he said, sweeping his arm out toward the cliff and leaving me to study the islands in the distance.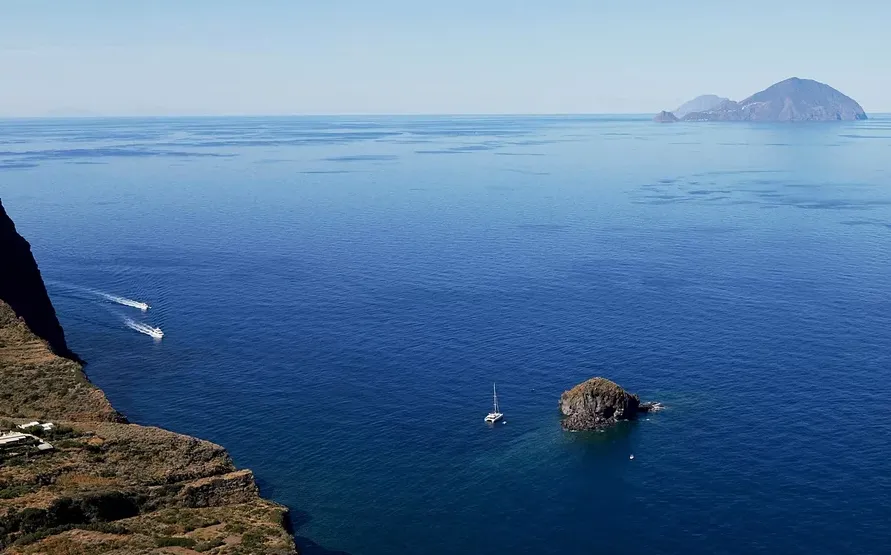 So I sat on the covered terrace and got to know them. Salina, the twin-peaked island where I'd be heading the next day, was closest at 15 miles away. I could see Lipari, too, long in the water like an alligator, and Panarea, which Anastasi would tell me later resembles a floating pregnant woman. But most captivating was Stromboli, a truncated cone 39 miles away. It's a prototypical volcano, and still a very active one. It has served as a geological muse for centuries. The explorers in Jules Verne's 1864 novel Journey to the Center of the Earth end their adventure on Stromboli after their raft is improbably blown out of one of its fiery vents. J.R.R. Tolkien, it's been said, used Stromboli as the inspiration for Mount Doom, the perpetually erupting volcano of Middle Earth, to which Frodo is sent to destroy the ring. As the storm passed over Stromboli, the volcano sent trails of white steam up to meet it. I felt a little Frodo-like myself, as if the mountain were pulling me inexorably toward it.
In the summer, Lipari is flooded with tourists, and Panarea is notoriously chic, with well-established families named Borghese and Bulgari ruling an impenetrable social scene. But in the rest of the Aeolians, you'll find a lifestyle that holds quietude in high regard. Filicudi, Salina and Stromboli all consist largely of protected parkland, and since 2000, the entire archipelago has been listed as a UNESCO World Heritage site, which means that much of the land cannot be altered and new development is heavily restricted. Nevertheless, the islands I visited excelled at hospitality, in no small part because their residents have a natural and generous propensity for knowing when to feed people, when to talk to them, and when to give them space. Homer wrote about this in Book 10 of The Odyssey, in which Aeolus, the mythic ruler of the Aeolian Islands and god of the wind, invites Odysseus to live with his family, so he could rest and—more importantly—feast for an entire month.
Despite their fondness for silence, the Filicudari are also known for welcoming travelers. Over our second bottle of wine, Anastasi told me that in 1971, the Italian government attempted to turn Filicudi into a kind of prison without walls, sending 15 notorious mafia leaders to live there as free men in exile. The Filicudari rose up in protest, seeking to protect their reputation as friendly hosts to the generally upstanding citizens who traditionally liked to visit their shores. In an act of resistance, they all shuttered their shops and left. The government gave in, relocated the prisoners, and the Filicudari returned home to resume their quiet way of embracing outsiders like me.
On Filicudi, the pace of change is slow (appropriately, the island looks like a turtle when seen from above, according to Anastasi), and the island's tourism infrastructure is modest. Anastasi's parents bought La Canna as their home in 1969 and started renting its rooms in the mid 70s. When Anastasi took it over in 2000, it was a simple hotel and tavern. A self-taught architect, he designed the terrace where we were sitting, including the built-in benches covered with bright, hand-painted tiles that lined the perimeter. "It's now a three-star hotel," he told me proudly. "The island isn't ready for any more stars than that. We don't even have a boutique in the village."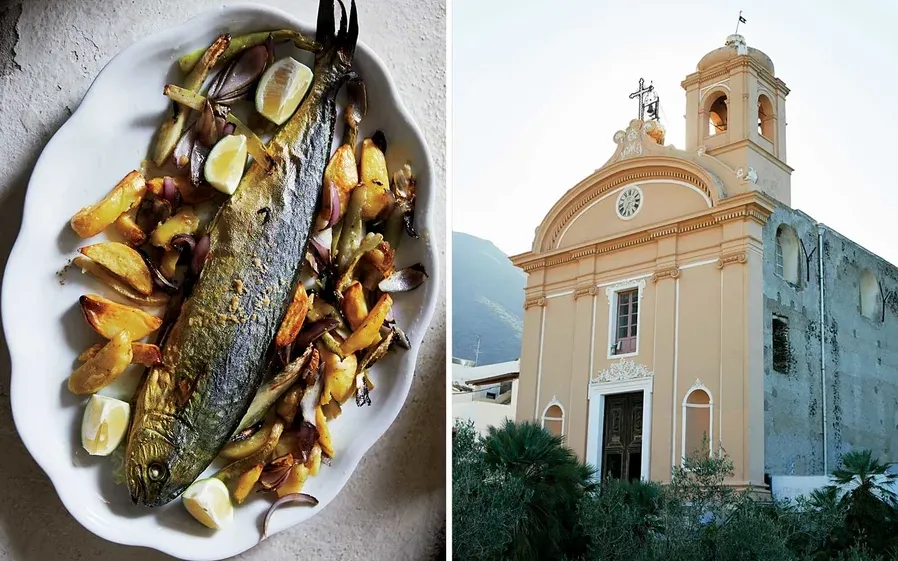 What Filicudi lacks in shopping, it makes up for in food. With the pink clouds now arranging themselves around Stromboli's peak like a flower crown, Anastasi and I nibbled on pepi ripiene, the spicy peppers his family grows, roasts, and stuffs with pecorino, parsley and bread crumbs. The smaller the chiles got, the hotter they were. As I dug around for the olive-size ones—hot!—Anastasi lit up while talking about his favorite Aeolian dishes: spaghetti allo scoglio with mussels, clams, whitebait and wild fennel; cicerchie, a prized local pea, cooked with rosemary; eggplant with carrot, garlic and more wild fennel. He said he'd never bought an onion, since he's always grown his own. Around the time the sun set, Anastasi's 82-year-old father, a fisherman and former postal director, walked silently past us, holding a freshly harvested pumpkin. Soon, Anastasi told me, the pumpkin would be roasted, mashed, combined with eggs, flour, sugar and sweet wine, then rolled into balls and fried to create sfinci—a local style of doughnut.
Then Anastasi sent me off to dinner. At Villa La Rosa, a hundred yards up a cobblestoned path from La Canna, I sat to eat among statues of saints. Adelaide Rando, the chef-owner, told me she'd been cooking for me all day. She served sole grilled between lemon leaves, then lasagna made with fennel, preserved tuna, tomato and caciocavallo cheese. There was also black rice topped with tiny, sweet shrimp. When the meal ended, Rando appeared at the table and took a small, dignified bow. There were a few local men eating at the table next to mine, the only other people I'd seen all day besides Anastasi. They looked at me pityingly. "When you're from this place," one said, "you never want to go."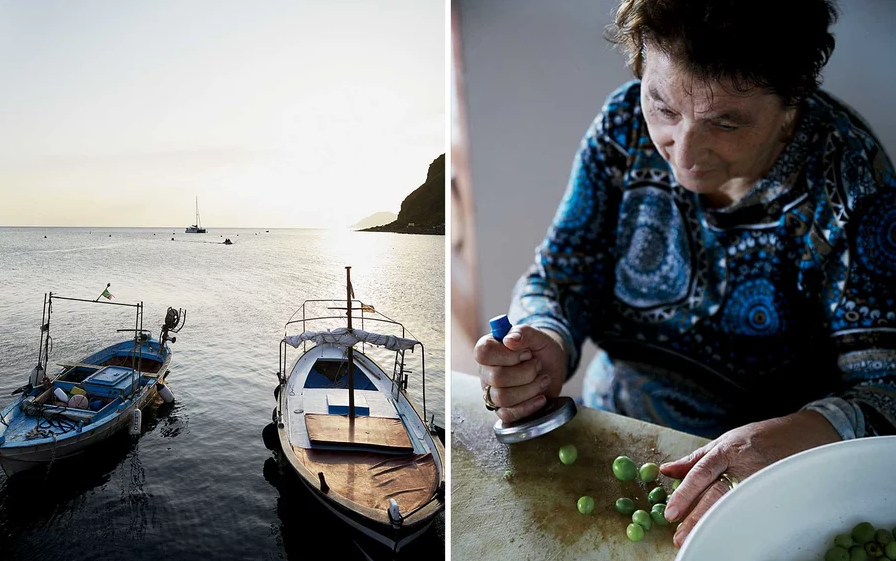 I woke at dawn, feeling as full as Odysseus after his monthlong feast. After watching for a few minutes as the rising sun burned off the fog that had enveloped Stromboli, I headed down to the port to catch the Liberty Lines hydrofoil. Cheery golden seahorses were stamped across the boat's worn carpeting. The ride to Salina took an hour. Compared with the last-man-on-earth vibes I'd felt upon reaching Filicudi, Salina, which has a population of around 2,000, felt more high-energy. Not a party in any sense, but more like a meditation retreat where you're surrounded by others who have also shown up to concentrate on their breathing.
Salina wastes no time in announcing its deliciousness. Unlike Filicudi, where the terraced farming operations are largely abandoned, Salina has 11 working vineyards, which grow the Malvasia grapes that produce the wine of the same name. Ten minutes off the ferry and I was already winding my way through one such vineyard at Capofaro Locanda & Malvasia, a 27-room resort with a sensational on-site restaurant. It is owned by the Tasca family of Palermo, which has been making wine in central Sicily since 1830 and on Salina for almost two decades. The Tascas opened the hotel, situated in a former fishing village on a bluff, in 2003. This summer, they'll debut six new rooms in the 19th-century lighthouse that sits amid their Malvasia vines. They also plan to unveil a museum about the history of the Aeolians inside the lighthouse next year.
Capofaro's architecture is classical, with arches and columns that curve outward slightly, like barrels. Its walls are washed in a stark Mediterranean white. Bougainvillea veiled my room's outdoor sitting area, which had a couch and two love seats. Set into a recessed archway of its own, my bed felt like a shrine. Sleeping out at the end of the property, all I could hear was the wind. My view of Stromboli was, again, unobstructed, but now the volcano was closer and, therefore, larger and even more magnetic.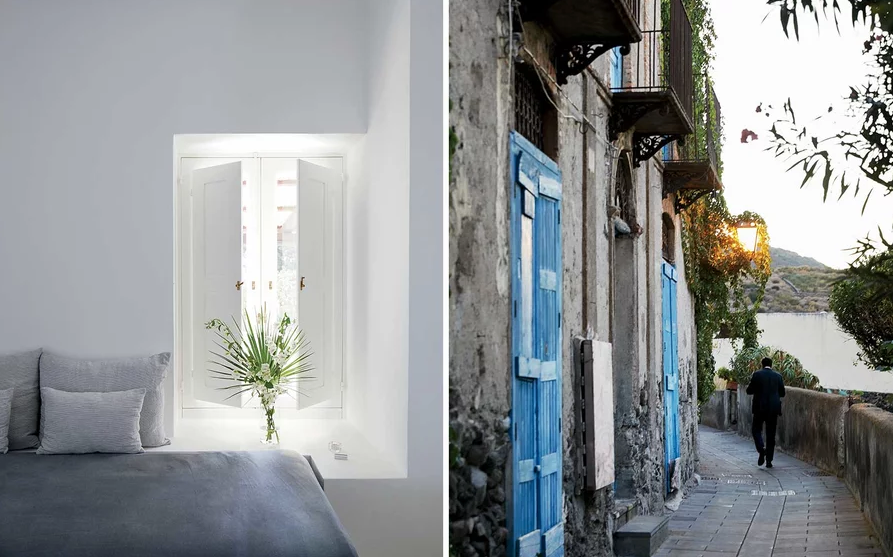 I was grateful to Margherita Vitale, Capofaro's worldly general manager, for selecting a place for us to have a drink where we could both gaze at Stromboli. She understood the attraction. Raising a glass of Didyme, a dry Malvasia made with grapes grown in Capofaro's vineyard, Vitale toasted the volcano. "You will see Stromboli erupting at night," she said. "You'll think you don't need anything else in the world."
Salina's best-known export besides Malvasia is the caper. Italy's Slow Food Foundation for Biodiversity, which is dedicated to preserving traditional forms of agriculture, considers the edible, cured bud integral to the local economy, so it tries to protect the farming practices that have been handed down through the centuries. According to Daniela Virgona, a 47-year-old third-generation farmer in Salina, the product is so difficult to grow that only the most dedicated stewards are willing to do it.
The 2,000 thorny caper plants she manages must all be harvested by hand, a task that she and her family pursue from April through October. "I started working here when I was four," Virgona told me. Her bushes yield both capers (capperi) and caper berries (cucunci). The former are salt-cured for 50 to 60 days, the latter for 90 days. Both are then vacuum-packed and sold in Virgona's humble showroom, where she also offers her own industriously brewed caper-enhanced pilsner along with caper pesto, caper jam, candied capers and caper powder.
Translating Salina's agricultural heritage into a culinary movement for the island is what drives Capofaro's 36-year-old chef, Ludovico De Vivo. A native of Salerno, in southwestern Italy, De Vivo credits working at Noma in Copenhagen with opening his eyes to the significance of overlooked ingredients. His experience there made him wonder if caper leaves could be made delicious, too. So he began fermenting leaves from the Virgona orchard to use in his cooking. Over the course of a year, he developed a dish for which he places a single leaf (fermented for six months) onto a plate, then spoons on diced raw mackerel and fermented fennel. Finally, he tops it with a second leaf in what he describes as a "style of open raviolo."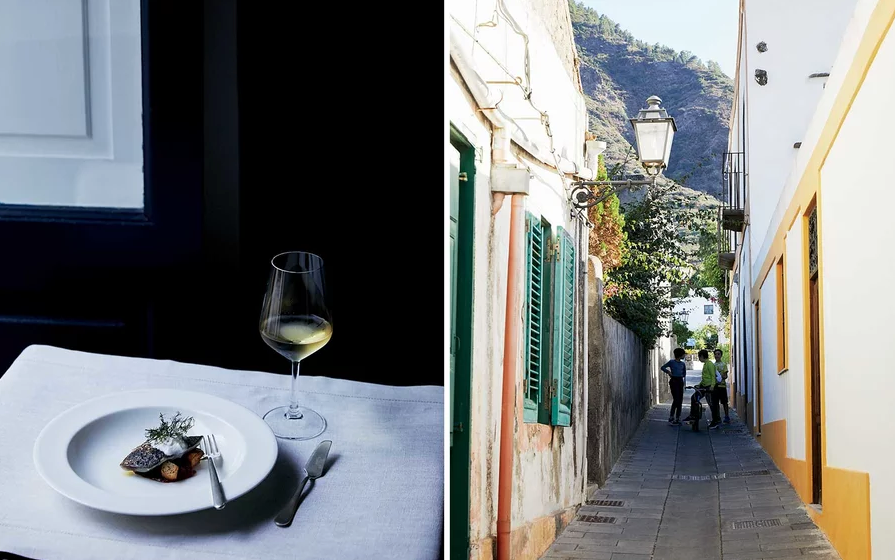 I'd noticed the way his sous-chefs and line cooks all watch him, with the same rapt attention the Noma kitchen pays to its leader, René Redzepi. When I took a bite of the dish, I could tell why. The balance between the acidic zing of the ferment and the fatty funk of the fish confirmed I was in the presence of greatness. It announced the curiosity, creativity and technique of its maker. "I'm just trying to show appreciation for the island," De Vivo told me. "It's incomparable. It could be one of the best food destinations in all of Italy."
Following the path back to my room, I dipped down a slope and then ascended. The stars were out. The waves whispered, then crashed. Occasionally, a beam of light from the Capofaro lighthouse shot past me, like something extraterrestrial. Stromboli was lost to the blackness of night.
Having not noticed any volcanic activity before bed, I kept waking in hopes of seeing some.
At midnight, I checked.
At 2, I woke and checked again.
At 4, still nothing. By 6, I was starting to take it personally. Did I not deserve this splendor? Sheathed in my robe, I headed out to the porch and looked toward the volcano once more. No glow, no lava, no action.
Twelve hours later, I was high on Stromboli's northern flank, looking down on the Sciara del Fuoco, or "stream of fire." Lava has flowed from Stromboli for much of the past two millennia, blackening the land and carving up the earth. Near my feet, chunks of rock pulsed shades of glowing orange. The steam that had looked from a distance like a cloud of chic Italian cigarette smoke now seemed more menacing. The deep, violent rumbling emanating from within the volcano was especially unsettling after the general absence of sound the previous few days. Filicudi had been a place to be alone and Salina a place to bliss out on the beloved tropes of vacation—sea, wind, food, wine—but Stromboli, I realized, was something more complicated, a place to grapple with what it means to be alive. I couldn't escape the sensation of being small and temporary in the face of the volcano—but I also felt triumphant, for having climbed it, and lucky, just to be there.
Before my climb, I'd had lunch at Trattoria Ai Gechi, a restaurant that had been recommended to me back in Salina. I found it at the end of a narrow, curving street in the village of Stromboli, which sits at the foot of the volcano. The restaurant was elevated, terraced, and surrounded by leaves in a way that made me feel like I was in a tree house. Antonino Zaccone, its 41-year-old owner, sat with me at my table before going to pick up his son from school. He told me the dish I'd be eating, pasta a la Nino, got its flavor from the tuna he'd smoked for 36 hours before folding it into the dish along with cherry tomatoes and ricotta al forno. On Stromboli, fire is present even in the food.
He suggested I limit myself to just this one dish before my hike. "Tonight," he said, "you come to eat." He advised that the trek would make me hungry for more than just food. "You contemplate," he said, in his Italian-inflected English. "You stay only with you." I knew what he meant—that Stromboli, for those who climb it, is a mirror as much as it is a mountain.
After lunch, on the path up Stromboli, I stopped in on Karen, a friend of a friend. Her house sat behind a gate in Piscità, a cluster of homes perched above the sea. She told me she once worked for Tom Ford in Europe, but now taught meditation on Stromboli. We sat behind her house, drinking coffee and watching the water turn golden in the afternoon light. We'd never met, but we talked openly about our parents and our fears and our humanity, about living and dying, as if engaged in a sudden psychotherapy session. It felt appropriate—cleansing, actually—because we were on Stromboli, and that was, it seemed, just how people on Stromboli talked. When we finished our coffee, she gave me a hug and sent me off on my climb with a half-dozen heart-shaped, almond-flavored cookies from the nearest bakery. After a couple of hours of hiking, when I reached the highest point I could reach, I sat down to eat them. Just as I bit into the first one, the ground beneath me began to tremble.
That night, after nearly a dozen miles of walking, I returned to Ai Gechi, famished, just as Zaccone had said I would. He was standing near the entrance to the restaurant. He saw that I was smiling. "I love this island," he told me, covering his heart with his hand. "You take the island in your soul. You go to the volcano and you feel it. In Stromboli, you come looking for yourself. And you find it."
Getting There
Fly in to Palermo Airport (PMO) or Catania-Fontanarossa Airport (CTA), connecting through Rome or another major European hub. Liberty Lines operates ferries to all seven inhabited Aeolian Islands from Palermo and Malazzo, in northeastern Sicily. To get to Malazzo from Catania, about two hours away, prebook a car with Adige. Liberty Lines also operates interisland ferry service. In high season (June through late August), be sure to book ferry tickets online in advance, since the boats fill up. Service can be delayed or canceled because of rough weather or a strike.
If a 20-hour travel day is something you'd rather avoid, spend the night in Taormina, Sicily, en route to Milazzo, at the noble-feeling Belmond Villa Sant'Andrea (doubles from $841). The hotel is built on an 1830s estate, surrounded by a private park and situated on a secluded pebble beach with stunning, cinematic views of the Bay of Mazzarò.
Filicudi
Hotel La Canna (doubles from $123), the island's best place to stay, has a good restaurant and a pool. Ask the front desk to arrange an excursion into the waters around Filicudi with a local; don't miss La Canna rock (trips from $25), a basalt tower rising from the sea that is said to possess magical powers. Villa La Rosa (entrées $6–$25), up the path from the hotel, features chef Adelaide Rando's lasagna with wild fennel and an oval-shaped bar with a pink marble top that looks like it belongs in a Wes Anderson film.
Salina
I loved the quiet of Capofaro Locanda & Malvasia (doubles from $455), a converted fishing village with the sea on one side and vineyards on the other. The hotel can organize tours of the other islands aboard a Hatteras yacht. Its restaurant (entrées $27–$37) showcases produce from its gardens and a strong commitment to bread making. Da Alfredo (11 Via Vittoria Alfieri; entrées $12–$17) serves Salina's most popular dish, pane cunzato, a round of grilled bread piled with salad-like toppings. Signum (entrées $37), housed in a fine Salina hotel of the same name, is the island's sole Michelin-starred restaurant.
Stromboli
Il Gabbiano Relais (doubles from $248) has 11 apartment-style rooms, grocery delivery, and a shaded pool. At Trattoria Ai Gechi (12 Via Salina; entrées $15–$31), dishes like pasta with smoked tuna, arugula, and cherry tomatoes are as memorable as the colorful owner, Antonino Zaccone. Beach time on the black sands of Spiaggia Lunga is magical and mandatory. You can hike most of the way up the volcano yourself, but a guide is required to summit. Magmatrek (tours from $35) leads group hikes and can arrange private tours. Before leaving Stromboli, order all the deep-dish pizza you can carry from Panificio La Pagnotta (Via Soldato Francesco Natoli)—it's the perfect lunch for the hydrofoil back to Sicily.
Other articles from Travel + Leisure: