Think You Can Design a Hotel Room Out of Ice?
The Icehotel in Sweden has an open call for artists and non-artists alike to imagine their own frozen suite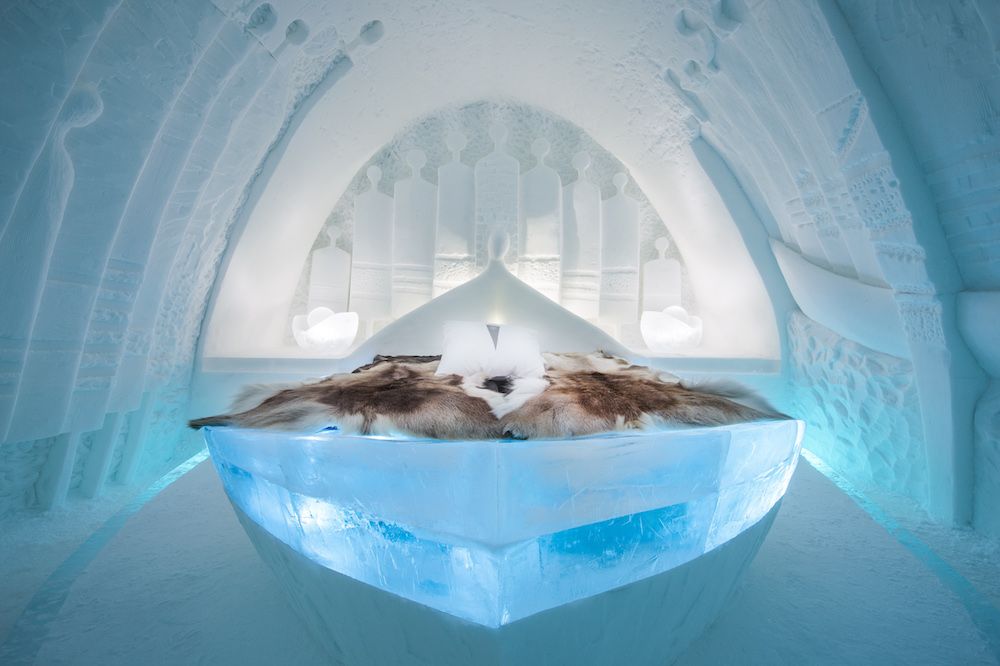 Designing and building a hotel suite is no easy endeavor. Now imagine doing so using nothing but ice and snow. Since 1990, the Icehotel in Jukkasjärvi, Sweden, rebuilds itself north of the Arctic Circle each winter, creating a tourist destination made entirely out of ice and snow. This year is no different, and to help get the public involved, the hotel is inviting people from around the world to have a go at creating its ice suite from start to finish.
To be considered, designers must submit an application online that includes images and/or visuals an overview of their vision, a written description of specific design elements, and a name for the 323-square-foot suite. A team of judges will then choose a winner and that person (you can either work solo or as a team) will get the opportunity to travel to Jukkasjärvi and be involved in every aspect of the construction process, from carving blocks of ice from the frigid Torne River to spending the night inside the completed suite.
"It doesn't matter if you have worked with ice and snow before or not," Arne Bergh, the creative director and co-owner of the Icehotel, tells Smithsonian.com. "If you're selected, Icehotel will show you and your fellow artists some basics about the material and the tools. The artist teams are responsible for completing their suites at Icehotel, but there is also a support team that can advise you on design and construction, as well as a lighting team to assist you with the lighting of your suite."
Past winner "Cumulus" by Annakatrin Kraus and Hans Aescht. (Asaf Kliger)
Bergh emphasizes that the crazier and more creative the idea, the better, so he encourages submitters to not be afraid and to think outside the box with this one.
"[The judges and I] are looking for something that we've never seen before," Bergh says. "We never want to repeat designs from year to year, so we're always on the lookout for something unique."
In previous years, artists have created everything from hexagon-shaped ice chandeliers that cascade down from the suite's vaulted ceiling to a bed floating on a cloud-shaped bedframe made of a mixture of snow and ice.
Bergh says that one of the most challenging aspects of the project is working with ice, a fickle medium that can change at a moment's notice. Because of this, the Icehotel puts safety first and foremost to ensure that the idea for the winning suite is architecturally sound and will survive throughout the winter months and into the spring. During the ice suite's multi-month run, it stays at a chilly 17 to 23 degrees Fahrenheit. (For comfort, the hotel provides a mattress, thermal sleeping bag and reindeer hides to guests staying in the suite.)
"The atmosphere changes from day to day and goes back to cycle of nature as it warms," he says. "By mid-summer, everything is gone. And then we start the cycle again."
For more information about the Icehotel and to submit an application by May 6, go here.