The World's Best Uphill Bike Rides
Long, steady climbs on a bicycle are the holy grail of athletic conquests. We hill climbers measure the worth of a landscape by its rise over run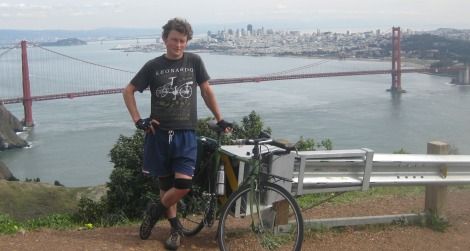 On St. Patrick's Day, my brother and I rode our bicycles to the top of Conzelman Road in Marin County, and from the overlook above San Francisco, with a view of the Golden Gate Bride, we drank a strong ale from our local Lagunitas Brewing Company. A man, just out of his car and camera in hand, said, "You guys earned your beer, eh? Makes me feel lazy." We nodded but didn't have the heart to tell him that we'd actually pedaled to the top, gone back to the bottom, and repeated the mountain ride nine more times. The four-hour stunt was our birthday gift to ourselves (we're twins)—a 35-mile ride in which we gained more than 7,000 vertical feet. Not bad, but at the end, we were dizzy with the numbing repetition of the feat, and we knew one thing for certain:
"We need a bigger hill, Andrew," I said to my brother.
Because for hill climbers like us, long, steady, unyielding climbs are the holy grail of athletic conquests. Climbing such roads on a bicycle delivers endorphins to the brain, strengthens muscles and calms the mind. It works like yoga, asking concentration while allowing meditation. Big climbs mean health, nourishment and prolonged youth. We thrive on them, and hill climbers like us can't help but measure the worth of a landscape by its rise over run. And so we scorn Holland and its tidy flat bike paths, and we dream of mountains and those rare roads that go upward for thousands upon thousands of feet without pause. But where are these monsters—and how high do they climb? The following list includes just a few of the best uphill bike rides in the world. You needn't be a hill climber to love them, because they're equally thrilling to ride down. Just check your brakes and wear your helmet.
Haleakala, Hawaii. Rise Over Run: 10,023 feet of climbing in 35.5 miles. The road up the Haleakala volcano delivers one of the longest highway ascents, with the most vertical gain in one push, in the world. It is also one of the most downright difficult rides, as there is virtually no flat or downhill ground once the climbing starts. Moreover, the air grows thin with the altitude, heightening the difficulty as cyclists struggle to catch their breath. Not surprisingly, some tourists come to this mountain for only the thrill of going down it. Maui Easy Riders, for one, offers what is billed as one of the longest guided downhill bike rides in the world.
Khardung La, India. Rise Over Run. 5,566 feet in 24 miles. Elevation measurements seem to vary in the Himalaya depending on the source, the country, the website and the altimeter, but still, cyclists agree: Khardung La out-passes nearly every other highway pass in the world. It offers only half the vertical gain of Haleakala, but it leads cyclists to unsurpassed heights of more than 18,000 feet above the sea. Supposedly, no "motorable" road goes higher than the one to Khardung La. Before going down, bundle up against the chill.
Mont Ventoux, France. Rise Over Run: 5,303 feet in 13.6 miles. Three roads lead up this famed climb on the western edge of the Alps. Each is tough, but the steepest is considered one of the most challenging bike rides anywhere. The climb has gained notoriety as a recurring feature in the Tour de France, often as a dramatic mountaintop stage finish, with all cyclists sprinting for the summit on the steep home stretch. But during the 1967 Tour, Mont Ventoux reminded cyclists that hill climbing is not all fun and games. Legendary British cyclist Tom Simpson died on the way up due to heat exhaustion, dehydration and, possibly, a combination of drug and alcohol use. Romantics may prefer to believe it was simply the mountain that took his life.
Sualmaz Pass, Turkey. Rise Over Run: 5,540 feet in approximately 25 miles. This climb from the Mediterranean Sea into the Toros Mountains does not make the lists of the world's great rides, nor is its statistical info posted on any online cycling forums, nor do teams of Lycra-clad road bikers blitz up and down it on warm weekends. I know of the Sualmaz Pass only because I know the pass personally, and it's got all the charisma of a world classic. It begins in the town of Anamur, roughly at sea level, among groves of banana trees and subtropical sun. Then, inland several miles, the ascent begins. The lush valley floor drops as the mountains soar overhead. Bring food and water (I ran out of both when I climbed it in 2010) and start early (I got a late start and arrived in the town of Ormancik after dark. I slept in a vacant lot and finished the climb in the morning). The magic of this road is the near absence of traffic, the dramatic climatic change one observes between bottom and top and the novelty of being the only cyclist for miles. People will stare at you and cheer and honk their horns in encouragement. Soak up the glory.
Mauna Kea, Hawaii. Rise Over Run: 13,597 feet in 43.1 miles. This biggest of big climbs should top the list, but it comes with a disclaimer: The final three miles are unpaved dirt, ash and gravel and are reportedly almost impossible to ride on a road bike. On the asphalt, which terminates at 9,200 feet above the sea, the highway slants to as steep as a 17-percent grade in places. If you reach the top, savor the strangeness of being in a frigid, treeless Mars-like moonscape—in Hawaii.
Mount Washington, New Hampshire. Rise Over Run: 4,586 feet in 7.6 miles. If bang is elevation and buck is overall mileage, then this route may offer more of the former for the latter than any other paved road. Unfortunately, this legendary climb, considered by many to be the world's most difficult feat in uphill cycling, is not open to just anyone. The road, which averages 12 percent in grade, is private and is closed to bicycles except during two organized races each year, in July and August. Currently, the July event is open for sign-ups. Note: Registration requires a fee. Cyclists must also arrange for a ride down afterward, as the road is considered so perilously steep that cycling downhill from the summit is prohibited.
Organized bike rides and races that will bust your butt:
The Everest Challenge, Nevada and California. 29,035 feet of climbing in 208 miles, 2 days.
The Death Ride, California. 15,000 feet in 129 miles, 1 day.
The Leadville 100, Colorado. 16,165 feet in 99.3 miles,  1 day.
The Cape Epic, South Africa. 53,460 feet in 488 miles, 9 days.
The Steepest Streets:
Steep city streets are a much different sort of challenge than long highway climbs. They are short, usually a standard city block, but they can be really, really steep, allowing those who go up them some no-joke bragging rights. Consider these nasty, slanty city slopes:
1. Broderick Street, San Francisco. 37 percent.
2. Canton Avenue, Pittsburgh. 37 percent.
3. Baldwin Street, Dunedin, New Zealand. 35 percent.
4. Eldred Street, Los Angeles. 33 percent.