The World Monuments Fund 2012 Watch List
The latest Watch List from the World Monuments Fund cites 67 invaluable places in need of attention, in some cases protection from tourists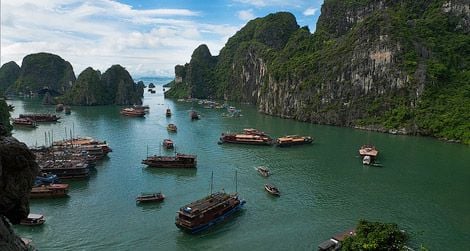 I'm at once happy and sad to note the release of the 2012 World Monuments Fund Watch List. Sad because, compiled every two years, it focuses attention on urgently endangered cultural sites around the world; happy because the list has helped generate some $90 million from governments, businesses, individuals and nongovernmental organizations to save embattled sites whose loss would impoverish mankind.
The 2012 list includes 67 fascinating entries, from a 19th century train station in Turkey to a modernist government building in Goshen, New York. Forty-one countries are represented on six continents, with only Antarctica left out, though WMF president Bonnie Burnham noted at a press conference in New York I attended yesterday that the South Pole landmass has been on the list before—most recently in 2008 when the organization cited explorer Robert Falcon Scott's hut on Ross Island, which has suffered from global warming and tourism.
After accepting a contribution of $5 million over the next five years from American Express, which has sponsored the watch list since its founding in 1996, Burnham described the factors for inclusion that weighed especially heavily this year, starting with non-sustainable tourism. She called the tourist industry "a double-edged sword" that can negatively affect precisely those characteristics that make a site unique, as in the newly-inscribed Charleston, South Carolina, Historic District, increasingly overwhelmed by sightseers from cruise ships, a phenomenon I've observed as far afield as Juneau, Alaska. It's a conflicting issue for travelers like me who want to see these remarkable places, but don't want to become a part of the problem created by an influx of tourists.
Timeliness was another important factor, according to Burnham, evidenced by entries like the colonial city of Santa Cruz de Mompox in Colombia, on the verge of development because of new road construction; and St. Helena off the West African coast, of Napoleon-in-exile fame, where delicate historical remains are threatened by the arrival of a new airport.
Perennially, the WMF taps sites that have suffered from major natural disasters and this list is no exception with the inclusion Japan's northeast coast, struck by earthquake and tsunami in March 2011; some 700 national landmarks there have been affected, local officials estimate. The Gingerbread District of the Haitian capital Port-au-Prince, first cited in 2009, reappeared on the list due to further endangerment caused by an earthquake in January 2010.
The new WMF list also supports living cultural traditions like the floating fishing villages on Halong Bay in Vietnam, a truly magical place which I visited several years ago on the Emeraude, a replica of a French colonial steamship. We stopped at one of the villages where I walked from houseboat to houseboat and bought shells from the children of fishermen,whose way of life has become ever more difficult thanks to the disappearance of fish on the bay.
This time around the list takes special note of endangered modernist buildings in the States. Two of these are in Manhattan: 510 Fifth Avenue, a glass-lined International School bank building, and the New York Studio School near my place in Greenwich Village, founded around 1920 by the sculptor and art collector Gertrude Vanderbilt Whitney and the first home of the Whitney Museum of American Art.
My favorite entry for 2012 is the newly-discovered Maya site of El Zotz on the Buenavista escarpment in Guatemala imperiled by agriculture and development. The goal is to safeguard the site by encouraging low-impact ecotourism, again underscoring the role travelers can play–hopefully for the better.