The Resilient Uffizi Gallery
Having survived bombings and floods, the Florence, Italy museum is home to a priceless collection of art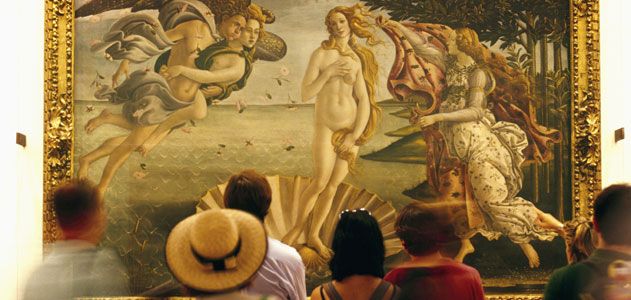 When word flashed around the globe that a car bomb had exploded outside Florence's Uffizi Gallery in May 1993, the world's art community let out a collective gasp. Home to a priceless collection of Renaissance art and other masterpieces, including Sandro Botticelli's Birth of Venus and Leonardo da Vinci's Annunciation, the Uffizi is one of the world's oldest museums. The palazzo that houses the gallery was designed by architect and painter Giorgio Vasari and begun in 1560 for Cosimo I de'Medici, grand duke of Tuscany. Originally built as government offices (uffizi), the building became a venue for the display of art in 1574, when Cosimo's son Francesco I transformed the top floor into a place "to walk in with paintings, sculptures and other precious things."
Since the Uffizi opened to the public in 1769, it has survived World War II bombing raids and a disastrous flood in 1966. The 1993 car bomb, believed to have been the work of the Sicilian Mafia, caused less damage than feared. Only three paintings were deemed beyond repair.
The resilience of the Uffizi is appropriate for the city that defied conventions and saw the birth of the Renaissance. "Every room is full of masterpieces, and together they chart, almost decade by decade, how the Renaissance developed," says Syracuse University professor Gary Radke, a specialist in Italian Renaissance art. "Spend time with the masterpieces, examine them closely and come back again."