The Mystery of This Petroglyph-Covered Alaskan Beach
The 8,000-year-old rock carvings were likely created by the Tlingit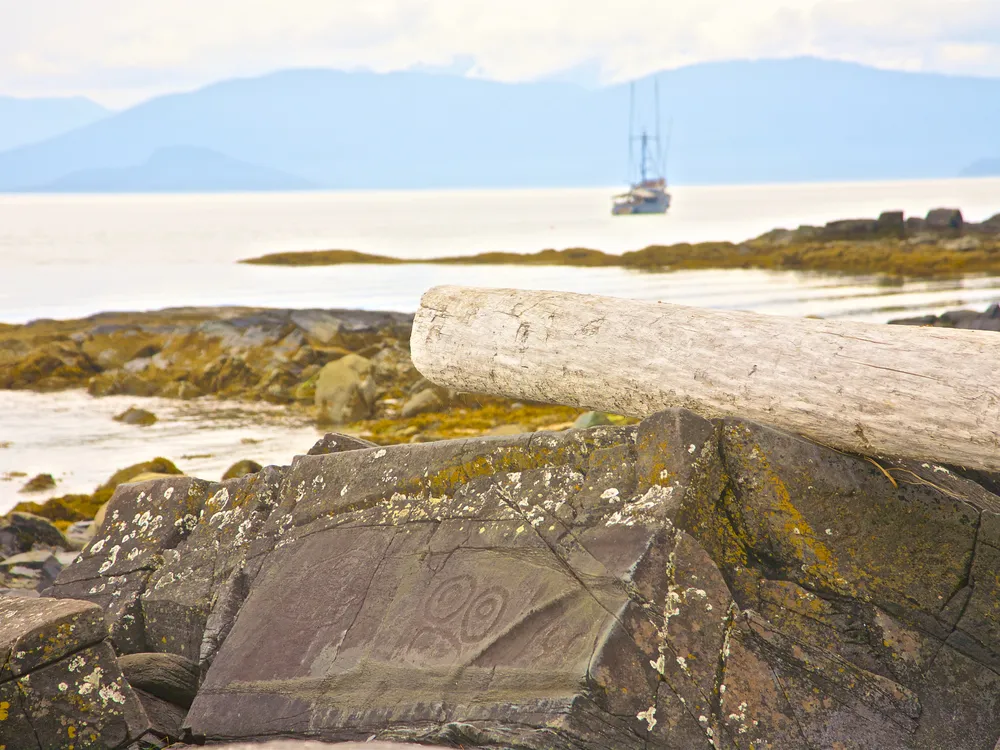 Water laps gently against the rocky shores of Petroglyph Beach State Historic Site in Wrangell, an island town that's part of Alaska's Inside Passage, an archipelago that drips like a chain of pearls along the state's southeast coast. I have to watch my footing as I amble along the beach, dodging thousands of craggy rocks that are beginning to poke up out of the sand.
It's a sunny summer morning in late August, and the tide has already gone out for the day, exposing a rocky wonderland ripe for exploration. Unlike at most beaches, where people go to comb for seashells or sea glass, here I'm on the hunt for the dozens of petroglyphs that pepper the coastline's boulders and bedrock. (The word petroglyph is derived from the Greek words petra and glyph, which translate to "rock" and "carving.")
While there are numerous hypotheses about the origins of the more than 40 rock carvings etched here—one of the highest known concentrations of petroglyphs in Alaska and around the world—the one most often agreed upon by archaeologists is that they were etched roughly 8,000 years ago by the Tlingit (pronounced CLINK-it), an Alaska Native group that continues to inhabit the state's southeastern archipelago. But when it comes to the petroglyphs' intended purpose, that's where things remain a mystery.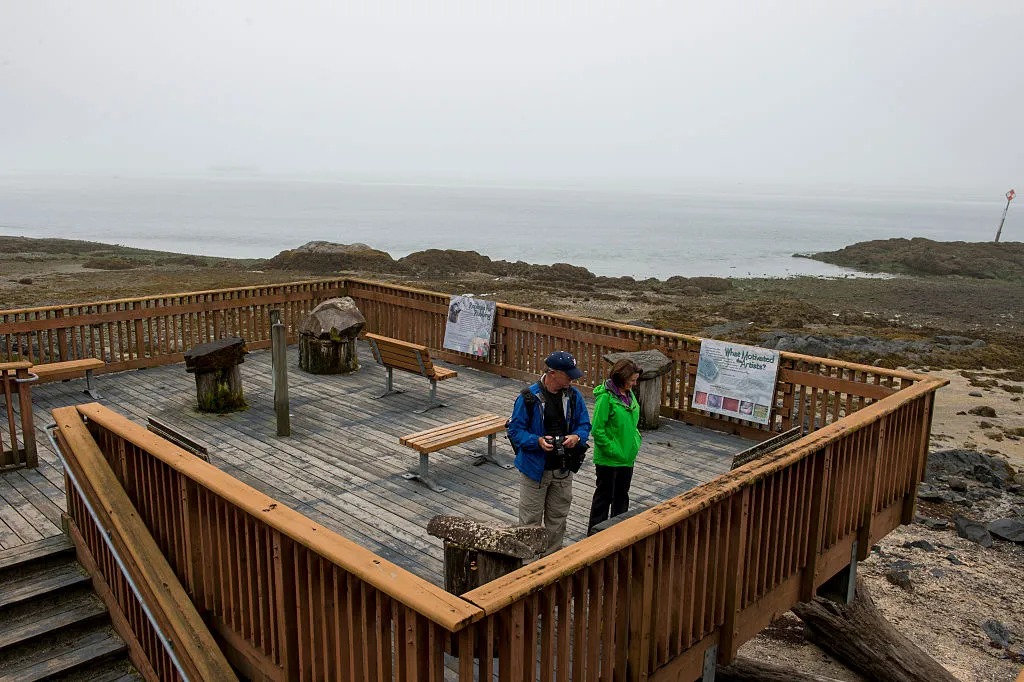 According to a placard at the beach's entry, the petroglyphs may have served any number of purposes, including being territorial markers to warn enemies that they were encroaching on settled land, a historical record commemorating a significant event such as a battle or an epic tidal wave that happened here, or underwater beacons to help coax salmon to swim to the mouths of the rivers and streams that feed into the Inside Passage straits. Others believe the drawings mark an important fishing site or settlement.
"These specific symbols are very unique to Southeastern Alaska," says Nicholas Schmuck, a special projects archaeologist with the Alaska Department of Natural Resources. "Every time you get a good storm, they can become buried and then later exposed. They also come and go with the tides, causing them to disappear and reappear."
The several-acre site officially became a state park in 2000. The petroglyphs are accessible via a wooden boardwalk that meanders down toward the rocky beach. On the surface, the site looks like any other beach in the area—especially when the tide is in, hiding the petroglyphs. But once the water retreats, searching for the drawings is much like an Easter egg hunt, with each artwork popping up when least expected. It's possible there were once more than the 40 petroglyphs currently found at the beach, but tides over the centuries likely washed them away.
The best time to see the petroglyphs is at low tide, so I use the local tide tables provided by the National Oceanic and Atmospheric Administration as reference. Since my visit is during the summer, I aim to be at the beach earlier in the day.
It's important to note that damaging or stealing the petroglyphs is considered a crime, and the artworks are protected under the Alaska Historic Preservation Act.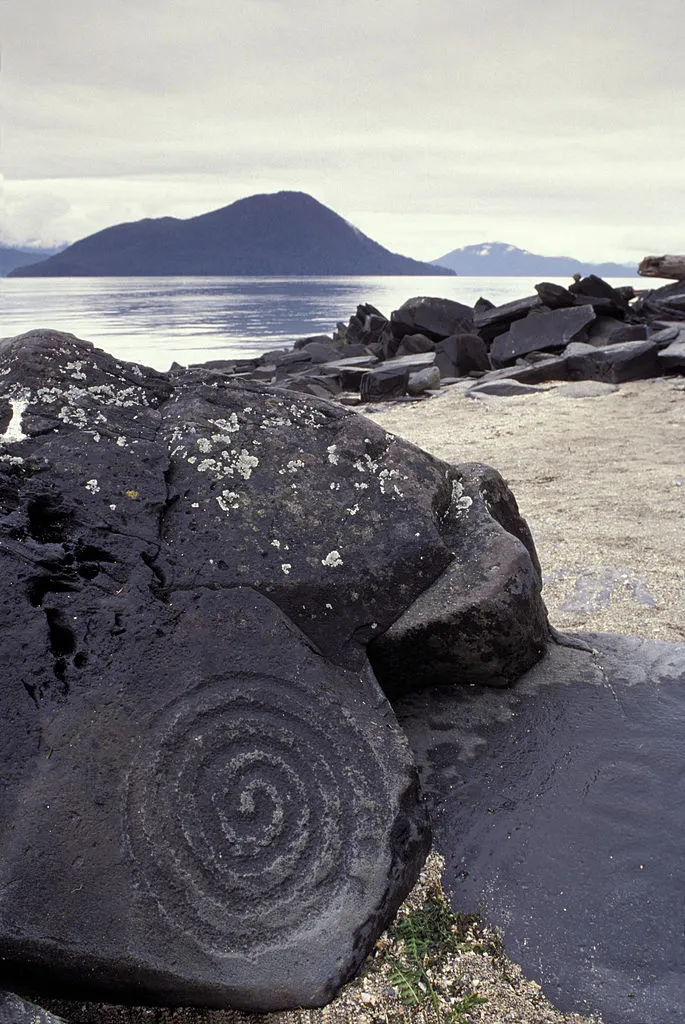 The first carving I come across is a perfectly etched spiral, which immediately reminds me of the doodles I used to draw in the margins of my homework back in school. I pour some water from my water bottle onto the petroglyph to get a better look, since they appear more vibrant when wet. As I continue exploring the beach, I stumble upon a cluster of petroglyphs, including a cartoonish-looking face with two ginormous eyes, what appears to be a fish or whale replete with detailed fins and a bird that called to mind a flamingo perched on one foot.
I try to imagine what these ancient people were trying to communicate with their meticulously carved drawings. Did they know that thousands of years later this beach would become a popular tourist attraction? So much so that Wrangell commissioned Dick Stokes, a local Tlingit artist, to recreate some of the petroglyphs. Thanks to his recreations, visitors like myself can make rubbings using carbon paper without damaging the original pieces of artwork.
When I talk to Schmuck on the phone a few weeks after my visit, I ask him what his take is on the petroglyphs' purpose and whether there are any clues that can help people like myself better understand their meaning.
"Wrangell is pretty exceptional when it comes to its abundance of petroglyphs," Schmuck says. "If you look at [Tlingit] clan houses, they each have different crests. So, it's possible that each of these petroglyphs are a different symbol for the clan."
As an example, Schmuck mentions a drawing that I first thought was a fish but he says is more likely an orca (or killer whale), a common symbol used by the Tlingit on their meeting houses and totem poles.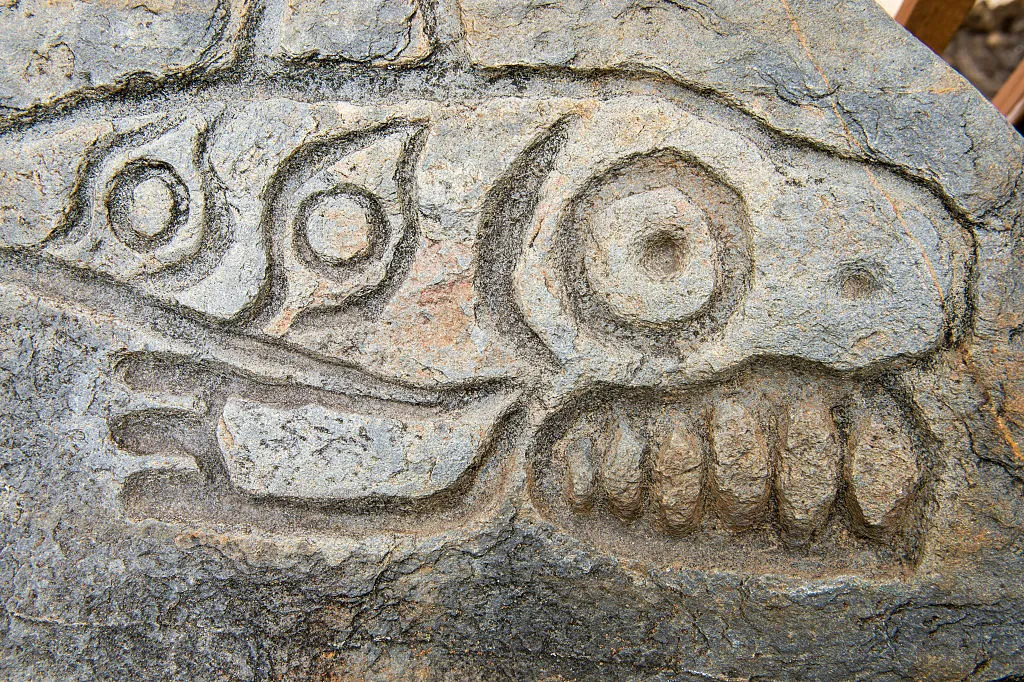 "That one stands out because it was drawn in the Tlingit style," he says. Also known as Northwest Coast art, this style of artwork contains curved thick and thin lines known as formlines. Ovoids (egg-like shapes), U forms and S forms often depict animals and people.
The Tlingit are accomplished carvers, evidenced by the many totem poles towering over the region. Like the totem poles, which often contain symbolic imagery depicted in family crests, the petroglyphs feature similar animals, such as killer whales, thunderbirds, salmon and ravens. Was it possible that a Tlingit artisan thousands of years ago was practicing their artistry by chiseling it into the beach rocks before applying their carving skills to an even bigger artwork?
It's unlikely anyone will ever know the true intent of these petroglyphs, which simply adds to their mystery.
Petroglyph Beach State Historic Site is located about one mile north of Wrangell and is open to self-guided tours.