When it comes to museum exhibitions, the Smithsonian Institution has another impressive lineup slated for 2023. Visitors to the National Museum of African American History and Culture will be able to explore the alternate realities of the Black diaspora through artifacts like graphic novels, cover art and costumes, while the now 100-year-old National Museum of Asian Art is hosting the first major exhibition in the United States dedicated to Anyang, the capital of China's Shang dynasty, which was occupied from circa 1250 B.C.E. to circa 1050 B.C.E. The Cooper Hewitt, Smithsonian Design Museum will delve into the history behind symbols, from the Olympic rings to emoji. Over at the National Zoo, a historic bird house is being transformed into a series of spectacular walk-through aviaries for migratory songbirds, waterfowl and shorebirds.
In the world at large, 2023 is to be the year of long-awaited museum openings—this may finally be the year that the Grand Egyptian Museum, two decades in the making, will start welcoming the public—and immersive exhibitions allowing visitors to, say, experience flight from a replica cockpit of a Lockheed Electra 10E or play distorted riffs on a punk legend's guitar. Whether you're looking to converse with robots, become part of an evolving dialogue on the National Mall or learn more about the untold stories of African Americans, modern art, the Cold War or dinosaur fossils, these ten museums are sure to enlighten, inspire and offer whole new ways of seeing our surrounds.
The Punk Rock Museum; Las Vegas, Nevada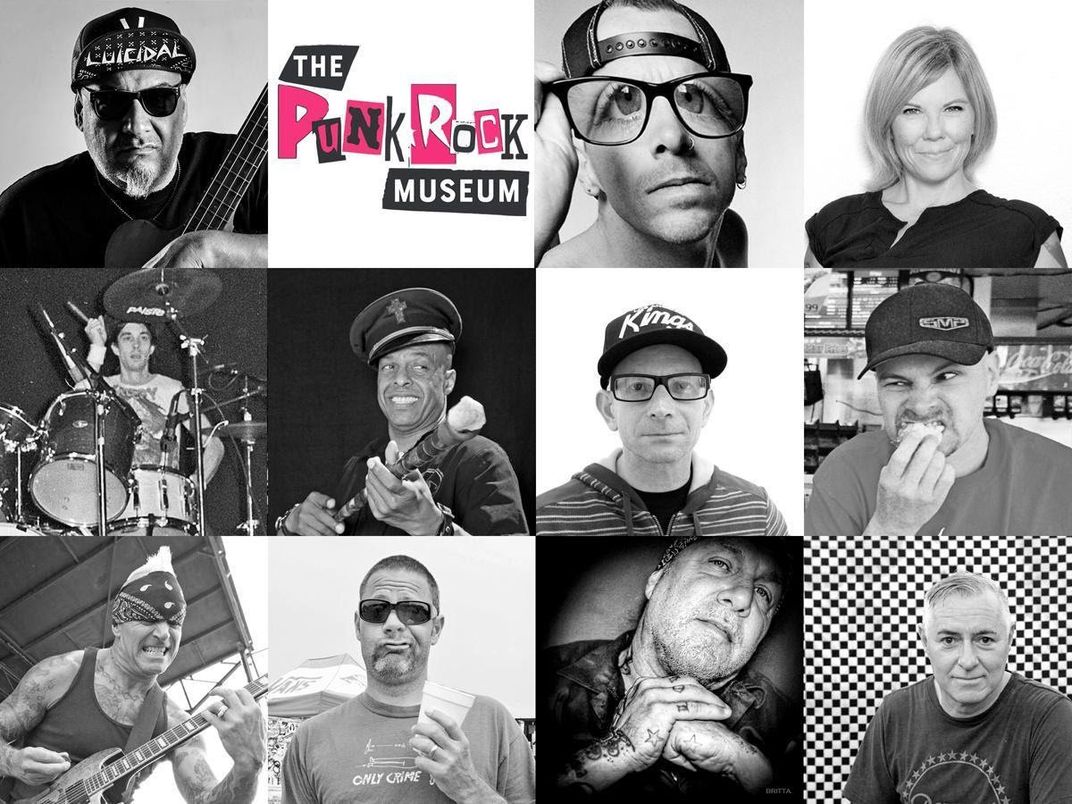 Punk rock music first emerged in the 1970s, and its nonconformist ethos has been influencing everything including art and fashion in the decades since. Now, this largely anti-establishment and DIY subculture (think Patti Smith, Doc Martens and Social Distortion "Skelly" tattoos) has a new place to call home.
Set to open its doors on March 10 between downtown Vegas and the Strip, the 12,000-square-foot Punk Rock Museum is a brainchild of the "Punk Collective," a group of musicians and industry professionals that include Vinnie Fiorello, former drummer for American ska punk band Less Than Jake, and Fletcher Dragge, guitarist for Pennywise. Their goal is to preserve the ephemera of the punk rock movement for future generations.
Visitors will be treated to an original collection of concert fliers, handwritten lyrics, punk clothing and other artifacts from bands like Blondie and Devo. The museum will also feature instruments, such as bass guitars, that were used by real-life punk musicians, including members of Strung Out and Rise Against—and that museum-goers can actually play.
Along with a shop where you'll be able to pick up T-shirts, hoodies and other punk-related merchandise, the museum will feature its own tattoo parlor and wedding chapel, as well as a dive-style bar that—in true punk rock fashion—serves up warm beer.
What's especially cool: Come April, you'll be able to book guided tours led by more than a dozen actual punk legends themselves, including Suicidal Tendencies' Louiche Mayorga and The Offspring's Noodles, who can share stories about his time as a school janitor during the band's early days.
Amelia Earhart Hangar Museum; Atchison, Kansas
Opening this spring at Kansas' Amelia Earhart Memorial Airport in Atchison—the same town where Earhart was born and raised—the Amelia Earhart Hangar Museum aims to honor the pioneering aviator's enduring legacy with a range of exhibitions that capture her adventurous spirit.
A true trailblazer, Earhart led the advancement of women in aviation, becoming the first woman to fly solo across the Atlantic Ocean and the first person to fly solo from Hawaii to the U.S. mainland.
The 17,000-square-foot hangar facility features Art Deco design motifs that call to mind the 1920s and '30s, formative decades in aviation history. Inside, visitors can experience Earhart's life through 14 interactive and immersive exhibitions, from her early Kansas childhood through her work as a mechanic and nurse and onto her many aviation successes. Don a pair of virtual reality goggles and experience a trans-Atlantic flight, encountering the same weather challenges as Earhart did in her bright red Lockheed Vega 5B. Browse a digitized version of her in-flight logbook. Or take in 3D holograms that showcase technological innovations in aviation.
The museum's displays also describe the feats of other female aviators; detail the impact of celestial navigation, radio waves and atmospheric conditions on flying; and showcase Muriel—the world's last remaining Lockheed Electra 10E and one that's identical to the aircraft Earhart flew on her final trip. A full-scale replica of Muriel's cockpit, which is akin to Earhart's own "flying laboratory," is on hand for visitors to explore.
The Amelia Earhart Hangar Museum is in the process of becoming a Smithsonian Affiliate, which would enable their research institutes to share collections and exhibits, and to conduct joint research.
Jean and Ric Edelman Fossil Park and Museum; Glassboro, New Jersey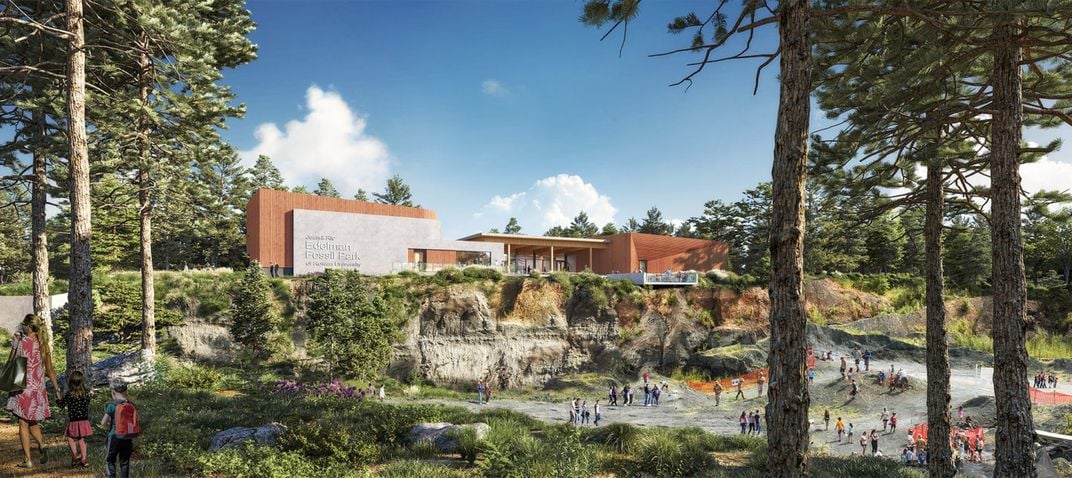 Slated to open in May, the Jean and Ric Edelman Fossil Park and Museum is 44,000 square feet of exhibit space perched above a former marl quarry, one filled with marine and terrestrial fossils from 66 million years ago, just before a massive meteorite destroyed dinosaur life on earth. This is the only facility east of the Mississippi river that features an actively open quarry for public digs.
Part of Rowan University in South Jersey, the museum and surrounding 65-acre Edelman Fossil Park will help shed light on the Late Cretaceous period—when dinosaurs roamed the New Jersey coastline—and the world's fifth mass extinction. But while exhibitions take a look at the deep past, the structure itself is extremely forward-thinking. It blends sustainable design and eco-friendly features that include geothermal heating and cooling systems, and it aims to become New Jersey's largest public net-zero facility, meaning it will remove as many greenhouse gasses as it emits.
Once inside, you can roam the "Hall of Cretaceous Seas," which features dozens of marine recreations (including that of a mosasaur, a type of sea-dwelling lizard that was unearthed onsite) by world-renowned paleo sculptor Gary Staab, or visit "Critter Cove," where you can get up-close with real-life sea and land animals, like lizards, fish and amphibians, that are genetically connected to the Late Cretaceous. There will be hands-on learning stations; a "Hall of Extinction and Hope," where visitors can explore ways to take action against climate change; and even a paleo-themed playground for kids.
Afterwards, visitors can head outside to the quarry to dig for fossils of their own, alongside Rowan University's top paleontologists. Fossils of boney fish and marine crocodiles have been found here, but amateur fossil hunters usually walk away with calcified shells and an occasional shark tooth.
American Museum of Natural History's Richard Gilder Center for Science, Education and Innovation; New York City
For more than a century and a half, the imposing American Museum of Natural History has stood watch over Manhattan's Upper West Side. Now, this impressive stretch of structures highlighting everything from plants and meteorites to human cultural artifacts is about to get even bigger. Opening February 17, the museum's new Richard Gilder Center for Science, Education and Innovation will become home to nearly four million scientific specimens, or 12 percent of the museum's overall collection.
More than an addition, the 230,000-square-foot center offers an entirely new way of exploring the museum, starting with its towering four-story atrium. This glass and stone structure adds a bit of cohesion to the museum's overall campus, opening up formerly dead-end spaces and making it easier to get from one area to the next.
The Gilder Center is home to a "Collections Core," a vertical collections facility featuring floor-to-ceiling exhibits on everything from archaeology to invertebrate biology, as well as galleries like "Invisible Worlds," an immersive science-and-art experience that transports visitors—using massive, wall-high projections—inside the human brain, a strand of DNA or elsewhere. In the center's insectarium, you'll be able to listen to the soundtrack of Central Park insects and stroll beneath a transparent skybridge, which doubles as a walkway for the largest leafcutter ant colony in the U.S. Then wander through the center's vivarium, a self-contained enclosure that's home to 60 free-flying butterfly species. A new research library and learning center hosts a wonderful collection of rare books as well as sweeping views of the city.
International African American Museum; Charleston, South Carolina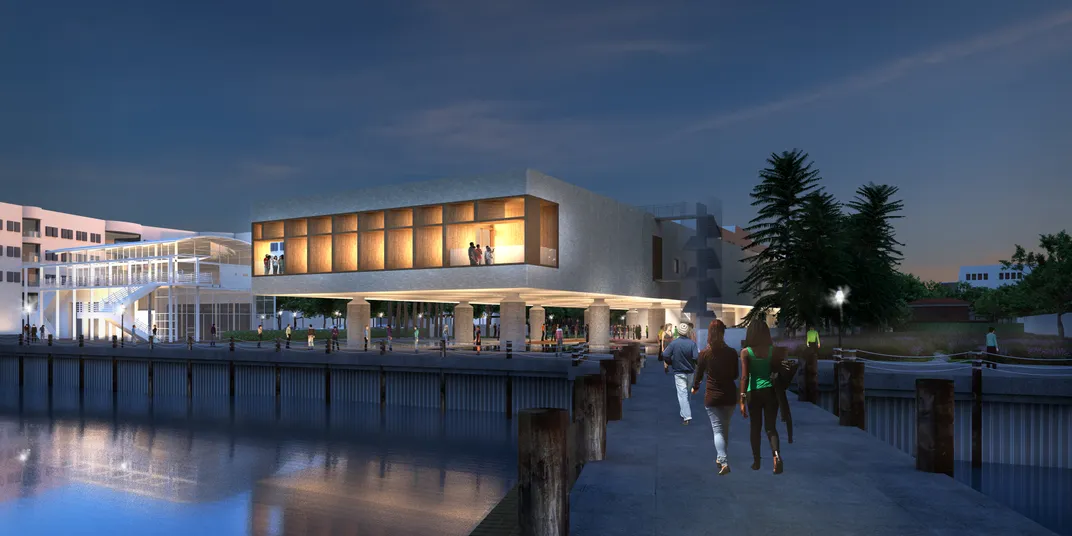 After a series of unfortunate delays—it was also featured as one of Smithsonian's Most Anticipated Museum Openings of 2022—it looks like the International African American Museum is on track to open sometime during the first half of 2023. Good news, as the public has spent over two decades patiently awaiting this 150,000-square-foot facility, which stands on pillars above the hallowed grounds of Gadsden's Wharf, once one of the busiest slave-trading ports in the country.
The museum's permanent collection will include nine distinct galleries and nearly 300 works of art and historical artifacts documenting the untold stories of African Americans, including a Gullah Geechee gallery that highlights the cultural practices of West African descendants brought to the American Southeastern coast, and an original copy of Things Fall Apart, an unsentimental novel detailing pre-colonial Nigerian tribal life and examining the impact of colonization by author Chinua Achebe, often referred to as Africa's great storyteller.
As we detailed in last year's listing, visitors to the museum will learn the history of slavery in the Americas and how South Carolina served as a central waypoint in the international slave trade. They'll also encounter exhibits on the spread of African American culture and the ways African Americans have shaped American politics and the fight for racial justice.
The museum's Center for Family History will allow visitors of African descent to trace their genealogy, and the African Ancestors Memorial Garden offers a place of public reflection. This includes the garden's Tide Tribute, a shallow pool that repeatedly fills with water, then empties, powerfully revealing hundreds of relief figures representing the men, women and children who lay, side by side, in the inhumanly crowded bellies of slave ships to cross the Atlantic.
Grand Egyptian Museum; Cairo, Egpyt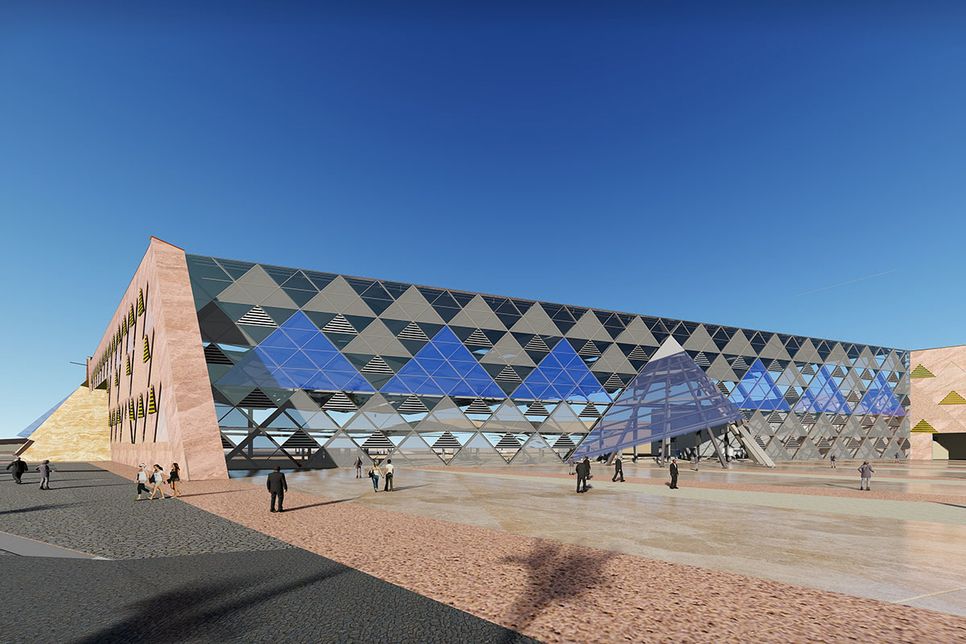 The wait for the Grand Egyptian Museum (GEM) has also felt never-ending, with Smithsonian featuring its impending opening in our 2020 Most Anticipated Museum Openings list, then again in 2022. While the exact opening date is still uncertain, the GEM has officially announced it will be sometime in 2023.
In the meantime, artifacts from around Egypt, including Luxor, Alexandria and Fayoum, have been relocated to the 870,000-square-foot space. These include the reconstructed Khufu ship, a once-buried ritual vessel belonging to the ancient Egyptian pharaoh Khufu that dates back to 2500 B.C.
Rising up from a desert plateau between Cairo and the Giza pyramids, GEM is still slated to be the world's largest archaeological museum, sporting an incredibly vast collection of ancient treasures and artifacts in one of the oldest countries on earth.
As we said in our prior previews:
What's slated to be the planet's largest archaeological museum should be equally as impressive both inside and out—with its 2,000-foot-tall translucent stone facade and an 83-ton statue of Ramses II greeting visitors arriving into GEM's sun-filled atrium entry. There will be thematic gardens to explore, a 3D cinema, an interactive children's museum and more than 100,000 artifacts showcasing Egyptian history from prehistoric to present day. Still the museum's pièce de résistance undoubtedly remains its cache of more than 5,000 objects from the excavation of King Tut's tomb—the most substantial such public collection of the boy king's royal possessions ever in one place—including both his golden throne and funerary mask.
Some of these artifacts will be on display for the very first time since their 1922 discovery.
Robot and A.I. Museum; Seoul, South Korea
Robots and the science behind them are at the heart of this innovative museum, currently set to open in July 2023 in Seoul's Chang-dong area, as a branch of the Seoul Metropolitan Museum.
The Robot and A.I. Museum first broke ground in May 2021, a date that coincided with its inaugural exhibition: its own cutting-edge construction. Designed by Istanbul-based architectural design studio Melike Altinisik Architects, the nearly 27,000-square-foot spherical structure is set to look like a massive spaceship when finished, and the firm is utilizing robots and drones to build it.
Through the use of what's known as building information modeling software, one team of robots is busy molding, assembling and welding together the structure's curved metal facade, while another is in charge of 3D printing its surrounding concrete landscaping. The architects are also employing drones for mapping and site inspection purposes.
The museum itself will feature four floors of exhibitions that act as a wonderland for robots, showcasing the seemingly endless potential of these programmable machines and how the future might look with them. Visitors will be able to experience new developments in artificial intelligence, virtual and augmented reality, and holograms, as well as the latest robotic advancements both in South Korea and throughout the world.
Exhibits are set to include robots that dance, carry on conversation, and even help with hand sanitation. The museum will also exist as a communal space for startups to exchange ideas.
"Pulling Together" and "Beyond Granite" Pop-Ups; Washington, D.C.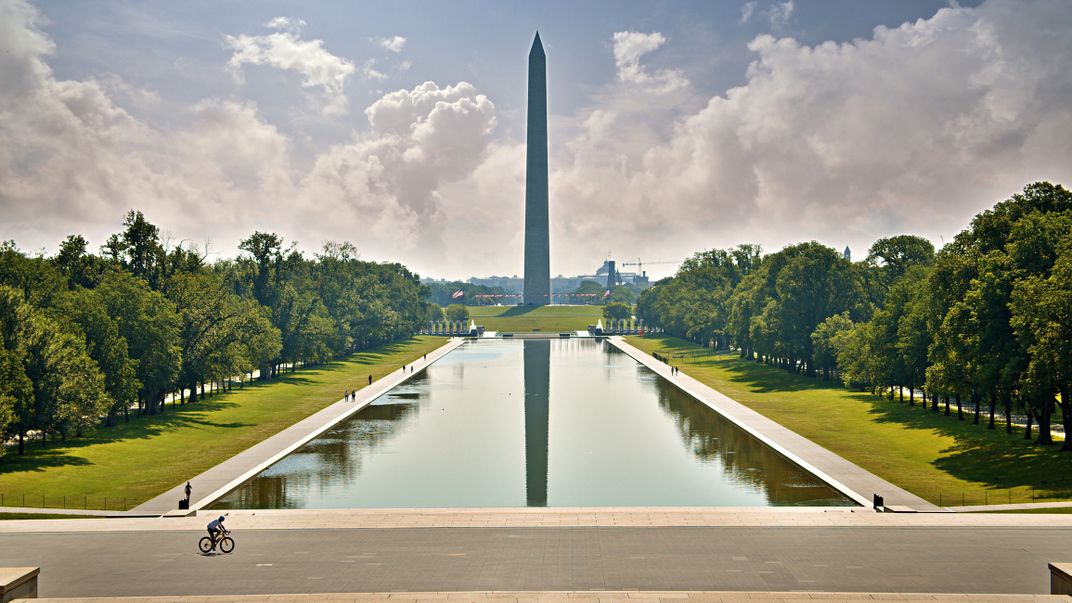 "Beyond Granite" is a pilot program implemented by the Trust for the National Mall, in partnership with National Capital Planning Commission and the National Park Service, to broaden the dialogue on and around Washington, D.C.'s National Mall and bring together private art with a public monument.
Throughout the second half of 2023, the Mall and its surroundings will become home to a series of new commemorative exhibitions, performances and installations—all designed to generate more equity and inclusivity through creative expression, and explore the role of monuments in telling and shaping American history.
The program's inaugural exhibition is "Pulling Together," six new pop-up monuments focusing on themes like migration, histories of enslavement and LGBTQ activism. Each work will be crafted by a different artist—including self-taught visual storyteller Vanessa German, scholar and author Ashon Crawley, and sculptor Derrick Adams—and revealed onsite in late August. A truly experimental exhibition, its opening is slated to coincide with the 60th anniversary celebration of the March on Washington for Jobs and Freedom, led by Martin Luther King Jr. on August 28, 1963.
Sydney Modern Project; Sydney, Australia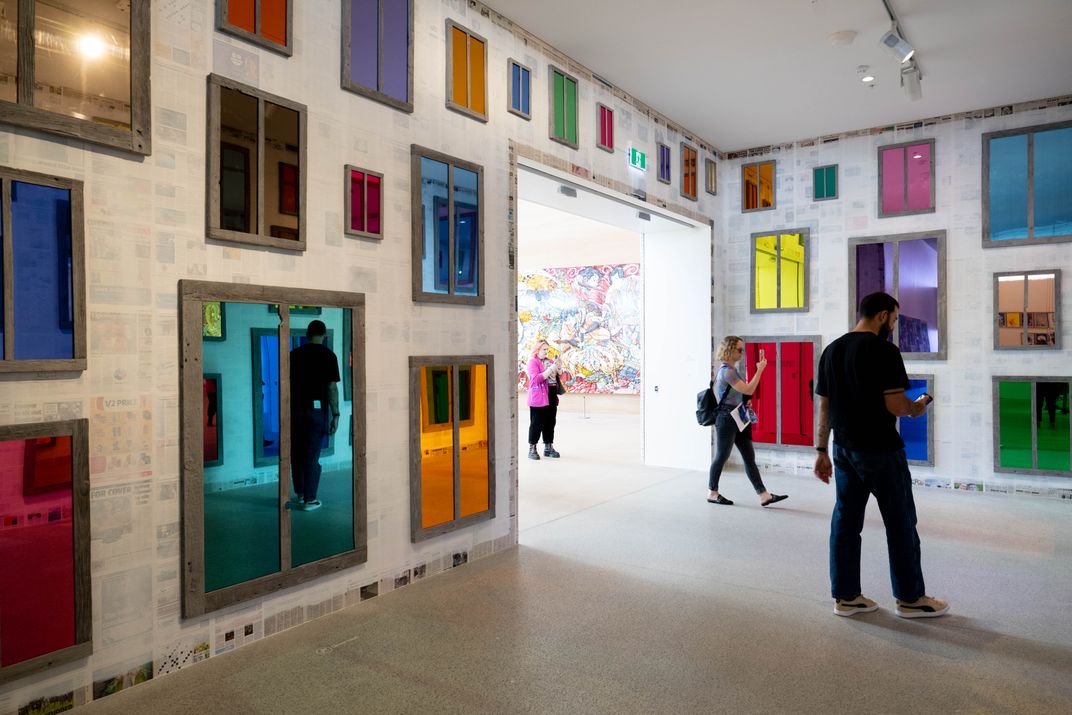 The stunning Sydney Modern Project opened in early December 2022, and it is the city's largest cultural architectural project since the Opera House debuted in 1973. As the modern leg of the Art Gallery of New South Wales, Australia's premier museum of fine Australian and international art, this decades-in-the-making expansion is the country's answer to New York City's Museum of Modern Art and London's Tate Modern.
The project has nearly doubled the museum's exhibition space to 172,222 square feet, with an opening program of exhibitions featuring the work of more than 900 Australian and international artists. Expect works like Choctaw and Cherokee sculptor Jeffrey Gibson's neon-colored Queered Kissing Chair, South Korean conceptual artist Kimsooja's participatory Archive of Mind—which visitors can help build by adding balls of provided clay—and a gallery dedicated to Aboriginal and Torres Strait Islander art.
With its green roofs, rainwater harvesting and low-impact building materials (such as rammed earth), Sydney Modern Project is the country's first art museum to receive its highest sustainable design rating (a 6 Star Green Star by the Green Building Council of Australia). It's all brought together in a spectacular blend of architecture and landscape that overlooks Sydney Harbor.
Along with three interlocked pavilions and a glass-walled atrium, all connected to the Art Gallery of New South Wales' original 125-year-old neoclassical structure by a land bridge that serves as a garden of public art, Sydney Modern Project also features an underground gallery. Known as "the Tank" (it's a former World War II oil tank), this subterranean exhibit space will showcase Argentine Peruvian artist Adrián Villar Rojas' highly sensory The End of Imagination, with its roving lights and time-traveling sculptural forms, through mid-2023.
Regan Vest — The Danish Cold War Museum; North Jutland, Denmark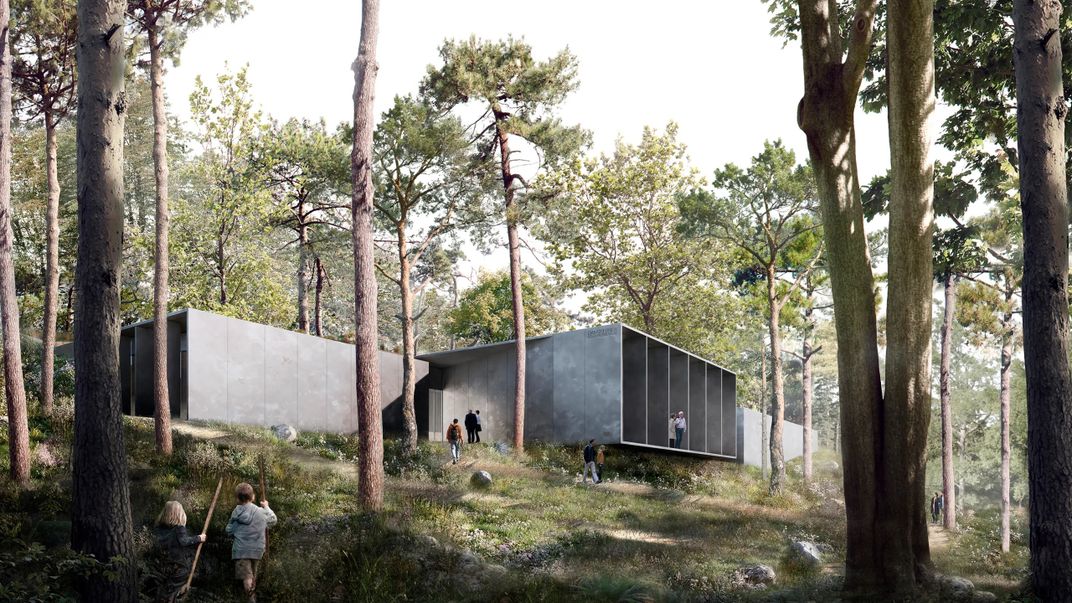 Beginning February 13, visitors to Denmark can experience the Cold War from a new perspective at Regan Vest—a former nuclear-proof bunker that remained one of the country's best-kept secrets for decades.
Located deep within the country's Rold Skov woodland and 200 feet beneath the earth's surface, Regan Vest was constructed in the 1960s to safeguard the Danish government and its queen in the case of a nuclear emergency. Although it was never actually used for a nuclear attack (after the Cold War, it was used on and off for storage and general emergencies until 2012), the 60,000-square-foot facility provides insight into what life was like during the decades-long era, including the fear and tension that embodied it. The bunker was made to be entirely self-sufficient, and guided tours will include everything from a visit to the onsite medical ward to a stroll through its broadcast studio and kitchen. Many of Regan Vest's original 1960s furnishings remain.
The site also includes a new above-ground museum made up of four black, box-like structures. Exhibitions highlight what life was like for Danish citizens during the Cold War, political fronts leading up to the war, and even the 1945 bombing of Hiroshima on the other side of the world. A scale model of the underground bunker offers a bird's eye view.
Nearby stands the yellow villa where the bunker's engineer and family once lived (and where the bunker's original secret entrance was located). It's now outfitted in throwback decor from the 1980s, and visitors can even try on a few '80s-era costumes for a photo.