The Greatest Diving Sites in the World
The vertiginous void of the Great Blue Hole offers divers the feeling of facing off with the edge of the world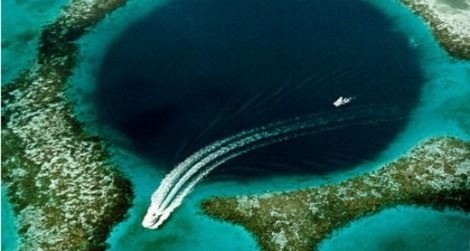 I am not a SCUBA-certified diver and I may never be. Instead, I free dive and have been for about 13 years, mostly along the coast of California, and I have no interest in introducing tanks, tubes and pressure valves to the simple relationship I have with the water. I can only imagine the burden of swimming with all the mechanical gadgetry and gear on my back that tank divers must wear, or the logistical nuisance of having to fill the tanks prior to each dive. Free divers must fill only their lungs, and sometimes just 5 or 10 feet beneath the surface we find all that we might ever hope to: the mangrove thickets of Belize, alive with nurse sharks, reef fishes and even crocodiles, or the kelp beds of California, where many divers spoiled by tropical reefs may be born again as they discover this unmatched habitat. But SCUBA technology grants access to a deeper world that I, again, can only imagine. And I think that the magic of SCUBA diving can be simmered down to one flat and obvious fact which an old friend and diving buddy once illuminated for me as we debated the pros and cons of air tanks:
"Dude," he said. "You can breathe—underwater!"
There's no arguing with that. And so we go, tanks and tubes and valves flowing with pressurized air, into the finest SCUBA diving destinations in the world.
Great Blue Hole, Belize. Jacques Cousteau visited this site in 1971 and declared the Great Blue Hole of Ambergris Caye to be among the best diving locations in the world. The Great Blue Hole is a wonder of geology, a 410-foot deep sinkhole located within the Belize Barrier Reef system and was created through forces similar to those responsible for the underwater caves of the nearby Yucatan Peninsula. The Hole is more than twice as wide as it is deep, making it less like a bottomless pit than a huge pothole, yet the vertiginous void may offer divers something of the feeling of facing off with the edge of the world. Descending into the hole, one will encounter local residents like groupers, various sharks, great barracuda and a diversity of other species. Bottom topography consists of sand, reef, many varieties or coral and ancient limestone stalactites, as well as caves and dramatic outcroppings that look like cathedrals. Visibility may exceed 150 feet and surface water temperatures rarely dip below 80 degrees Fahrenheit.
Wrecks off Papua New Guinea. Things under the sea may be categorized into two classes: naturally occurring or the far less common anthropogenic. And that's where diving can get creepy—coming across tools and devices and vehicles, objects that weren't supposed to end up here but which, through some mishap or disaster up above, sank into watery graves. The sea floor is littered with manmade stuff, and few underwater adventures may be more thrilling than exploring a wreck. World War II was an era in which Davy Jones acquired a wealth of collectibles for his locker, and a great many planes and ships went down around Papua New Guinea. The Boeing Blackjack B-17 bomber is just one of the region's popular dive wreck dives, sporting a very recognizable cockpit and turret guns. Discussing the "best" wrecks seems a bit callous, considering that many people have died on them. Some wrecks, though, are sunk intentionally, without casualties, as tourist draws and habitat enhancers, such as Papua New Guinea's Pacific Gas, which has rested in 145 feet of water off of Port Moresby since 1996. On the wrecks where human lives may have ended, dive with respect.
Red Sea, Egypt. Surrounded by land, the Red Sea experiences a temperature range much like that of a continental lake, with waters in January as cold as 65 degrees Fahrenheit and, in the late summer, as warm as the high 80s. Furthering the flux in temperatures is the north-south extent of the Red Sea, which crosses almost 15 degrees of latitude, from 30 degrees north into the tropics, where its waters touch the coasts of Eritrea and Yemen. The Red Sea wreck of the Thistlegorm, a British vessel sunk in 1941 during an air strike, is said by some to be the "best" shipwreck anywhere, with motorbikes, guns and vehicles still intact and viewable. In the realm of living things, whale sharks occur here in some abundance, and they're just the biggest of the 1,100 fishes to be encountered in the Red Sea. About 200 of these species occur nowhere else. Marine mammals include the sluggish, vegetarian dugong, which grazes on sea grasses in the shallows and in lagoons. Further from shore, the sea floor plunges to some 10,000 feet deep. In many ways, the Red Sea is much like the equally splendid Sea of Cortez in Mexico—a sea also two miles deep, also a product of tectonic activity, also ranging from tropical to temperate, also of giant temperature range, also surrounded by desert and date palms, and also one of the most beautiful places in our mostly salt-watery world.
Great Barrier Reef, Australia. The most renowned diving location, the Great Barrier Reef is also the biggest barrier reef and, like nearly any tropical reef, a hotbed of colorful coral snags and zillions of striped fish darting in and out of the cracks and, well, you know—all the same stuff you'll see in the travel brochures and computer screensavers. We could, I'm sure, go on all day about warm-water reefs—of Bermuda, Thailand, Micronesia, the Caribbean, the Mediterranean. Those and others like them are the places that most "best diving" lists consist of, and the Great Barrier Reef, like them, deserves every medal it wears around its neck. But what more is there to say by now about clownfish and big friendly grouper and how clear the water is?
Monterey Bay, California. And so I come home, to the waters of the American West Coast. They're often murkier, surgier, spookier and gloomier than the seemingly airbrushed beauty of the tropics—but I'm just one diver of many who first fell in love with the world underwater in the stately kelp forests of the California coast. Those of Monterey Bay might be the most famous, teeming as they are with rockfish and surfperch in the water column, lingcod on the bottom, abalone in the rocks and, backstroking over the kelp fronds on top, sea otters. The average "vis" in places—such as Point Lobos State Natural Reserve, just south of Carmel—is 30 to 40 feet but can be as much as 60 on the best of autumn days. A jaded SCUBA jock who lives in a thatched beach hut in the Maldives might spit on such conditions and go back to bed, but for temperate-zone divers, even just 25 feet is like magic. The waters off Northern California, too, are frigid. Go in without a hood here, and it's an instant head-freeze so shocking that you might almost pass out. Many divers even wear drysuits, though most can pull off several hours in the water with a 7-millimeter wetsuit. But for the beauty below sea level here, it's worth braving the elements—the towering trees of kelp, the shafts of sunlight slicing through the canopy, the schools of fish silhouetted against the gloomy blue. Kelp forests grow all along the West Coast, Alaska to Baja, as well as around the world, from New Zealand to Chile to Japan to Scotland. Almost anywhere, in fact, where water touches shore is worth a dive—with or without air tanks on your back.