The Best Mardi Gras Parades Beyond New Orleans
You may think of the "Big Easy" on Fat Tuesday, but other towns throughout Louisiana and the wider Gulf Coast play host to raucous celebrations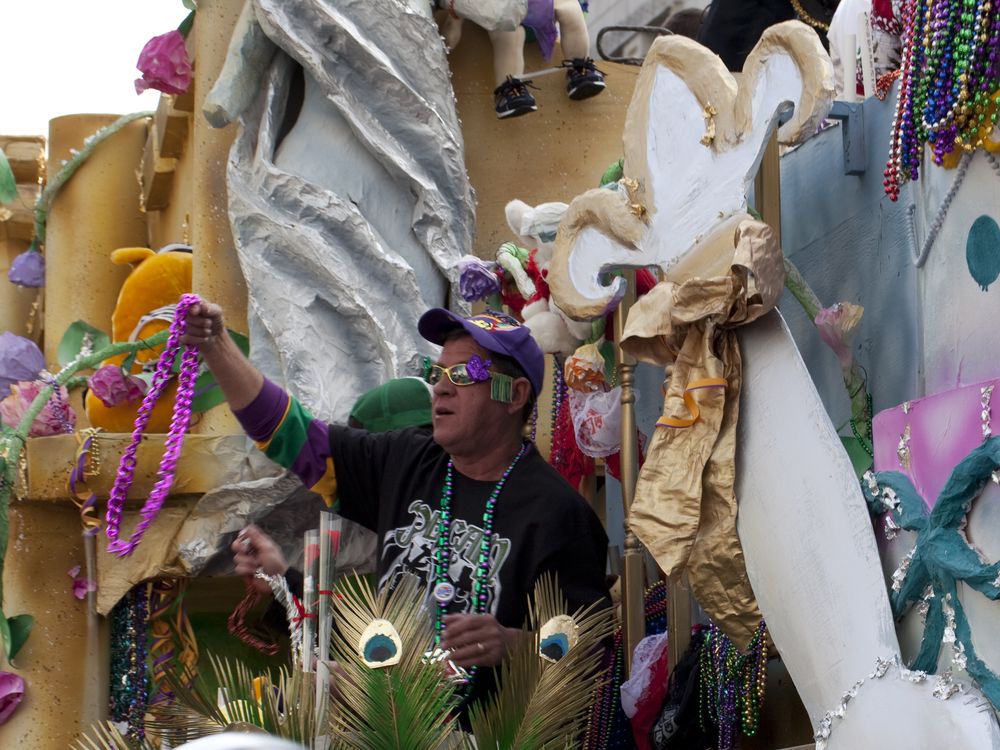 Tossing "throws" out to spectators from the bed of a Mardi Gras float is an art form I learned while riding in this year's Krewe of Dionysus Parade in Slidell, Louisiana. Our procession of 18 floats rolled for several hours through the city's downtown, each float decorated with colorful displays showcasing Batman, Elvis and the California Raisins, accompanied by marching bands, festival queens and more. Thousands of people lined the sidewalks, some sitting in chairs simply waiting for the next bead necklace, commemorative plastic cup or custom-printed drink koozie to sail their way. Others approached the float sides to grab the freebies, which also included cheap sunglasses and mini bottles of hand sanitizer. Small kids and adults with toddlers perched on their shoulders all beckoned for the festive prizes with their wide eyes. It's a balance, for sure. With the constant cries of "Throw me something!" ringing in the air, no parade participant wants to be left with a ton of extra throws at the end of the ride, but you don't want to be the float that runs out of them, either.
New Orleans is synonymous with Mardi Gras, aka Fat Tuesday, and the parades, balls and other festivities associated with it. But Carnival season—which has its roots in Catholicism and runs from Three Kings Day (January 6) until the day before Lent (February 21, this year)—is celebrated everywhere from Lake Charles, Louisiana to Mobile, Alabama.
"Each area has its own twists and traditions," says Nealy Frentz, pastry chef and co-proprietor of LOLA Restaurant in Louisiana's Northshore region, "and our celebrations have been increasing in size and scope over the years. You don't even need to go to New Orleans anymore."
Frentz is a member of the Krewe of Eve, an all-female krewe in the Northshore town of Mandeville. "Krewes" are social organizations that host Mardi Gras and Carnival festivities throughout Louisiana and the wider Gulf Coast. As is tradition, the Krewe of Eve's parade, as well as its floats and costumes, are centered around a theme. For 2023, that theme was "We Go Together Like." Frentz says, "One float chose to focus on wine and cheese, another on milk and cookies."
Multiple parades often take place in a town on the same day, and they're typically held at varying times, so spectators (as well as float riders) can attend as many parades as possible. "Mardi Gras is one day, but Carnival is a season," says Cart Blackwell, curator of the Mobile Carnival Museum. In Mobile, parades occur almost daily in the week leading up to Mardi Gras. On both Lundi Gras (the day before Fat Tuesday) and Mardi Gras day itself, parades run almost continuously from morning to night.
Mobile is considered by many to be the birthplace of Mardi Gras, a tradition that began around 320 years ago when a group of French soldiers decided to have their own impromptu celebration in Alabama's port city. Less than a decade later, they were parading down Dauphin Street in the center of town, pulling a giant bull's head on wheels. Of course, New Orleans has its own origin story, and it's this city that has taken Mardi Gras celebrations to a whole other level. "The two traditions are distinctive," says Blackwell. For example, rather than krewes, Mobile has mystic societies that serve a similar purpose. "Yet they completely complement one another," he adds.
If you're after phallic-shaped straws that glow in the dark and other adult-themed throws, along with massive crowds and boozy mayhem, New Orleans is a must. However, the parades in Mobile, greater Louisiana and along the Mississippi Gulf Coast tend to be much more family-oriented (not that you won't see the occasional lace lingerie, just that there's much less of it). Each parade rider is responsible for purchasing their own throws. Thankfully, some places recycle and resell beads thrown from previous years. While some riders are known for tossing out large stuffed animals like unicorns and monkeys, others opt for footballs adorned in Mardi Gras' traditional colors (purple for justice, gold for power and green for faith), hula hoops or even food. My best catch was a half-box of Little Debbie oatmeal creme pies. Many of the krewes and mystic societies also throw souvenir doubloons—coins made of colored aluminum typically embedded with that year's parade date, the krewe or mystic society logo, and the parade theme.
"Every krewe and parade is different," says Frentz. "You just have to find your people."
Here are five places outside of New Orleans to celebrate Mardi Gras this season.
Mobile, Alabama
Unlike New Orleans' Mardi Gras parades, which take place throughout the city's many neighborhoods and its greater surrounds, "All of our stuff is downtown," says Blackwell. "It's like a Broadway show unleashed on the streets."
The Mobile Mask guide lists a complete rundown of upcoming events, though one not to miss is Joe Cain Day, which takes place annually the Sunday before Fat Tuesday. Cain was one of the main people credited with reviving Mobile's Mardi Gras celebrations after the Civil War. Although he died in 1904 and was buried in Mobile County's Odd Fellows Cemetery, a local novelist arranged to have Cain's remains relocated to the city's Church Street Graveyard in 1966, accompanied by a brass band procession. Now, anyone can partake in the yearly Joe Cain procession, which typically follows a graveyard gathering in which Cain's grieving Merry Widows (dressed in all black) and much more upbeat Mistresses (dressed in all red)—both a part of the day's traditional festivities—spend some time hurling mock insults at one another.
Fat Tuesday parades kick off at 10:30 a.m. with the Order of Athena, the only women's group to parade on Mardi Gras in Mobile, and conclude with the city's oldest continuous Mardi Gras parading group, the Order of Myths, who've been hitting the streets since 1868. Keep an eye out for their emblem float, which always includes a jester-dressed "Folly" chasing "Death" (recognizable by his skeleton suit) around a Greek-style column.
When it comes to throws, Moon Pies are a Mobile favorite. Chocolate is probably the most popular flavor, though vanilla, banana and the rare coconut Moon Pie are hot commodities as well.
Lake Charles, Louisiana
Known for its family-friendly Mardi Gras celebrations, Lake Charles even has an entire day devoted to kids. On Mardi Gras Children's Day (February 19), kids can make their own Mardi Gras souvenirs, learn about Carnival history, and attend a parade that includes children of Mardi Gras krewe members, local kids' organizations and youth-based businesses.
Approximately 60 krewes roll together in Fat Tuesday's evening Krewe of Krewes Parade, which tops off Carnival season with more than 100 elaborate floats.
While in Lake Charles, be sure to visit the Imperial Calcasieu Museum's "Black History of Mardi Gras" exhibition (through March 4), displaying the jeweled crowns, sparkling gowns and histories of Louisiana's African American krewes.
St. Tammany Parish, Louisiana
Louisiana's laid-back Northshore hosts everything from a Mardi Gras boat parade along the Tchefuncte River to multiple Carnival dog parades, including two that occur after Fat Tuesday. There's Krewe Du Pooch in Mandeville (February 25), whose theme this year is "Great Gatsby," and Mystic Krewe of Mardi Paws in Covington (February 26), where dogs parade on foot with their costumed humans.
Another (human-centric) parade to check out: the Krewe of Folsom, an open-to-the-public parade of floats, four-wheelers and horses that winds through the Northshore on Mardi Gras afternoon.
Lafourche Parish and Terrebonne Parish, Louisiana
Louisiana's Cajun country, a blend of small towns, rural communities and hundreds of miles of bayous, is home to more than two dozen parades.
The Krewe of Apollo (February 18) features a noontime roll of 18 floats, as well as marching bands, jeeps and ATVs though downtown Lockport. Their theme this year is "Cartoons." They have one float entirely devoted to the Teenage Mutant Ninja Turtles, with vinyl floral sheeting decorating its exterior and a glittery foam-board Donatello (the turtle with a purple mask) matching its green facade. Another float features Flintstones cardboard cutouts and a backdrop of strategically crumpled and stapled paper.
Only kids can ride in Lafourche's Krewe of Montegut parade (February 19), while Fat Tuesday's Krewe of Kajuns event has grown from a simple truck parade into a procession of double-decker floats, with popular tosses like Kajuns-logo wooden nickels and crawfish trays.
The Krewe of Gheens parade is the Cajun Bayou's first to roll on Mardi Gras Day, beginning at 11 a.m.
Mississippi Gulf Coast
Biloxi's Krewe of Neptune is patterned after the old-line New Orleans krewes, which are known for their secrecy. All float riders dress in costumes and cover their faces in masks as they roll through downtown. The parade takes place Saturday evening, February 18, with a theme of "Neptune Rules the World."
Other Gulf Coast parades include Mystic Krewe of the Seahorse's Lundi Gras parade, an evening parade featuring plenty of costumed pirates riding in golf carts. Try to catch one of their signature seahorse light-up beads and LED throws—both popular souvenirs.