The Ancient Architecture of Fatehpur Sikri
Abandoned for centuries, the Indian site attracts tourists from around the world for its majestic buildings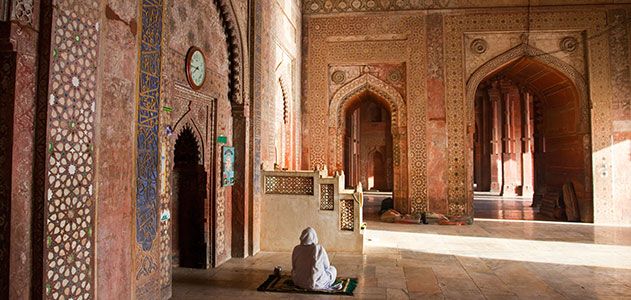 Akbar was the greatest of the Mughal emperors—a conqueror of cities, a good-governance reformer, a patron of the arts, a Muslim who tried to engage and accommodate the Hindus and Christians in his midst. He ruled for 51 years, from 1556 to 1605, extending his domain over most of northern and central India. And he left behind Fatehpur Sikri.
This monumental complex embraces a palace, courtyards, gardens, gazebos, ceremonial gates, an artificial lake and the Jama Masjid, a mosque big enough for 10,000 worshipers. The buildings are made of the local red sandstone, and they reflect Akbar's expansive worldview, incorporating Persian, Hindu and Muslim elements in their design and decor. "There is hardly a more impressive city in all India," the British travel writer Eustace Alfred Reynolds-Ball opined in 1907. "Here we see the impress of Akbar's architectural genius, as if fresh from the builder's hands." Eighty years later, scholars Michael Brand and Glenn D. Lowry wrote that the buildings "represent a splendid achievement of planning, design, craftsmanship and good taste"—a place that would project Akbar's image as an "absolute ruler."
The emperor himself supervised the work, which may explain why it took only three years, from 1570 to 1573. At the time he already had a capital, in Agra (future home of the Taj Mahal), but he chose to build this new one on a ridge about 25 miles west because it was where Sheik Salim Chisti, a noted Sufi saint, had foretold the birth of a royal son. Construction began after the birth of Prince Salim, in 1569. After Sheik Salim died, in 1572, he was buried near the Jama Masjid, and his crypt was encased in dazzling white marble.
As for Akbar, he directed major conquests from Fatehpur Sikri (the name means "City of Victory") and "put an indelible stamp upon the Mughal imperial system," writes historian John F. Richards. "Brilliant innovations in land revenue, coinage, military organization and provincial administration emerged from the Fatehpur Sikri years."
However, those years were few: Akbar abandoned his city on a ridge in 1585, prompted by water shortages and the urge to fight distant enemies. He moved his capital to Lahore, in what is now Pakistan, but Agra remained a locus of Mughal power. It was from there that Prince Salim tried to dethrone his father in 1601, and it was there that Akbar died, in 1605, at the age of 63. Having been defeated and forgiven by his father, the prince succeeded him as the emperor Jahangir.
Jahangir retreated to Fatehpur Sikri for three months in 1619 while a plague ravaged Agra, but after that the city was largely abandoned until it fell under archaeological scrutiny in 1892. Tourists followed. Even today, supplicants seeking to have children stop by the sheik's tomb to seek his blessings.