The Allure of Nonexistent Places
Long-gone destinations have their own special appeal, don't you think?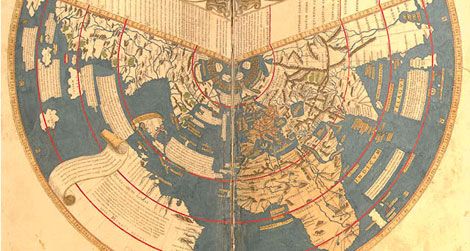 Unpacking a box of books recently I found my old copy of No Longer on the Map, a small classic of literary geography published in 1972. The author Raymond H. Ramsay reveals his M.O. in the preface:
Many places are no longer on the map, but no mystery attaches to because the names were political, not geographical. The territories have been given new names, or divided into smaller units or incorporated into larger ones.
The Kingdom of El Dorado is quite a different case, as are the Strait of Anian, Norumbega, Grocland, and the Isle of Satanaxio. These are no longer on the map because they never existed. Then how did they come to be mapped at all? That is quite a story.
Of course, the more no-longer-on-the-map a place is, the more I want to go there, and Satanaxio is at the top of my list.
According to Ramsay, it was first shown on a 1507 map by Johann Ruysch, and then again on maps by Gerhardus Mercator (of Mercator projection fame) and Abraham Ortelius (creator of the first modern atlas). Roughly located near the mouth of Hudson Bay, Santaxio was thought by some to be an outlet of hell with an opening on the earth's surface leading into the infernal core; so maybe I'll make it a quick visit.
Looking back through No Longer on the Map made me think of all the other places I wish I could visit but can't, places lost in time that once really existed. For instance, you cannot travel through the British Raj on the eve of the Mutiny or have cocktails in the 1950s New York of Mary McCarthy. The Southwest Chief no longer stops at dusty crossroads in northern Arizona where Navajo weavers show their work and passengers alight to visit the Grand Canyon in Harvey Cars. Villages in the Queen Charlotte Islands off the coast of British Columbia where the Haida people raised monstrous totems and roof beams decorated with Raven and Bear are deserted now, victims of disease brought by white traders, and Malacca, once the crossroads of Asia visited by Arab dhows, Chinese treasure ships and European men-of-war, is no longer even on the Strait of Malacca because of waterfront reclamation.
Perhaps it's time travel I want after all. When I was a little girl I loved Williamsburg and Carcassonne. But historical theme parks, no matter how authentically-recreated, now make me sad somehow; the burnish is always too bright, the effort too hard.
Some of the places I most desperately want to see aren't even there anymore. I have taken a motor boat up Lake Powell sounding for Glen Canyon, obliterated in the 1960s by a dam that flooded a 200 mile stretch of the Colorado River gorge every bit as marvelous as the Grand Canyon, if  we're to believe the one-armed 19th century explorer John Wesley Powell. Gone with the backed-up water are the Navajo holy place at the confluence of the Colorado and San Juan Rivers, the Crossing of the Fathers where missionary-explorers Silvestre Velez de Escalante and Francisco Dominguez found a ford in 1776 after their expedition had failed to reach California, and Hole-in-the-Rock, another Colorado River crossing forged in the brutal winter of 1880 by Mormons who cut a 1,200 foot trail down sandstone cliffs to reach it.
I want to see those places, but at the same time love Lake Powell, a weird, unnatural, tropical cocktail in the desert where house boaters tie up at islands that used to be mesas to barbecue and drink beer, which I don't begrudge them.
Nobody, however willing they may be to follow Edward Abbey into tight, wild places, has a special right to the marvels of the American Southwest. I'd never have gotten there myself without a rented motor boat and excellent advice from the Glen Canyon National Recreation Area tourist information office.
We are here on earth now. It is no longer virgin, but more complex.
What long-vanished place would you most like to visit?