Ten Restaurants the Best Chefs Say Are Worth Traveling For
These establishments are always worth the trip, according to some of the top chefs in the world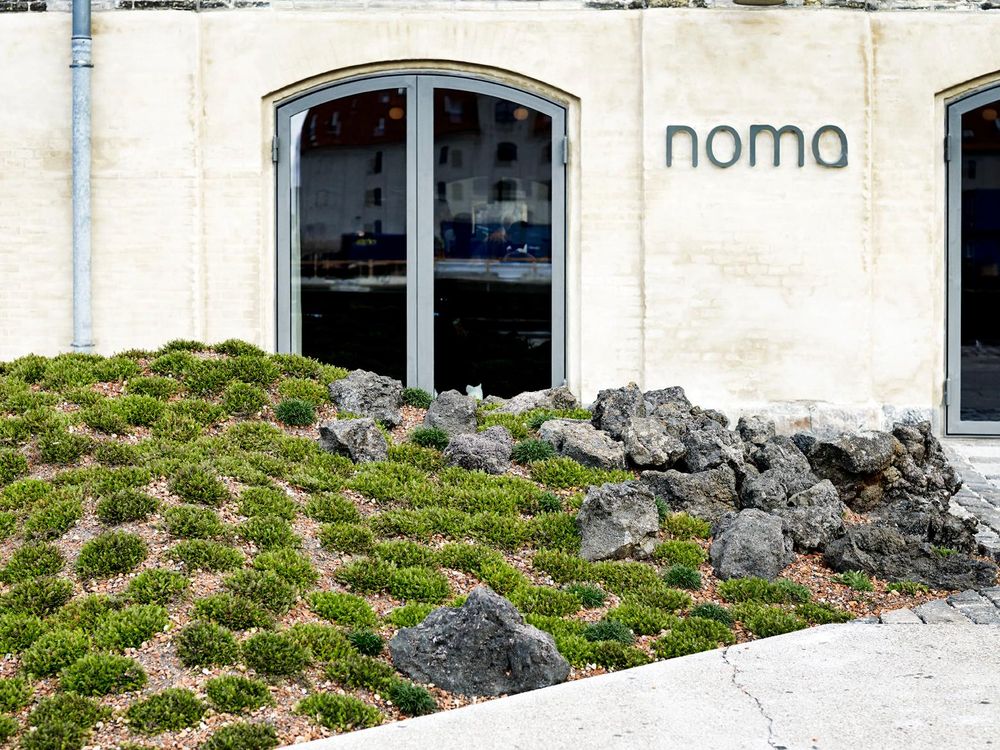 Sometimes, the destination is worth the journey—at least when the journey is to one of the best restaurants in the world. In the brand new book Where Chefs Eat, released this week, hundreds of chefs from around the world weigh in on their favorite places to dine in every corner of the globe. Nestled among the local favorites and bargain bites are some restaurants the chefs say are always worth traveling for, no matter the distance.
Featuring more than 600 of the world's best chefs, Where Chefs Eat is a reference guide for the traveler who plans trips around eating. Below, we've selected ten chefs—from established heavyweights such as Ferran Adrià to iconoclastic upstarts such as David Chang—and looked at the restaurants they say would make them pack their bags, buy a ticket and head out on a culinary adventure.
Le Suquet (Laguiole, France)
Michel Bras might be one of France's most venerated chefs, according to Food & Wine, but he keeps the country that loves him at arm's length: His restaurant, Le Suquet (also known as Maison Bras), isn't in the capital of Paris, but perched on a hill overlooking the small village of Laguiole, nearly hidden away in the mountains of south-central France. Getting to Bras requires a ten-hour train ride from Paris, followed by another hour in a car weaving through the Aubrac Mountains, and reservations are filled months in advance. 
Bras opened Le Suquet in 1992; by 1999, it had three Michelin stars. Since 2009, Le Suquet has been run by Bras' son Sébastien, who has continued in the style of his father by crafting meals deeply inspired by the surrounding land. Le Suquet's menu draws from the traditions around the Aubrac Mountains, and is rooted in the region's local plants and vegetables—expect meat to play only a supporting role on the menu.
The restaurant is closed during the winter, and opens April through October (it is also closed on Mondays).
Recommended by Ferran Adrià, long considered one of the world's best chefs, who founded the now-closed El Bulli, a restaurant in Spain's Catalonia that was once considered the most influential restaurant in the world. He now runs the El Bulli foundation.
La Grenouillère (La Madelaine-sous-Montreuil, France)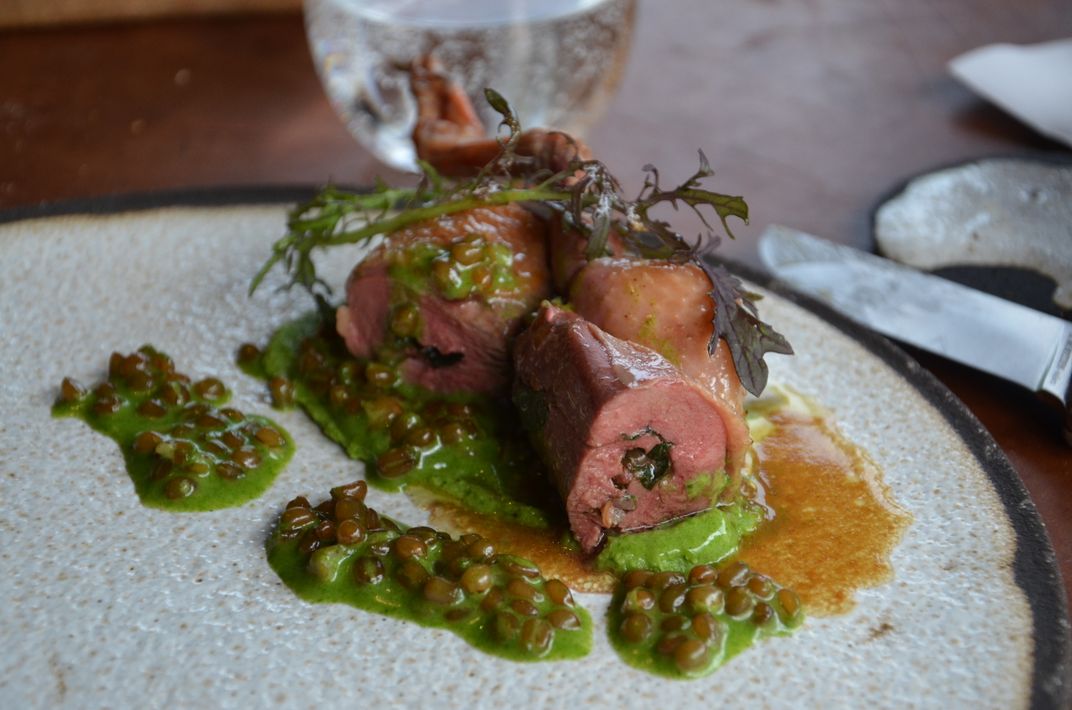 First opened as a restaurant and inn in 1920, La Grenouillère specialized in frog-related food items for the better part of a century before chef Alexandre Gauthier took the reins from his father in 2003. At just 23, Gauthier decided to look beyond frogs in the hopes of regaining the Michelin star the restaurant had lost in 2001. Today, his kitchen turns out "radical cuisine," such as a beautiful lobster from Norway presented on a bed of still-smoldering juniper twigs, or morel mushrooms stuffed with sweetbreads and topped with a cone of raw turnip. (Gauthier succeeded in winning back the Michelin star in 2008.)
"Alexandra Gauthier has created a world of his own," explains chef Yves Camdeborde in Where Chefs Eat, "a place totally unique to him. When you go there, you get sucked into his universe. The table setting, the decor in the bedrooms, the crockery, the general attitude ... If you spend two days there it infuses your whole being. He creates a convincingly authentic atmosphere devoid of commercialism. He achieves this because he loves it and you really sense that."
+33 321060722 / www.lagrenouillere.fr
Recommended by Yves Camdeborde, chef at Paris dining hotspot Le Comptoir, which offers a shockingly inexpensive take on the traditional French bistro (the prix-fixe menu costs about $57). The 20-seat restaurant has been one of the city's most difficult reservations to snag since it opened in 2005. 
Noma (Copenhagen, Denmark)
Some locations are obvious restaurant destinations: Paris, New York, and Tokyo come to mind. Today, Copenhagen has been added to the list of must-visit culinary locales, largely thanks to the enormous influence of Noma and René Redzepi. Redzepi was only 25 when he opened Noma in 2003; seven years later, the restaurant was crowned best in the world by British magazine Restaurant, snatching the title from El Bulli. 
The attitude at Noma is one of cultural pride—Redzepi believes that Nordic cuisine, prepared with the right blend of innovation and local tradition, can compete with any cuisine worldwide. The menu is dictated by what can be found or foraged locally and seasonally: fried reindeer moss with mushroom powder, for example, or radishes served in "soil" made from malted flour. Since its opening in 2003, the restaurant has been housed in a harbor-side warehouse that was once used to store goods shipped into Copenhagen from Iceland, Greenland and the Faroe Islands. Today, the warehouse attracts thousands of diners, who clamor to snag one of the world's most coveted reservations (they're made available on the 6th of every month, and an entire month can book up in a matter of hours). In early 2015, Noma will move—temporarily—to Japan, where it will run for two months.
Recommended by Meyjitte Boughenout, chef and owner at Absynthe, a French-inspired restaurant located in Surfers Paradise​, Australia. Boughenout earned two Michelin stars while working as the executive chef at Restaurant Scholteshos in Belgium.
Benu (San Francisco)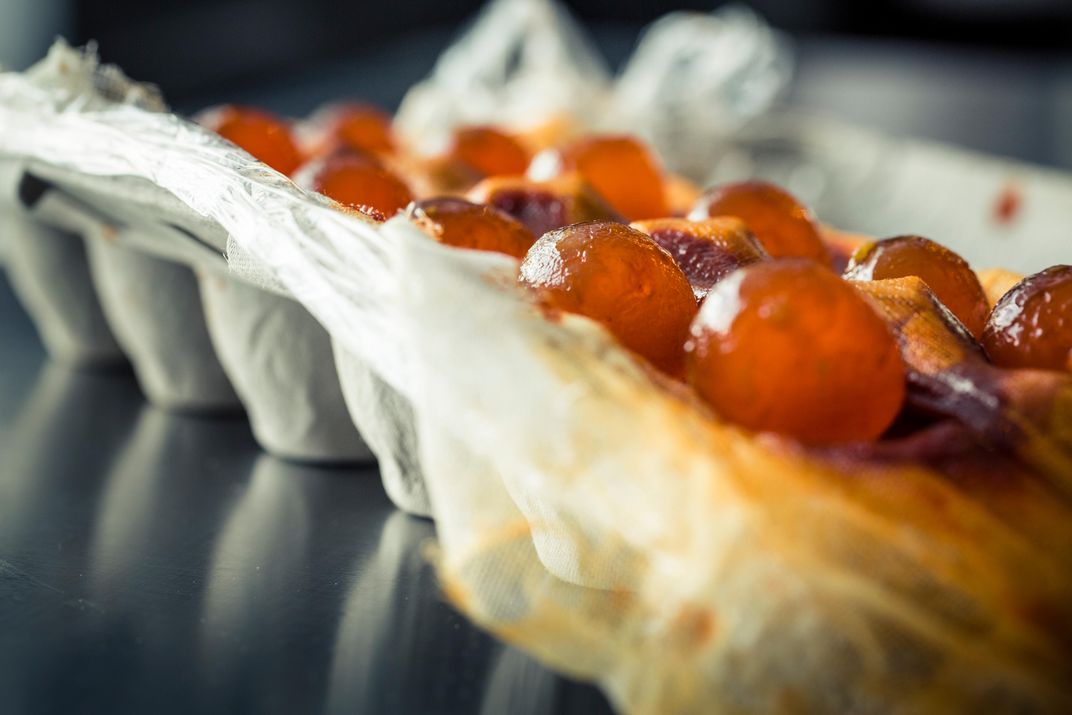 "Cory Lee's team of chefs, pastry chefs and butchers are unmatched," says David Chang in Where Chefs Eat. "Each time I visit Benu, I come away in awe of the food they're making. It's the best restaurant in the United States."
Chang is not alone in his high opinion of Benu, chef Cory Lee's San Francisco restaurant, which calls itself "New American" but finds influence in the flavors of the East. After Benu opened in August 2010, The San Francisco Chronicle's food critic Michael Bauer awarded the restaurant three and a half stars; a year later, it was awarded the full four. In January 2011, The New York Times placed the newborn restaurant on a list of ten places worth a plane ride (its peers included places such as Tickets, Ferran Adrià's post-El Bulli tapas spot). 
Lee studied under culinary powerhouse Thomas Keller, serving as Keller's chef de cuisine at French Laundry before branching out to Benu. With Benu, Lee sought to break new ground, infusing New American cuisine with Asian influences—a soup of dumplings stuffed with foie gras, for instance, or rice cakes meant to evoke the delicate appearance of Italian gnocchi. 
Benu offers a $228 dinner menu Tuesday through Saturday.
+1 4156854860 / www.benusf.com
Recommended by David Chang, executive chef and founder of the Momofuku restaurant group, whose outposts include New York's Momofuku Noodle Bar, Momofuku Ssäm Bar and Momofuku Ko.
Mugaritz (Errenteria, Spain)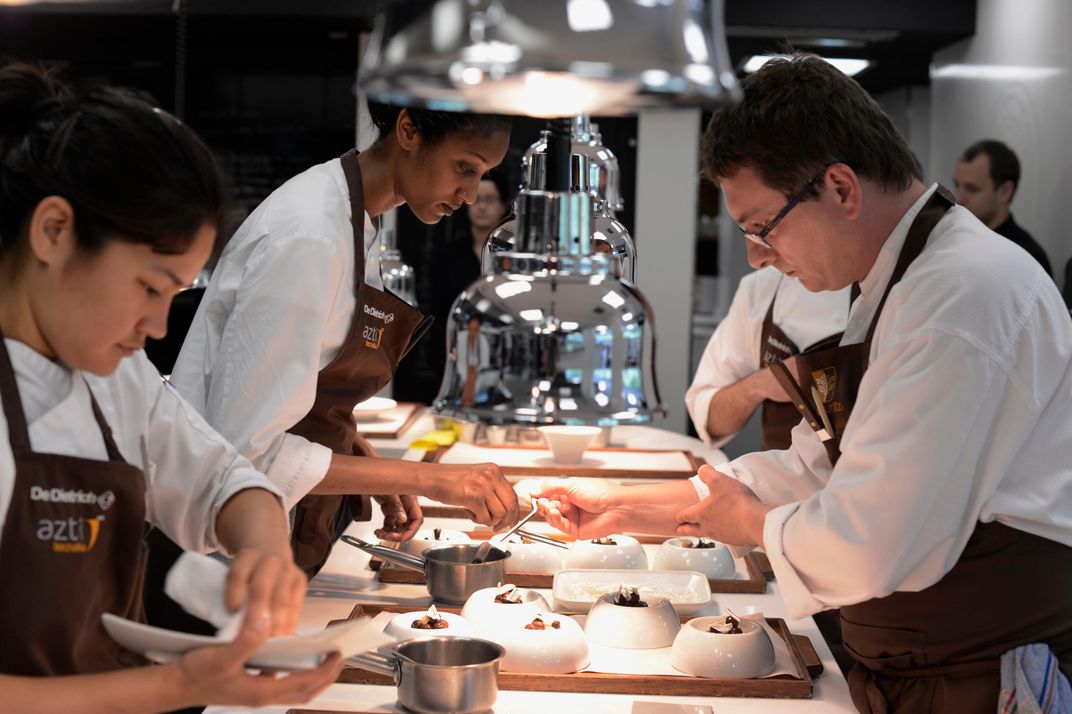 Spain doesn't want for influential restaurants, but even among giants like El Bulli and Arzak, Mugaritz commands a unique respect. Long considered one of Spain's most important restaurants, Mugaritz opened in 1998, tucked away in the hills of the Spanish countryside in an old farmhouse. Its chef, Andoni Luis Aduriz, wanted to create a restaurant based around the concept of surprise, and Mugaritz lives up to that initial desire, offering visitors playful takes on texture, taste and aroma with each meticulously crafted bite (perhaps its most famous culinary trompe l'oeil is the amuse bouche of tiny gray stones that are, in actuality, painted potatoes).
Attention to detail rules Mugaritz even before food hits tastebud, from the initial smell of barbecue (specially crafted for the restaurant and meant to remind patrons of their childhood) to a stark white table set around the centerpiece of a broken plate. The broken plate seems to say that expectations are meant to be broken here, whether by a smoked piece of lamb served next to "cultivated fur" (actually a crisp biscuit meant to look like fur) or a mille-feuille made not of sweet, delicate pastry but layers of thin chicken. There is no menu, no set order of plates—instead, the eater is given a personalized meal of some 20 dishes. It's this freedom from constraints, both literal and metaphorical, that have helped Mugaritz earn the moniker of the "most adventurous restaurant in the world."
+34 943522455 / www.mugaritz.com
Recommended by Anatoly Komm, one of Russia's most celebrated chefs, who trained as a geophysicist before turning to cooking in 2000. Today, he is the chef and owner of Varvary, Moscow's premiere destination for molecular gastronomy.
Karavalli (Bangalore, India)
Tamil new year & friends' post-wedding lunch at Karavalli, Bangalore (49th in World's Top 50 Restaurants). Superb!
Karavalli, in Bangalore's Gateway Hotel, prides itself on its authenticity; its menu draws inspiration from the coastal flavors of southwest India and leans heavily on seafood. The restaurant even features a fresh grill counter, where the day's best seafood can be grilled to order in front of you.
Executive chef Naren Thimmaiah has spent decades researching the area's culinary history, and the restaurant's menu pays homage to the many cultures (from Portuguese to Syrian Christian) that have influenced the region's food. Thimmaiah is "a true spice master, skillfully balancing subtle fragrances and fiery heat with tropical fruits and ultra-fresh seafood," according to the 2015 San Pellegrino list of Asia's 50 Best Restaurants. Manoj Goel, of Varq, says that Karavalli is a "beautifully designed restaurant with a great variety of seafood," and worth the trip no matter how far.
+91 8066604545 / www.thegatewayhotels.com
Recommended by Manoj Goel, who heads up the kitchen at one of India's most famous restaurants, Varq, in New Delhi.
Iggy's (Singapore)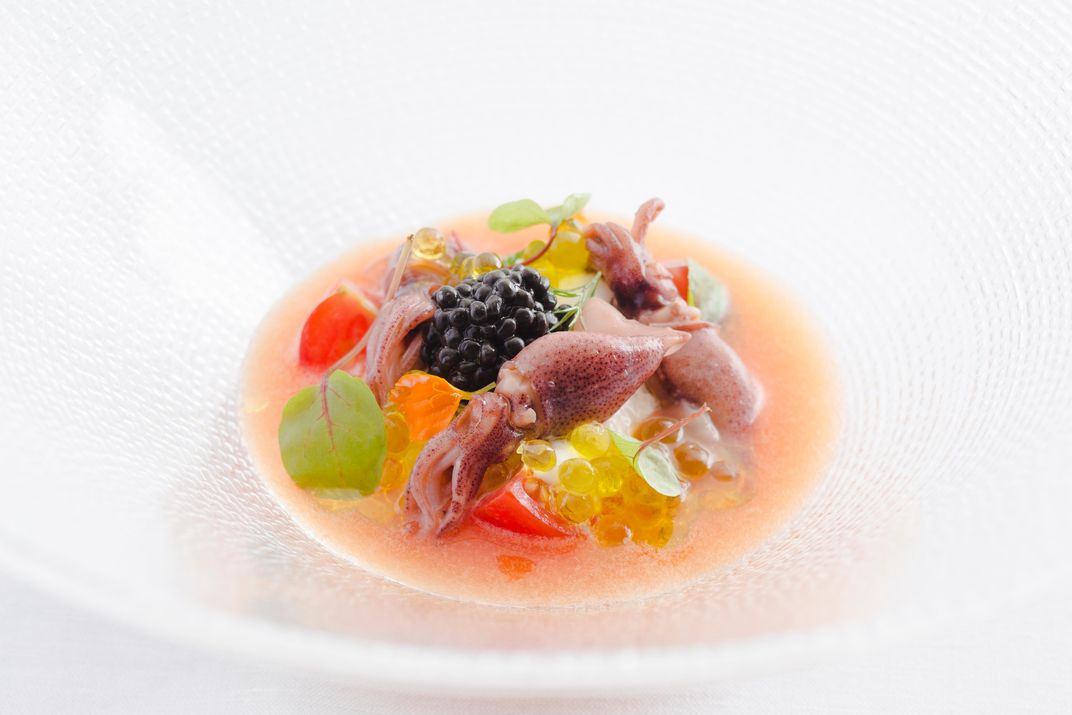 Opened in 2004 by restaurateur and sommelier Ignatius Chan, Iggy's has long been named one of the best restaurants not only in Asia, but the world. The restaurant is small—only ten tables, with an additional eight seats at the bar—but the kitchen employs 16 chefs, creating a diner-to-chef ratio that is solidly in the diner's favor. The menu takes inspiration from its owner and namesake's travels around the world, blending tastes and techniques from Asia, Europe and Australia. 
Dinner is served Monday through Saturday, with lunch offered Monday, Thursday, Friday and Saturday. The restaurant is closed on Sundays.
+65 67322234 / www.iggys.com.sg
Recommended by Juan Mari and Elena Arzak, the father-daughter duo behind the triple-Michelin-starred restaurant Arzak, located in San Sebastián, Spain. 
Caffè al Bicerin (Turin, Italy)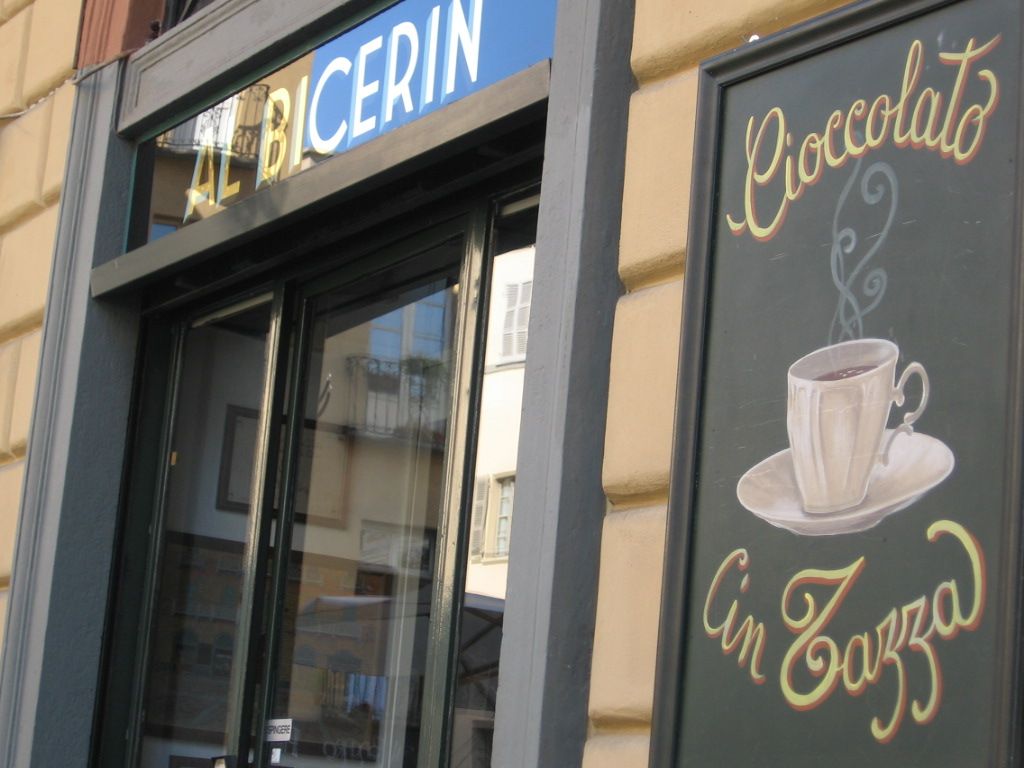 When Caffè al Bicerin opened its doors in 1763, Italy as a country didn't even exist—it would be almost 100 years before Piedmont, in whose capital the restaurant was located, combined with other states to form a unified Italy. Even as a country formed around it, little about Caffè al Bicerin has changed—a tiny neighborhood spot, it still serves perhaps the most famous version of Piedmont's regional drink, the bicerin, made of coffee, chocolate and whipped cream.
"My favorite café in the world," says chef Kamal Mouzawak in Where Chefs Eat. "It's a tiny place with two red velvet benches and white marble tables. Unchanged for the last 250 years."
Over the years, the café has hosted a number of famous patrons, from Puccini to Nietzsche. Beyond the bicerin, it offers a full range of homemade cakes and pastries.
+39 0114369325 / www.bicerin.it
Recommended by Kamal Mouzawak, founder of Beirut's first farmer's market.
Overture (Stellenbosch, South Africa)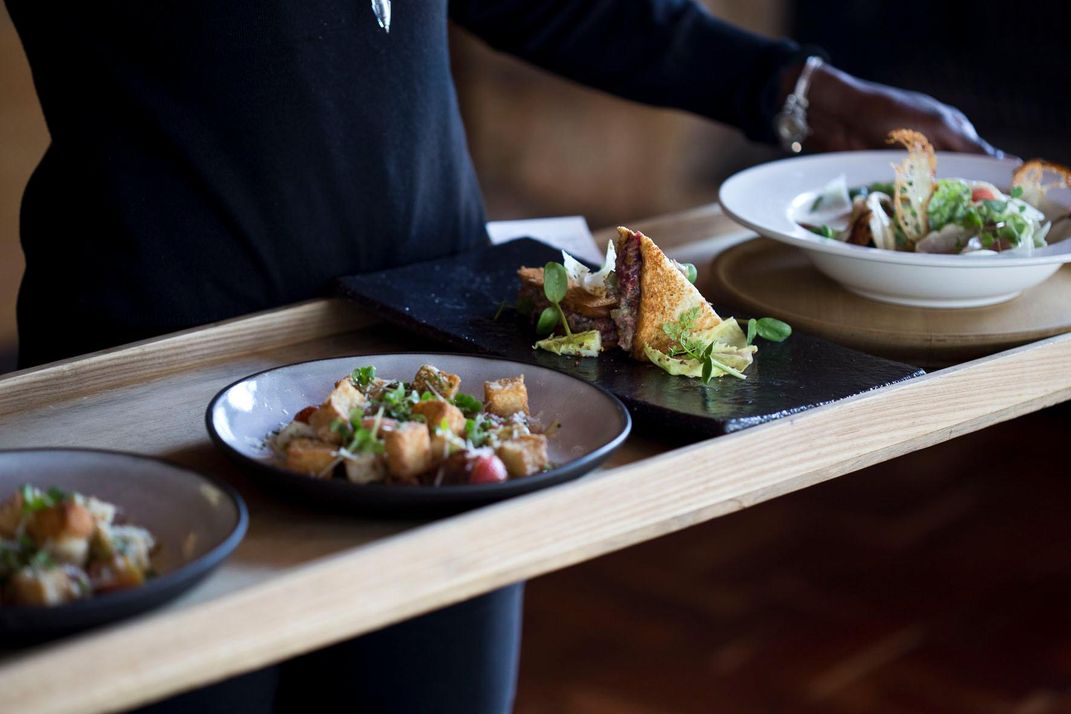 Peter Tempelhoff oversees six restaurants in Cape Town, so he knows a thing or two about dining in South Africa. When he says that he would travel any distance to eat at Overture, it's a serious compliment. "A well-run establishment," Tempelhoff says of Overture in Where Chefs Eat, "which serves perfectly prepared plates and has great service." 
Overture opened in 2007, with chef Bertus Basson and business partner Craig Cormack at the helm. Located in one of South Africa's most famous wine-producing regions, the restaurant's expansive deck offers patrons a sweeping view of the Hidden Valley Estate's vineyards below. The menu is seasonal and influenced by the ingredients of the region, from a steak tartare with slaphakskeentjies (a traditional South African salad) to local fish with sweet corn. The kitchen's blend of culinary finesse with homey flavors seems to be paying off: for six years, Overture has consistently been named one of South Africa's top ten restaurants.
+27 0218802721 / www.dineatoverture.co.za
Recommended by Peter Tempelhoff, a Cape Town native who oversees six restaurants within the Relais & Chateaux hotel group.
Attica (Melbourne, Australia)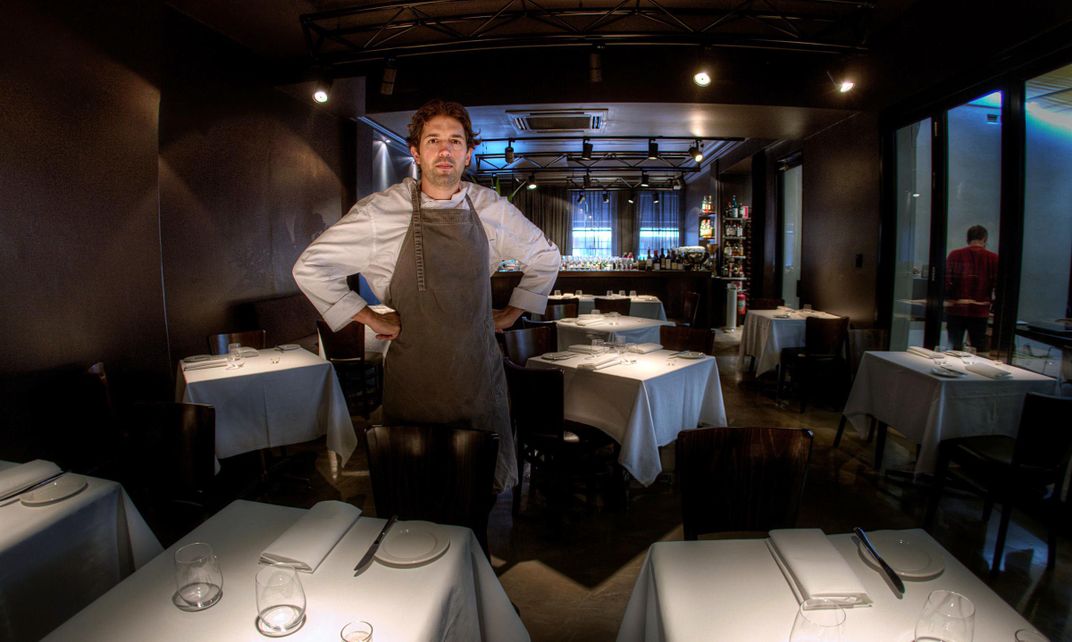 Attica, at least by some estimations, is the best restaurant in Australia: In their review, the San Pellegrino "World's 50 Best Restaurants" list calls the experience "simultaneously sophisticated and deeply grounded." New Zealand native Ben Shewry, who took over the restaurant in 2005, runs the kitchen, which turns out plates that blend Asian influence with regional ingredients. The dishes are both traditional and innovative—potatoes are served cooked in the soil from which they were pulled; fish is cooked in smoking paper bark and topped with meat-infused butter. Shewry's dishes have won the respect of chefs such as David Chang (who praised the Melbourne restaurant in the glossy pages of Bon Apetit) and René Redzepi in Where Chefs Eat—where he says Attica is one of the restaurants he would travel any distance to visit.
Attica's popularity, combined with its size (only 60 seats) can make it a difficult reservation to snag: bookings are available three months in advance, and they fill quickly. If you're looking to get a table, consider trying for a Tuesday evening, when the kitchen offers a test menu for a fraction of the price of a normal dinner service.
Recommended by René Redzepi, of Noma in Copenhagen. ​