Take a Tour of France's "Bestiary of Machines"
Enter Les Machines de l'île's Mechanical Animal Theme Park
This story originally appeared on Travel + Leisure.
There are a lot of places you can go to see animals in their natural habitats, but head to Les Machines de l'île in Nantes, France and you'll see creatures unlike any you've ever spotted before. The amusement park—which is more steampunk than safari—is home to what the park calls a "bestiary of machines."
The park mixes mechanical animals—some of which you can ride and control yourself—and plants with their real-life counterparts. What to expect: giant herons, massive ants, larger-than-life elephants, looming spiders and more. Each one is a mechanical work of art.
Not only will you get to see these sculptures in person, but you'll also hear about how they were made from the very machinists who put them together, from sketch to finished product. The park also has a laboratory where the entire creative process is put on display.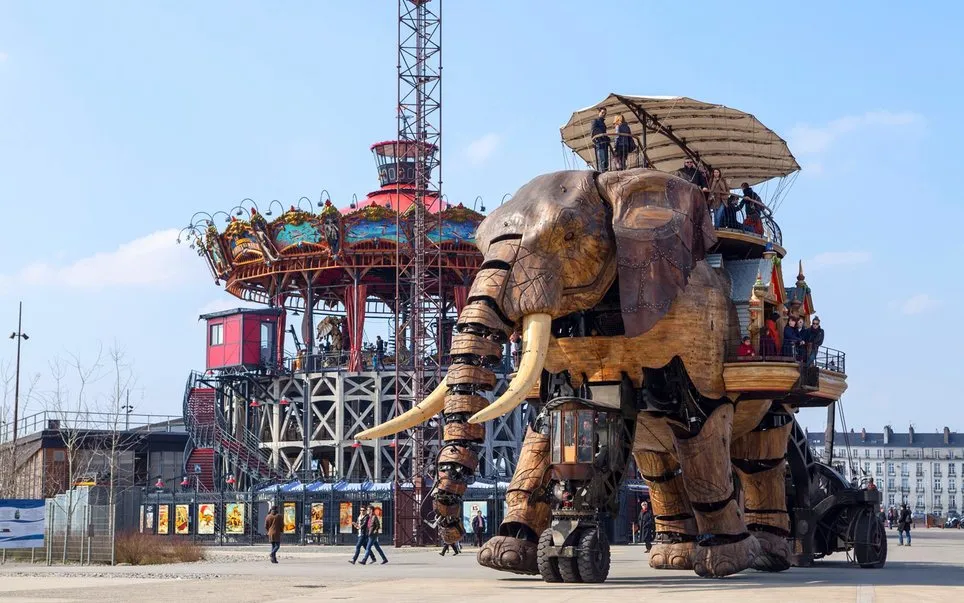 As mentioned before, a handful of these machines were built as rides. The spider—which you can find at the heron tree in the heart of the park—can hold four people on its abdomen. The elephant, which stands as tall as a four-story building, can carry a small crew on its back. While on your elephant ride, you can see the inner workings of the creature from your perch.
The most majestic sight might be the three-level, 82-foot-tall carousel located right on the banks of the Loire River. The ride takes visitors through the various levels of the ocean, from the sea floor to the surface (and its carousel seats reflect this same lesson).
Sound like a place you'd like to explore the next time you find yourself in France? The photos ahead will only have you planning that trip sooner. For more information on the park, head to the Les Machines de l'île website.
Other articles from Travel + Leisure: