Take in South Africa From Table Mountain National Park
High above Cape Town, this craggy wildlife preserve provides sprawling views and thrilling hikes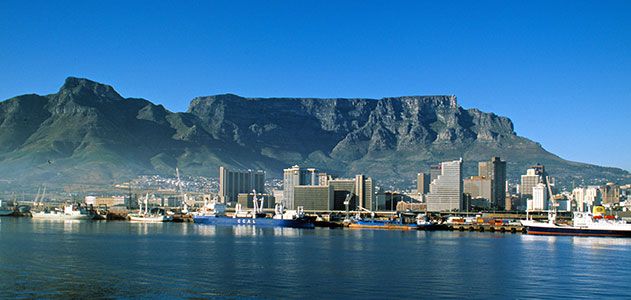 Comprising nearly three-quarters of South Africa's Cape Peninsula, including a mountain chain, beaches, coves and cliffs, Table Mountain National Park is among the most scenic and biologically diverse preserves in the world.
At the northern end of the 60,540-acre park is Table Mountain, the flat-topped granite and sandstone massif that rises 3,562 feet above Cape Town. The summit can be reached on foot, about a 2 ½-hour hike, or by cable car, which takes four to five minutes. Once there visitors have a spectacular view of the sprawling city, Table Bay and, about 7 ½ miles in the distance, Robben Island, where Nelson Mandela was imprisoned. They can also take a walk along the summit, where the African elephant's closest living relative, a small, rodent-like mammal called the dassie, scuttle among the rocks.
On the eastern side, on False Bay, is Boulders Beach. An idyllic cove protected from the wind and waves by large rocks, Boulders is a popular bathing beach. It's also home to a colony of 3,000 endangered African penguins, making it one of the few places in the world where people can swim with penguins. The less adventurous can view them from a boardwalk that winds through their nesting sites.
Farthest south is the rugged Cape of Good Hope Nature Reserve, arguably the most breathtaking part of the park. Here the peninsula ends in a magnificent promontory with towering cliffs and wild, deserted beaches, baboons sit by the road looking for handouts from passing motorists, and ostriches stop traffic. At its very tip is Cape Point, the southwesternmost point of land on the continent. A zigzagging, 1 1/2-mile walkway and a funicular, called the Flying Dutchman, after the ghost ship said to haunt the waters off the Cape, take visitors out to the point. From the blustery observation platform, beneath the "new" lighthouse, built in 1917, the view of the rocks and swirling blue sea far below is mesmerizing. No wonder Sir Francis Drake called Cape Point "the fairest Cape in all the world."