Stuck at the Airport? Why Not Take In an Art Exhibit
A missed connection or delayed arrival doesn't have to ruin your time at the airport, especially if your airport has an art show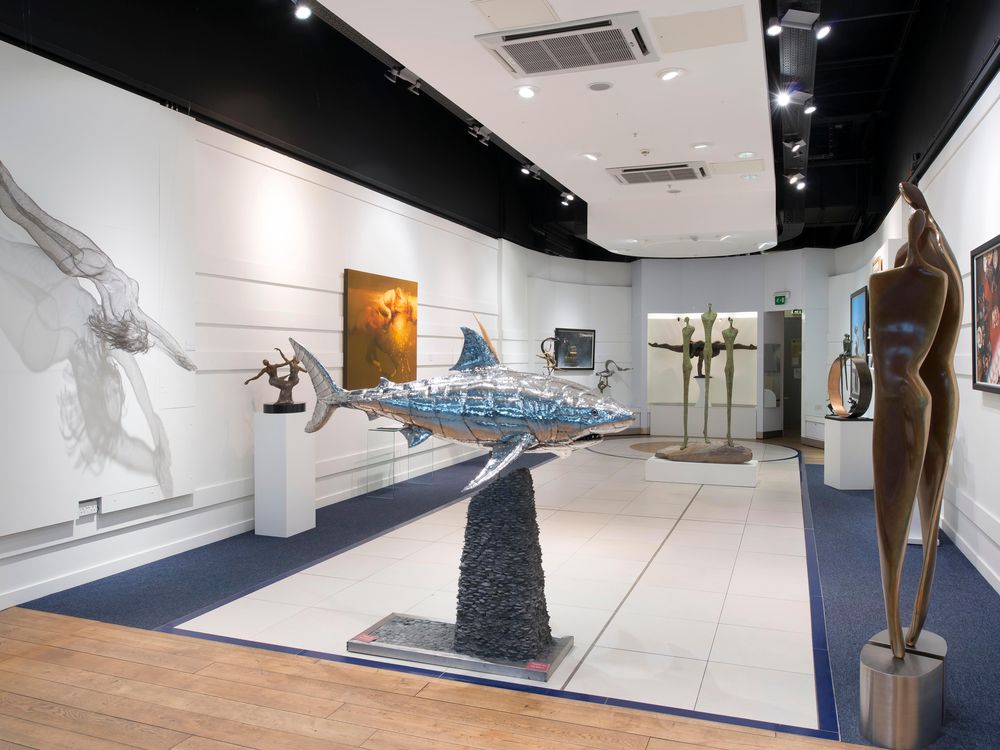 Airports, by nature, are a hectic, chaotic space, with planes jockeying for runway space as passengers file, seemingly endlessly, through lines and terminals. In a world of perpetual motion, it's easy to move with greater focus on the destination than the airport itself, but as more and more airports integrate art into their terminals, it's increasingly possible to stop and enjoy the airport itself before hopping on a jet.
"Art can make a space feel more human," says Laura Greene of Heathrow Airport's award-winning T5 Gallery. "It can evoke emotions and provide something that is often overlooked in large spaces such as airports."
Some airports dedicate permanent space to exhibits within their walls, integrating art as part of the airport's design. Passengers traveling through the Denver International Airport might not consider checking out some of the most lauded public art in the country the first thing on their to-do list, but it's easy to see why Denver has been touted as one of the best examples of art in airports. The airport is so well-known for its public art that it even offers a walking tour for non-ticketed passengers, featuring a rundown of the airport's permanent and temporary art exhibits. Famous pieces permanently on display include Blue Mustang, a 9,000-pound, 32-foot-tall blue horse sculpted by Luis Jiménez, and paintings by muralist Leo Tanguma. (Incidentally, both have been subject to some pretty crazy conspiracy theories over the years.)
For passengers looking to pick up a piece of art while they wait for their plane, London's Heathrow airport offers a full-fledged commercial art gallery, T5, with an emphasis on exhibiting work from both well-established artists and area up-and-comers. Throughout the year, the gallery exhibits group shows—the most recent show, on display through the end of the month, includes a wood sculpture of a sting ray crafted by Andy Baerselman, and a silver crocodile lounging lazily on a crate labeled "Danger: Handle With Care," by artist Michael Turner.
Some artists, like sculptor Ralph Helmick, seem to find special inspiration in the airport space. Helmick's work can be seen at the Philadelphia International Airport, Seattle-Tacoma International Airport and Midway Airport in Chicago. Each installation is a mobile, made up of hundreds of delicate structures. At SeaTac, metal casts depicting local wildlife—like salmon and waterfowl—come together to create the silhouette of a snow goose landing in the rain. At Midway, a mobile of over 1,800 tiny aircrafts creates a bright red cardinal, suspended above the terminal.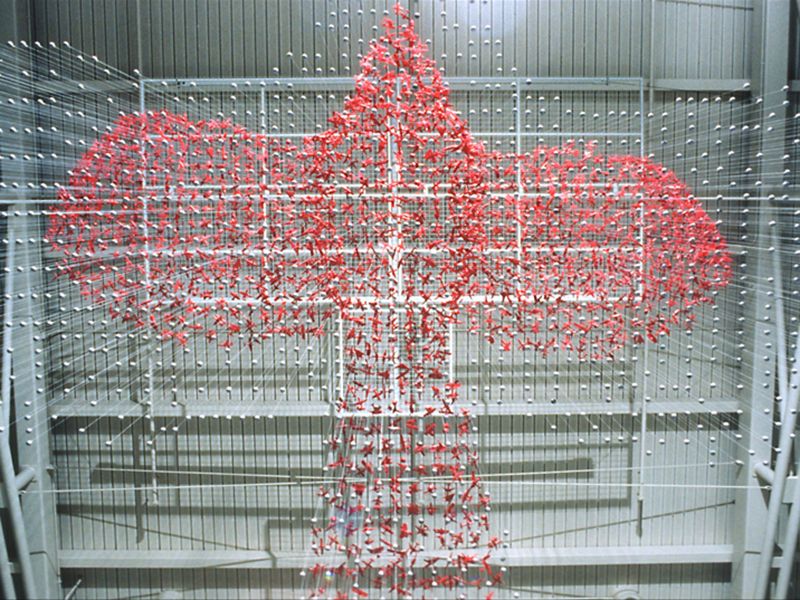 For some airports, creating an art program is as important to their customer service as any other amenity. "The art program does help to provide meaningful things for passengers to do when they have layovers and when they get to the airport early," says David Vogt, airport art program manager at Atlanta's Hartsfield-Jackson International Airport. But art programs also offer airline travelers—who might just be passing through on a quick layover—a chance to explore a city while remaining inside the airport's terminals. "This may be some passengers' only experience of Atlanta," Vogt says. "[The art] helps to tell the story of who we are." One way Hartsfield-Jackson tries to bring Atlanta inside the airport is through its permanent exhibit "A Walk Through Atlanta's History," which depicts the history of Atlanta from thousands of years ago—when it was first settled by native people—up to the present day.
In Philadelphia, artists have also worked to bring a taste of the city into the airport itself. Established in 1998, the Philadelphia International Airport's art program has the same goal as similar projects throughout the world—to humanize the airport experience. Featuring a mix of permanent and rotating exhibits, the airport hopes to introduce the millions of travelers that pass through its halls each year to a taste of Philadelphia's art. Currently on exhibit is Sarah Zwerling's installation "Hamilton Street, Philadelphia," which recreates, inside the terminal, the Philadelphia street where the artist lives. Using digital photography, Zwerling captured the facades of homes that line her street, placing them alongside images of trees on either side of the glass concourse to create the feeling of walking down her block. Zwerling's installation is far from the only piece on exhibit at the airport right now—the airport keeps a running tab on all art on display on their website.
Across the Atlantic, Amsterdam's Schiphol Airport offers travelers the chance to explore the work of Dutch masters such as Jan Steen and Jacob van Ruisdael, in a special offshoot of the city's famous Rijksmuseum. Schiphol is the first airport in the world to bring a world-class museum inside its terminals and beyond passport control. Since opening in 2002, the Rijksmuseum Schiphol has allowed travelers to catch a glimpse of the area's rich art history—and experience a major tourist highlight of Amsterdam—without ever leaving the airport.
Whether it's a delicately-suspended mobile or a world-class museum, remember to keep your eyes open when traveling this holiday season—a long layover or missed flight might be the perfect excuse to take in an art show.