The Story Behind the World's Largest Watercolor Painting
The massive artwork marks the opening of the MASS MoCA's new 130,000-square-foot wing, which makes it the largest contemporary art museum in the U.S.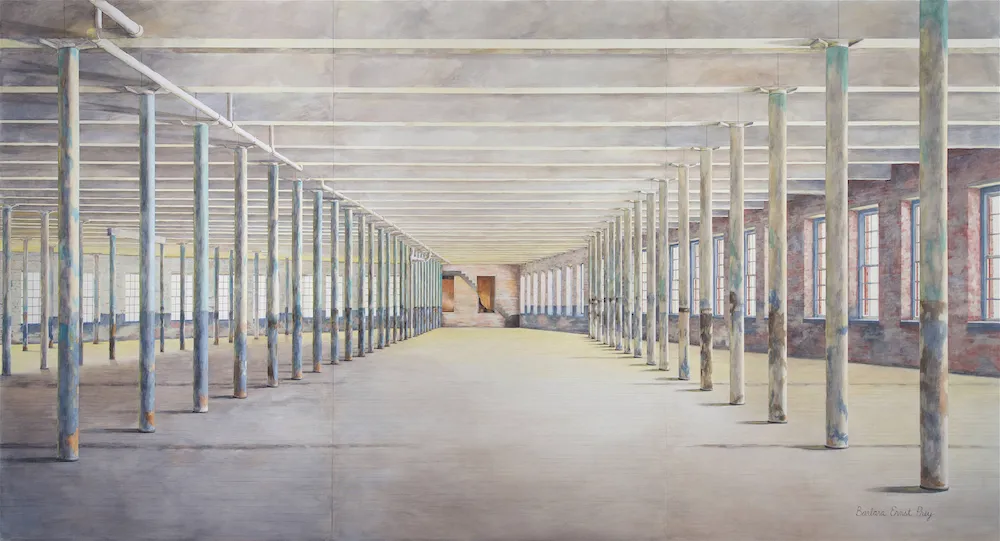 Watercolors are among the least forgiving mediums for artists to work with. Not only are they relatively transparent, runny and overall precarious, but mistakes like an errant brushstroke are often difficult to cover up. Still, when the Massachusetts Museum of Contemporary Art (MASS MoCA) approached celebrated contemporary painter Barbara Prey about creating what would become the largest known watercolor painting in the world to celebrate the opening of Building 6, its newest wing located in North Adams, Massachusetts, she was up for the challenge.
Over the years, numerous government agencies and institutions have tapped the Fulbright Scholar to take on significant art projects—including the White House, where Prey is one of only two living female artists to have their work on display in its permanent collection (she also designed its Christmas card in 2003), and NASA, which commissioned her to create four paintings.
In other words, Prey is no stranger to completing high-profile art projects. For MASS MoCA, it took her about a year from start to finish to complete the massive watercolor painting, which measures 8 feet by 15 feet, or 120 square feet, and is a detailed replica of the second floor of Building 6, a former textile mill, as it looked before renovations began to transform it into a museum.
The finished piece includes painted facsimiles of the sprawling building's columns, windows and endless layers of paint. But bringing the painting to life was the easy part. It was gathering the materials to start the project in the first place that proved to be the most difficult.
"Something like this had never been done before, so I had to figure out where to find large enough paper and the right supports because with watercolor paper you can't put it straight up, otherwise the paint will drip down," Prey says. "I also had to have a special frame built for the piece and figure out where to paint it, since it was two inches too big to get into my studio through the window with a cherry picker."
Prey wound up doing much of her work onsite in Building 6 before renovations commenced, studying the space's light throughout the day, while also reading up on its history as one of many mills that made up the industrial town.
"I spent a lot of time in the building, doing about 48 sketches using pencils to larger color studies," she says. "I would go back and forth and compare paint chips, and I would sit on the floor doing color studies of the columns. It's a very mystical and magical space, but also dirty and gritty with dust on the floor. But that sense of space I couldn't have gotten without working there."
In a move to help solidify a connection between building and painting, Prey incorporated dust from the floor as well as ground paint chips from the columns by adding them into her paint, lending a mixed-media element to the work.
"That created a real connection with the building," she says. "I also had to make sure that I got all of the lines straight, since this had to be a portrait of the space."
Prey's piece is the first thing visitors will see before entering MASS MoCA's new wing. It's on display along with select works by artists James Turrell, Robert Rauschenberg, Jenny Holzer, Louise Bourgeois, Laurie Anderson and Sol Lewitt. With the recent addition of roughly 130,000-square-feet of gallery space, MASS MoCA is now the largest contemporary art museum in the United States.