Ski the Vasaloppet in Sweden
For the thrill-seeking sports enthusiasts, few races can compete with this exhilarating Swedish ski race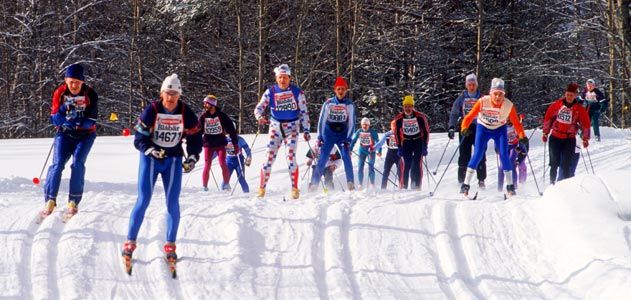 One Swedish mile is equivalent to about 6.2 miles, and if that conversion is not enough to convince you that Swedes are known for endurance, then perhaps the Vasaloppet will. Every first Sunday in March, competitors from Sweden and around the world ski 56 miles (nine Swedish miles) along a narrow trail once described by Sports Illustrated as being "peeled like a thin strip of apple skin from the black forest pines."
The first Vasaloppet was held in 1922, at the urging of a Swedish newspaperman wanting to retrace the steps of Gustav Vasa, a former king who had made the trek from Salen to Mora in central Sweden 400 years earlier, before leading the fight for Sweden's independence. The inaugural race in Vasa's honor had 119 participants and all but two completed the journey. Today, over 15,000 competitors ski the Vasaloppet—the oldest, longest and biggest cross-country ski race in the world.
"I think the motto says it all: 'In the footsteps of our forefathers for the victories of tomorrow!'" says Larilyn Andre, a staffer at the Swedish Embassy in Washington, D.C. "This is an event filled with folklore, history and culture." Professionals tend to reach Mora in four hours, whereas amateurs can take twice as long. But tailgating spectators in villages along the way offer live music and nourishment. The latter often takes the form of steaming blueberry (actually, bilberry) soup, packed with starch and sugar to boost skiers' energy levels.
"There is a real carnival atmosphere," says Andre. The Vasaloppet itself has become the finale of a weeklong festival of races, including a Half Vasa (28 miles), Relay Vasa and Open, or noncompetitive, Vasa (both 56 miles), a Ladies Vasa and Short Vasa (both 18.6 miles), a Freestyle Vasa (18.6 or 28 miles), a Teen Vasa (1.9, 3.1, 4.3 or 5.6 miles) and a Children's Vasa (about a half mile). The contagious spirit has also inspired sister Vasaloppet races in the United States, China and Japan.
The same 1972 Sports Illustrated article that so delicately described the course called the Vasaloppet "one of the most bizarre, most foolish, most excruciating, most exalted human events of our time." In 1987, thermometers registered the coldest race-day temperatures in the event's history: minus 22 degrees Fahrenheit. Needless to say, the race has become a rite of passage. "It is such a huge part of the national heritage and of the heritage of the sport," says Taylor Leach, 26, an elite skier on the Bend, Oregon-based team XC Oregon who raced the Vasaloppet in 2010. "If you are a skier, you absolutely have to do it—at least once."