The Best Caribbean Island You've Never Heard Of
This tropical paradise is packed with lush landscapes and secret pleasures
Maybe you've never heard of Saba before. But you've likely seen it: This tiny Caribbean island's silhouette was used in the original King Kong movie in 1933. At the beginning of the film, it serves as the backdrop for the colossal gorilla's "Skull Island" home.
Aside from that brush with fame, renown has mostly eluded this obscure, five-square-mile island dubbed "rock" in Arawak Indian. Christopher Columbus supposedly sighted it in 1493—and in fact, the craggy shores that made Saba perfect for King Kong are what deterred the explorer from alighting.
After its discovery, the island changed hands between multiple colonial forces. Eventually it was claimed by the Dutch, who have held it for the last 345 years.
The Netherlands' smallest special municipality (officially called a "public body") is just a 12-minute flight south of the more widely known Sint Maarten (also owned by the Dutch) and northwest of the increasingly popular Saint Kitts and Nevis. But thanks to a small airport, lack of a real harbor and sheer cliffs all around, it's in no danger of being overcommercialized any time soon.
That doesn't mean it's not enticing for explorers looking to enjoy the Caribbean without all the traffic: Saba is basically a tropical forest island that soars 5,000 feet from the sea floor. A potentially active volcano overlooks the red-roofed cottages of its four major settlement towns, including the capital dubbed un-ironically "The Bottom." White-washed or stone exteriors, red zinc roofs, decorative Caribbean gingerbread trim and green shutters define Saba's architecture—along with a law that dictates the island's aesthetics. As Mark Johnson of Saba Island Premier Properties tells Smithsonian.com, "the architecture of Saba is such a large part of the island's vernacular. Unlike other spots in the Caribbean, it is easy for visitors to actually sample the lifestyle by staying in a charming and traditional cottage."
For people like Glen Holm, the head of the Saba Tourist Board, who prefer to spend their lives outdoors with dramatic ocean, mountain views from virtually every angle and tapping into a simple life Saba is idyllic. "We are a step back in time," he tells Smithsonian.com. "It took us a long time to move into the 20th century."
Outside of the main towns and mountain villages most of the island's 1,800 inhabitants call home, a forest paradise awaits, filled with rare, tropical foliage. Wild orchids and donkeys occupy the island's old stone paths and steps. Created by the island's residents before the vehicular roads were built, these stone paths have steps made of local volcanic rocks.
Hikers on the island can ascend to Mount Scenery, the island's highest point, or take a more extreme North Coast hike that passes by old town ruins and culminates in ocean vistas. 'Crocodile' James Johnson, a multi-generational Saban, is the de facto ranger for all of Saba's hiking trails. "As I guide hikers to the top of Mt. Scenery, I like to share our lore and folk history with visitors," he tells Smithsonian.com "It is my way of keeping it alive, preserving it, along with all of the island's natural beauty."
But the real attraction here is the scuba diving and snorkeling. An island with no beaches means fewer visitors—thus, the waters are clear and diving spots untainted. Divers find remarkable formations and structural diversity in the water, the legacy of the sea's volcanic origins. From shallow patch reefs to deep-water seamounts, there is plenty of underwater action everywhere, and Hawksbill turtles, dolphins, lobsters, stingrays and bright tropical fish casually roll by.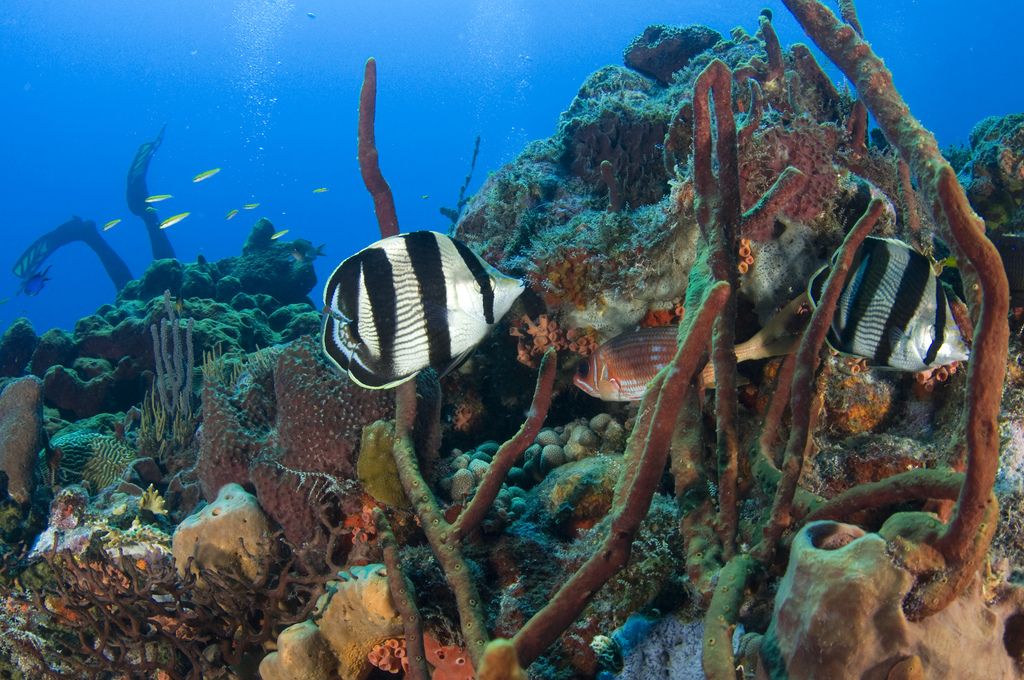 The island protects this infinite marine world with a self-sustaining marine park established in 1987. Lynn Costenaro of Sea Saba Dive Center tells Smithsonian.com that the island's volcanic origins left behind spectacular formations and structural diversity beneath the water. "We fiercely protect this natural beauty," she adds. The Saba Marine Park, one of just a handful of its kind worldwide, bears witness to that commitment.
Conservation and preservation is part and parcel of the little island. The Saba Conservation Foundation, a non-profit non-government organization, was established in 1987 to protect the island's natural and cultural heritage
One of the island's most famous cultural traditions was once also one of its most important industries. Intricate lace work was imported from Spain by way of a nun from Venezuela in the 1880s, and the island's craftspeople are experts. When regular mail service first connected the island to the outside world, the women of the island adapted their craft into a mail-order industry, shipping everything from dresses to tablecloths to the United States. Although the industry was once one of subsistence, today it is more of a dying art. Artisans hope to encourage the younger generation to learn their craft and ensure it lives on into the future.  
A more lucrative business on the island is the Saba University School of Medicine, started by a local doctor and initially funded by American expatriates and the Dutch government. When classes are in session, 400 enrolled students become island inhabitants. Besides adding healthcare to the island's people, the school also adds a few million dollars to the Saban economy through fees.
Think of Saba as the low-key, more sustainable version of the Caribbean—a place where polluting superyachts and mass resorts that harm the environment will hopefully never moor. Just don't tell anyone.  
How to get there:
BY AIR: Delta, American and JetBlue have a total of 29 weekly flights into St. Maarten's Princess Juliana International Airport (SXM). Windward Islands Airways "WinAir" makes four or more flights each day to Saba from St. Maarten's SXM Airport.
BY SEA: Daily ferry departures connect Saba to St. Maarten.