Ride a Stage of the Tour de France
You may not be wearing the yellow jersey, but taking a bicycle on the world's most famous race is still thrilling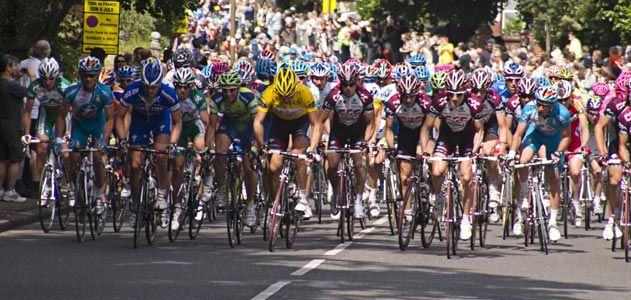 "Going up is fun, and it's tortuous and you're testing yourself, but going down is also fun, and dangerous and you're torturing yourself," says Brent Garrigus, an amateur cyclist from Encinitas, California, who rode a stage of the Tour de France.
Every July, millions of spectators cheer on top professional cyclists over the 21-day race. The pros make a grand circuit of mountains and countryside covering more than 2,000 miles. When the route is clear before or after the race, cycling-mad fans can ride a stage themselves, either independently or in a group. For some, like Garrigus, the experience fulfills a lifetime dream. As a young BMX racer, he used to wake up early on Sunday mornings to watch television coverage of the Tour.
Then, in 2010, Garrigus rode in the Etape du Tour, a "cyclosportive" for amateurs held over a car-free stage of the Tour. "In the Etape, cyclists simulate in the best possible ways the conditions of racing in the Tour. You're going to do it exactly as the pros do it. The stages that are chosen are the more challenging ones," says Loren Siekman, president of Discover France, a U.S. travel operator that books trips to the Etape.
Garrigus completed the 17th stage: 113 hot, harrowing miles in the Pyrenees. He ascended a total of 13,530 feet over three peaks in about eight hours; the human machines in Lycra called pros did it in five. Nearly 7,000 cyclists finished the Etape, but about 1,000 dropped out.
A self-guided ride is another way to experience the Tour. Worldwide cyclist Nikolas Obriecht, of Baltimore, has ridden sections with friends several times. The benefit of this approach is that he could bike for several hours, then join the throngs of celebrating caravaners parked on the roadsides to watch the race come through. "France, especially Provence, is just fantastic for the cycling," says Obriecht. "There is such a respect for the bicycle. . . Cars will always give you the right of way and everybody will smile and wave at you. It's a phenomenal place to spend as much time as possible on a bike."