Puerto Rico - Landmarks and Points of Interest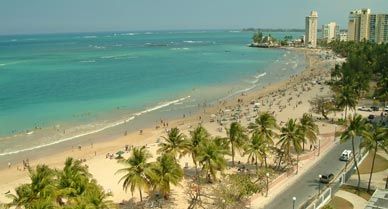 San Juan is Puerto Rico's capital city and commercial center, divided into several districts, and seems in many ways to straddle the old and the new.
The site of dozens of hotels, resorts and the convention center, connected by snaking highways and often snarled by traffic, it's also home to many historic military forts and ramparts. The most famous of these is the Fort de San Felipe del Morro ("El Morro"). El Morro is a National Historic Site and the largest fortification in the Caribbean. From its perch above San Juan Bay, it provided a useful defense against attacks by both the English and the Dutch. El Morro's sister fort, San Cristóbal, is the largest Spanish fort in the New World and protected the city against land-based attacks. It sits on 27 acres and is comprised of five independent units connected by moats and tunnels. San Cristóbal is a UNESCO World Heritage and National Historic Site. La Fortaleza, also known as the Palacio de Santa Catalina, was intended to serve as a military fortress when it was finished in 1540, but was soon converted into the Governor's residence. It continues in that role today.
The gothic Iglesia de San José was built in the 1530s by Dominican Friars and contains the grave of celebrated Puerto Rican artist José Campeche.
Old San Juan is the city's historical heart. Founded in 1521 by Spanish explorer Juan Ponce de Leon, Old San Juan is a tiny maze of blue cobblestone streets, colonial architecture and historic fortresses and plazas. Its main meeting place is the central square, the Plaza de Armas, which once served as the site of military drills.
Puerto Rico's southern, meticulously preserved, second-largest city is sometimes called "La Perla del Sur" (Pearl of the South) or "Ciudad Senorial" (Majestic City) because of its lavish, neoclassical architecture. The downtown historic district features the tree-lined Plaza de las Delicias (comprised of fountains, gardens, and the 1835 Catedral de Nostra Señora de Guadelupe) and the red-and-black striped Ponce Firehouse (constructed in 1882 and now a museum of the history of local fire-fighting). Casa Alcaldía, or City Hall, is the oldest colonial building in the city. La Guancha Paseo Tablado, the boardwalk, is a lively beachfront development popular with the locals. From here, divers can take a short ferry ride to the uninhabited and pristine Caja de Muertos (Coffin Island), from where they can travel Puerto Rico's only underwater marked path system.
About 15 minutes north of town is the Tibes Indian Ceremonial Center, an ancient burial ground that was discovered in 1975 after hurricane rains revealed pottery shards. Now a tourist attraction, access to the area is by guided tour only, and includes a visit a reconstructed Taîno Indian village as well as the active archaeological site.
In the mountains north of Ponce, the Hacienda Buena Vista is a "working" coffee plantation that offers tourists a glimpse of 19th-century rural Puerto Rican life. Also outside Ponce, the Seralles Castle, a well-preserved example of Spanish Revival architecture, was built in 1930 for the family who produced Don Q rum.
San Germàn is Puerto Rico's picturesque second-oldest town, set in the west and features two plazas (Plazuela Santo Domingo and Plaza Francisco Mariano Quinones) and a mélange of Victorian, Creole, and Spanish colonial architecture. The Capilla de Porta Coeli, built by Friars in 1606 and one of the oldest churches in the New World, is now a small museum of religious art and colonial paintings. The Iglesia San Germàn de Auxerre opened in 1739 and still holds mass today.