The Borscht Belt Was a Haven for Generations of Jewish Americans
A new exhibition examines the more than 1,000 resorts and hotels that dotted New York's Catskills Mountains and provided relaxation, dancing and laughs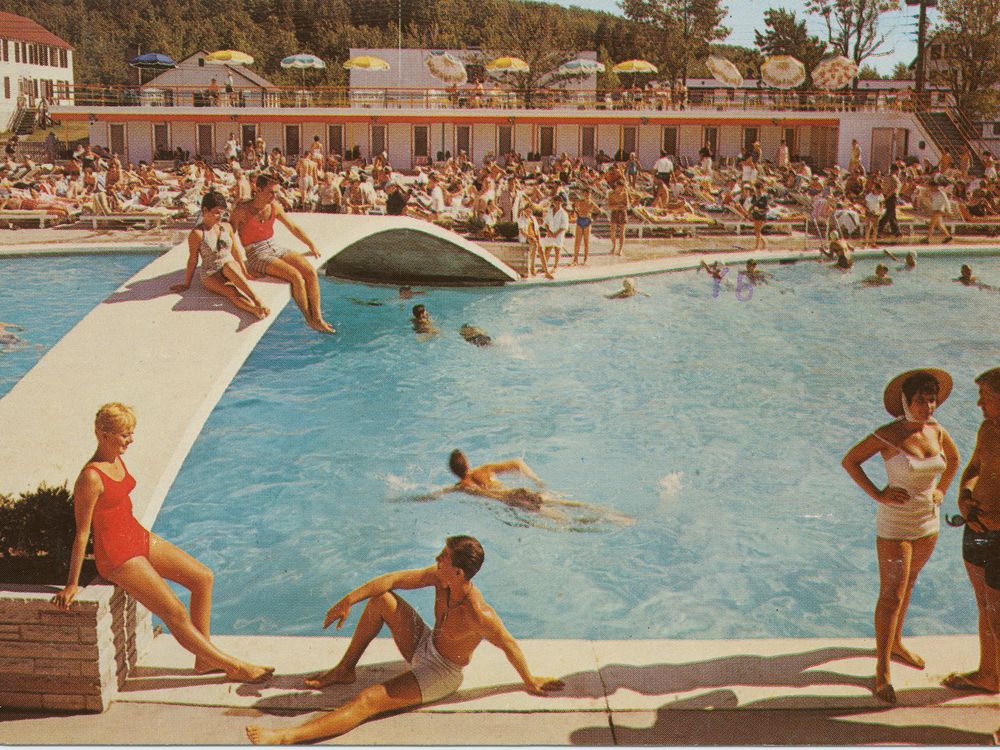 Around the turn of 20th century, with literal boatloads of Eastern European immigrants arriving regularly through Ellis Island, Jewish aid societies established programs to encourage these new arrivals to earn their livelihood through farming. In New York, this meant supporting Jewish communities in the state's Catskills region.
While the region could cater well to dairy farming, its rocky terrain wasn't as suitable for agriculture. "They quickly discovered that the land was really bad," explains Andrew Jacobs, a reporter with the New York Times. Jacobs read accounts suggesting that these families were ill-equipped for these and other challenges, which included long winters and isolation from others.
These hardscrabble farmers and other Jews who relocated to the country adapted to a more hospitable solution to make ends meet: taking in boarders during the summertime.
Early advertising played a role in developing the burgeoning restoration spot, as visitors originally came up to the Catskills by railroad. The New York & Ontario Railway published a guidebook series called "Summer Homes" that promoted stays within the Catskills; one Jewish farmer named Yana "John" Gerson listed one of the publication's first advertisements for a Jewish boarding house in the 1890s.
These boarding houses would evolve into a network of accommodations, both luxurious and inexpensive enough so that even the working classes could head up to the Catskills—first by train, then later by car—to get some fresh air.
In realizing that could make more money taking in boarders than running farms, Jacobs adds, "they started adding to their buildings and developing resorts."
Brothers Max and Louis Kutsher relocated to Sullivan County from New York City in 1907, and they got their start in the hospitality business by hosting summer boarders within their farmhouse. They would later establish Kutsher's Hotel and Country Club, a long-running grand Catskills resort. The famed Grossinger's has a similar story. Its Austrian immigrant founders, Asher and Malke Grossinger, first rented out rooms within their farmhouse, with Malke making kosher meals for their guests.
Word spread about these wondrous places that catered to Jewish immigrant families seeking an escape from New York life. Most hailed from Eastern Europe and lived in cramped tenements, where they risked exposure to diseases like tuberculosis. "The doctors at the time were prescribing country air as a remedy; they would start to come up for their health," says Jacobs. "Later, it was a leisure thing."
It's said that an editor for Variety, Abel Green, nicknamed the region the "Borscht Belt" after the ubiquitous Eastern European beet soup. By the 1950s, more than 1,000 Jewish resorts dotted the Catskills, with accommodations ranging from camps and bungalow colonies, to kuchalayns (rented rooms with shared kitchen facilities), to hotels and resorts within Sullivan, Orange, and Ulster counties. At these grand properties, regardless of their poshness, great lengths were made to keep visitors entertained. Activities included dance lessons, arts and crafts, golf, tennis and swimming, plus day camps for children. Hoteliers offered all-you-can-eat meal plans, then a novel concept. Portions were generous, and many of the resorts served kosher meals.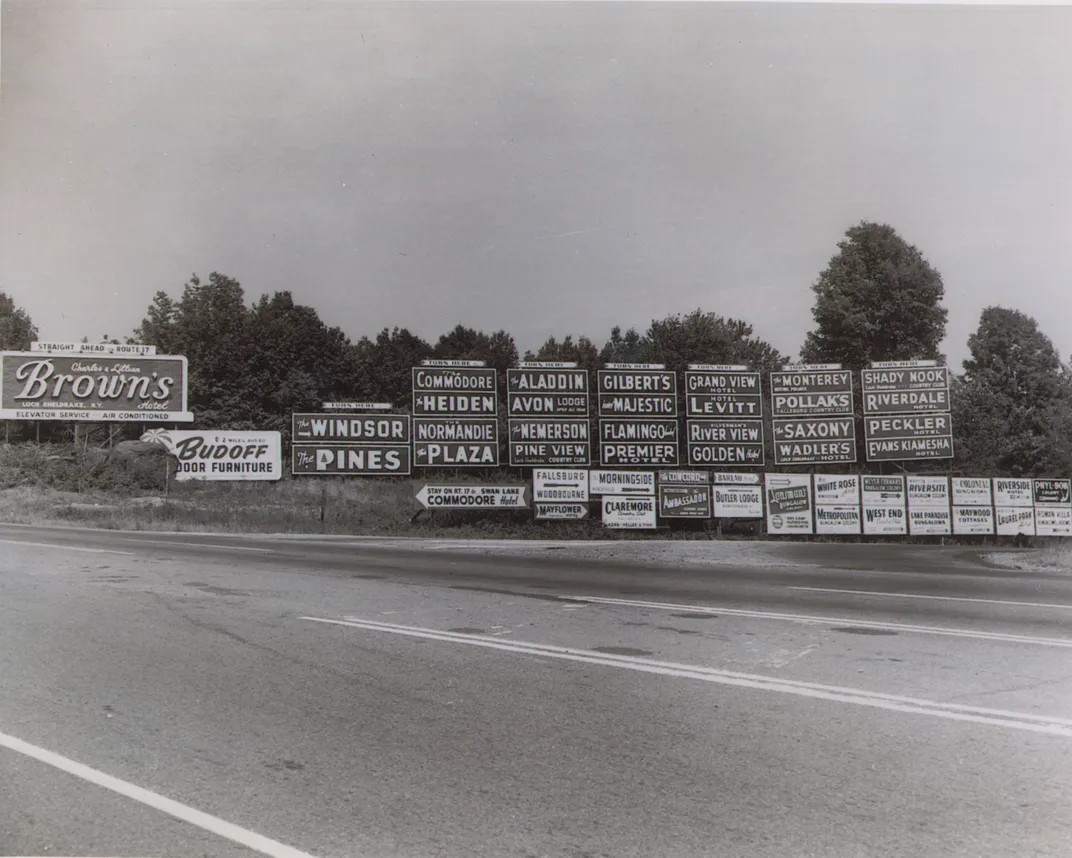 The last of the Borscht Belt resorts, Kutsher's, closed in 2013. But a pop-up exhibition, "Vacationland! Catskills Resort Culture 1900-1980," now on display in Ellenville, New York, is examining that legacy at what used to house the Home National Bank. "It's significant for us in that it was the one of the first banks that would lend money to the Jewish hotel owners back then," says Jacobs, who is also the board president of the Catskills Borscht Belt Museum. "It had this important role to play in financing the rise of the Borscht Belt."
The neo-Georgian building will house a permanent museum starting in 2025, after significant renovations to the interior.
The pop-up exhibition explores the full arc of the Borscht Belt's rise and decline, starting with discriminatory advertisements by other New York hotels from the 1890s that declared "Hebrews" were not welcome. Visitors can peruse a digitized version of a vacation guide that listed places where Jewish travelers could feel at ease.
Beyond safe haven, the Borscht Belt hoteliers put on a range of music and entertainment; their most notable contribution to American culture, however, was comedy. Influential entertainers Milton Berle, Henny Youngman, Red Buttons, Joan Rivers and Jackie Mason were among the many who got their start going from hotel to hotel. Even in the later days of the resorts' prowess, stand-up comics like Jerry Seinfeld and writers like Alan Zweibel, who started out writing jokes for Catskills comedians on paper bags at a deli in Queens before working at "Saturday Night Live," made the circuit.
"This became a really important proving ground for them," says Jacobs, adding that comedians were able to do multiple shows a night. Their jokes could be salty and racy and were often self-deprecating, giving audiences a chance to laugh at themselves and at the doom and gloom that always seemed to be just around the corner. Crowds could be tough, so that helped comics improve their sets; if they were doing well, the audience's reaction showed it.
The exhibition's lead curator, Joanna Lehan, grew up hearing stories about her own great-uncle Sam Zenkel, a Borscht Belt comedian. "His act, with a partner, was Fisher and White," Lehan writes in an email. She adds, "No one has heard of them, though they were modestly successful! Just goes to show you the huge number of performers in the Catskills."
"Vacationland!" was created in collaboration with the Bard Graduate Center in New York City. Bard master's student Mackensie Griffin served as the exhibition's assistant curator. "Fashion was an element we wanted to highlight, because, during the Borscht Belt's heyday, there was a lot of dressing up in fabulous outfits for a variety of occasions," she says. "Big resorts and hotels were glamorous, and people wanted to be seen looking their best."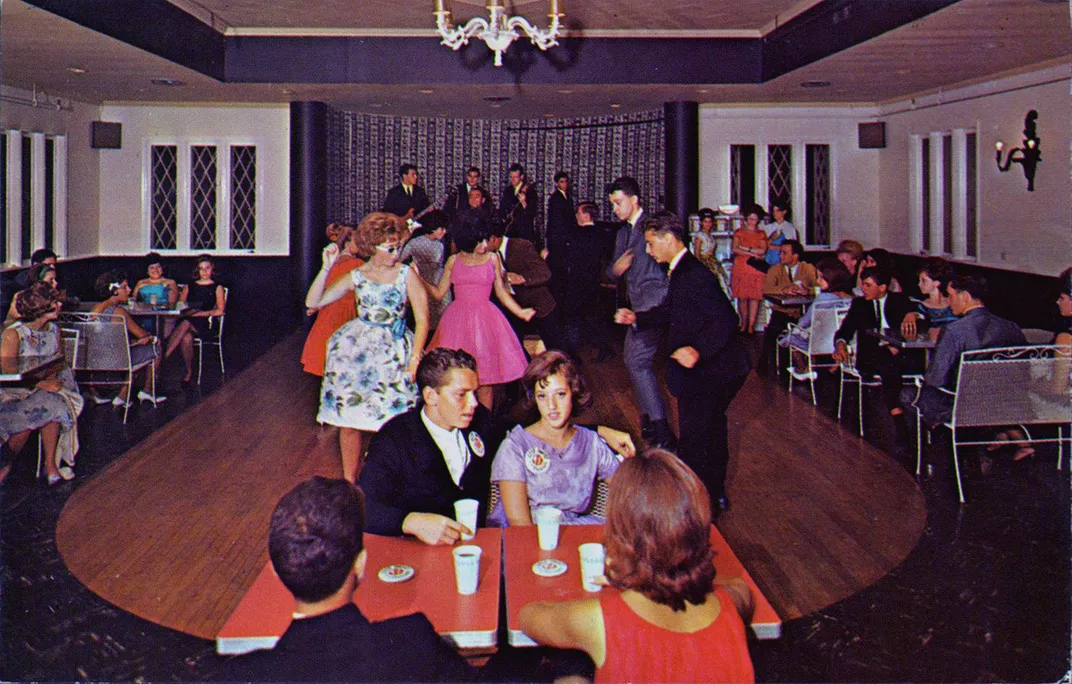 Most of the objects in "Vacationland!" were lent by Allen Frishman, a collector based in Mountain Dale, New York. His personal collection includes postcards, family photos, furniture and signs. The exhibition also includes images and ephemera from the Library of Congress and the YIVO Institute for Jewish Research, which is dedicated to preserving the history of Eastern European Jews around the world.
Exhibition objects came from other personal collections, too. Rachel Salem-Wiseman, another Bard student who helped create the program, contributed an archival family video shot at Grossinger's, one of the more popular resorts and the inspiration for 1987's beloved film Dirty Dancing, as well as a cookbook from the resort.
Other objects range from bungalow colony kitchen furnishings to an Adirondack chair. Perhaps the most striking piece is a (still-functional) giant neon sign from Kutsher's that served as an iconic welcome to annual guests.
Most movies and TV shows that feature the Borscht Belt—from Dirty Dancing to "The Marvelous Mrs. Maisel"—are set in the 1950s and 1960s, the period when the resorts reached their peak. The ensuing decades, however, were not kind to the industry. Air conditioning became more available in the city, negating the need for cooler mountain climes. Upwardly mobile Jewish families could afford to travel to more far-flung locations, and the rise of the 1960s counterculture also made younger Jewish generations less interested in the old-fashioned atmosphere of the Catskills resorts; the next decade would see their decline and the beginning of their disappearance from cultural relevance.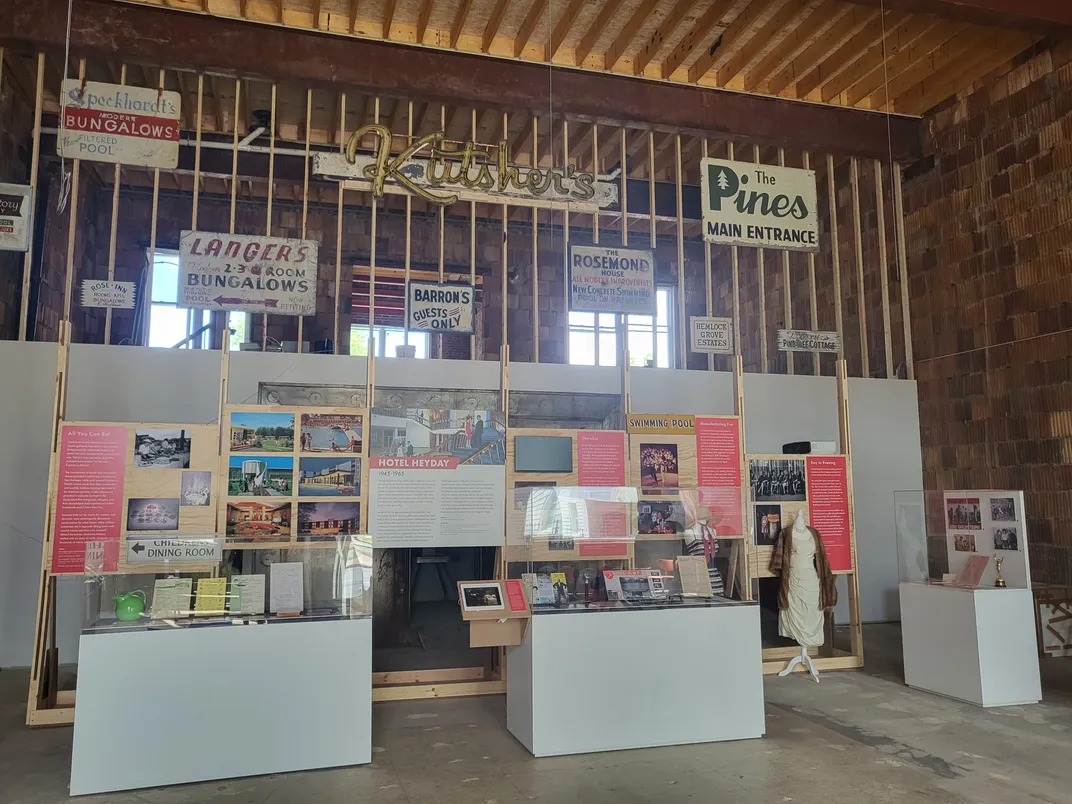 One aspiration of "Vacationland!" is to preserve visitors' memories. A section of the exhibition space has been set up with equipment to record testimonies. Lehan notes that visitors have already told stories of staying in bungalow colonies and hotels as far back as the 1940s. Others say they stayed in hotels as late as the '90s, even though the properties were past their prime by then. Some of the properties are still in Jewish hands, though the character has dramatically changed—they've become co-ops or vacation sites for ultra-Orthodox Jews.
This summer, Ellenville hosted a Borscht Belt Festival, featuring comedy shows, band performances, food vendors, lectures and a babka bake-off competition. Based off its success, the festival is expected to become an annual event.
Jacobs, who vacationed in the Catskills toward the end of the hotels' prominence, directed a documentary about a community of Holocaust survivors who shared a bungalow colony in Ellenville. He says the majestic scenery of the Catskills was always one of the area's biggest draws, and it still is today. "There is an overwhelming sense of peacefulness and refuge, and escape," says Jacobs. "That's the common denominator for all these places."
"Vacationland! Catskills Resort Culture 1900-1980" is on view now through this fall at 90 Canal Street in Ellenville, New York.
Editor's note, September 21, 2023: This story has been updated to correct a misspelling in Alan Frishman's name.