Points of Interest
This month's guide to notable American destinations and happenings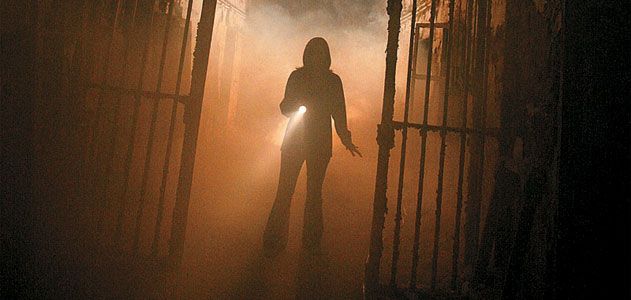 Bats Out of Hell
ROCKSPRINGS, TEXAS—As evening falls, a massive whirlwind of four million bats rises from a cactus-studded limestone ridge, emerging in a flutter of beating wings from a 361-foot-deep cave called Devil's Sinkhole. These Mexican free-tailed bats (Tadarida brasiliensis mexicana), about the size of hummingbirds, will cover up to 150 miles and consume half their weight in flying insects, a total of some 20 tons, before they return at dawn.
"The bats eat the equivalent of ten elephants every night," says Ben Banahan, a volunteer guide to the attraction, which is protected by the Texas Parks and Wildlife Department. "Imagine if they didn't do that. There would be a lot more agricultural pests."
The roost, 140 miles west of San Antonio, is the state's third-deepest cave and gets its name from an 1870s pioneer who described it as "the outlet to hell, the devil's own sinkhole." Shaped like an inverted funnel with an opening just 50 feet wide, the underground cavern is larger than a football field, about 450 feet long and 250 feet across. Formed several thousand years ago when a cavern collapsed, it holds about 200 adult bats or 500 pups per square foot.
To protect the habitat, wildlife officials limit visitors to 40 at a time. If you want to view the mammals' spectacular takeoff, hurry: the colony skips out by the end of October, winging to its winter home in Mexico. It usually returns in April. —Melissa Gaskill
Haunted Big House
PHILADELPHIA—With its 30-foot-high stone walls and crenelated towers, Philadelphia's massive, medieval-looking Eastern State Penitentiary has a foreboding air even on a sunny afternoon. But on October nights, the place can be petrifying. That's when the ten-acre complex, first opened in 1829 and now a National Historic Landmark, gets taken over by "Terror Behind the Walls," a Halloween-season attraction that features 130 actors, high-tech effects and animatronic ghouls. Thrill seekers (as many as 6,000 a night) wear special 3-D glasses on one part of the tour and carry flashlights on another. But perhaps scariest of all is simply walking through Eastern State's cellblocks, whose crumbling walls and open cell doors exude a creepy menace.
Click here to view a timeline of the prison's history
With a price tag of $780,000, Eastern State was one of the most expensive buildings of its era. It had running water and central heat, innovations even the White House lacked. Its most notorious inmate? Al Capone. Finally shut down in 1971, the prison was eventually rescued from commercial redevelopment by a citizen-led preservation effort. It opened for tours in 1988 and attracts more than 140,000 visitors each year. "People come to be scared," says Jason Ohlsen, technical director of the terror effects, then "come back for the history." —Eils Lotozo
Wee Trees
ASHEVILLE, NORTH CAROLINA—This fall's biggest attraction at the state's 434-acre arboretum may be the smallest: tiny trees in seasonal red and gold. Using bonsai techniques on native Appalachian trees such as hawthorn, hornbeam and red maple, horticulturists have created scores of Lilliputian specimens, most under two feet tall. Many will be on display at the annual juried show of bonsai creations October 13 and 14.
The North Carolina Arboretum (www.ncarboretum.org) has the nation's largest number of miniaturized American plants, including flowering shrubs, wildflowers and tropical plants. "We use plants that other people won't use," says bonsai curator Arthur Joura, who began applying the ancient art of bonsai to local flora 15 years ago. "We're opening a new view of a really old thing."
Developed in China more than 1,000 years ago, and most often applied to evergreens, bonsai strives to create harmony and serenity through painstaking cultivation. An artist typically begins by potting young plants or seedlings in shallow containers, then repeatedly pruning the roots and tops to control growth.
Joura shapes his trees using wires and splints, accentuating, say, a trunk's crookedness. The dwarfing process can take a decade, and a healthy bonsai can live a century or more. Joura's tiny bonsai blueberry bushes even bear fruit. —Nan Chase
Wet Paint
OJAI, CALIFORNIA—Setting aside a freshly thrown pot, ceramic artist Bruce Tomkinson turns to his visitors and begins to explain why his work is a contrast of old and new. A mile away, guests at printmaker Linda Taylor's studio find her in the garden sketching. Across the valley, as Theodore Gall puts the finishing touches on a wax figure, folks wander through his studio, watching him sculpt and even touching some of his works. The personal encounter is a key part of the Ojai Studio Artists Tour, an annual event launched 23 years ago to spotlight the many artists who live and work in and around Ojai, 90 miles north of Los Angeles. "What makes the tour special is meeting the artists in their studios and having them explain their inspiration," says Marie LaMarr of Encino, California. "It enhanced our experience with the artwork we purchased." Many of the artists have exhibited in galleries and museums around the world, including the Smithsonian Institution. Held this year on October 13 and 14, the self-paced tour covers about ten miles and more than 40 studios located down rustic roads or surrounded by lemon orchards or perched on hillsides—and sundry points in between. —Kate Sexton
Yeah, Sometimes the Traffic Can Be Really Baaad
KETCHUM, IDAHO—Every October hundreds of sheep take to the streets of this wealthy ski resort town, plodding past a golf course and multi-million-dollar houses during the Trailing of the Sheep Festival. It has been a four-month journey for the sheep, which have trekked 50 miles from their summer pastures in the mountains to Main Street on their way to winter habitats in the high desert 30 miles south. Sheep rancher Diane Peavey suggested the festival about 15 years ago when newcomers began complaining about migrating sheep blocking traffic and spoiling the bike path. Now the event is an attraction for locals and visitors alike, including California governor Arnold Schwarzenegger and actress Mariel Hemingway, both of whom own vacation homes in the area and have attended the parade of bleating livestock. Ketchum is just one mile from Sun Valley, a premier ski and vacation destination.
The festival, October 12-14 this year, also features sheepshearing and border collie sheepherding demonstrations, Navajo weaving, storytelling, sheepherder poetry, lamb dishes, Scottish bagpipers (the area's first shepherds were Scots) and Peruvian dancing (later shepherds would come from Peru, Chile, Mexico and Mongolia). There are also tours into the aspen groves to see the arborglyphs, or tree drawings (usually depicting animals, women and churches), that shepherds carved over the years. Sheep ranching's roots here go back to the late 1860s, and by World War II, there were 2.65 million sheep in Idaho—almost six times the human population. Though synthetic fibers and New Zealand and Australian lamb imports have contributed to a decline in Idaho sheep farming, it's still a livelihood for many. "Sheep trailing is not a reenactment," Peavey says. "Festival or not, we would do this." —Karen Bossick