Points of Interest
Notable American Destinations and Happenings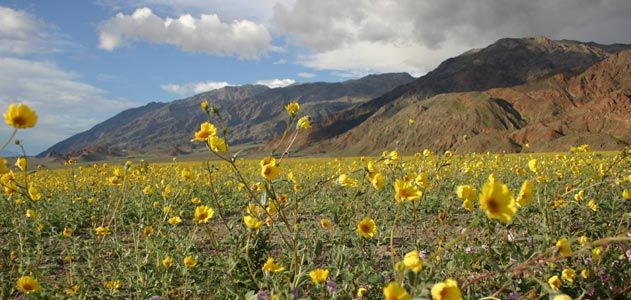 Not So Dead
Death Valley, California—In a land deemed dead, there's no greater adventure than searching for life. Bumping along in a four-wheel-drive and covering about 400 miles of the 5,300-square-mile desert, I found surprising biodiversity in this brittle landscape punctuated by mountains and canyons. Wildflowers carpeting the hillsides watered by snowmelt from Telescope Peak, the park's highest point at 11,049 feet, are expected to continue into June. I spotted bighorn sheep and red-tailed hawks on the craggy rock walls and wild burros in the shade of mesquite trees.
Even though it's one of the driest places on earth—averaging less than two inches of rain annually—Death Valley has more than 600 springs and ponds. Salt Creek, which meanders a mile through the center of the park, is home to the hardy pupfish. From a boardwalk constructed to protect the fragile creekbed and nearby vegetation, visitors can watch the iridescent minnow-size fish cavorting in warm, briny water only an inch deep.
Darwin Falls, a sort of oasis on the park's western edge, cascades about a hundred feet into a large pond of cool water surrounded by willows and cottonwoods. Though swimming is prohibited to protect wildlife, the spot offers a respite from the oppressive heat—which averages 100 degrees in May—and attracts some 80 species of birds. Badwater Basin, the lowest point in North America at 282 feet below sea level, has a moonlike bleakness. The vast crusted salt pan is scored with symmetrical polygonal cracks. There's no shade, and summer temperatures can reach a scorching 120 degrees. See it when the wildflowers are still in bloom.
Sub Hunter
Albany, New York—The United States built 563 destroyer escorts, small maneuverable ships that sank nearly 100 enemy submarines while protecting Allied supply convoys in World War II. Only one, the USS Slater, remains afloat in the United States, moored on the Hudson River. It was transferred to the Greek Navy in 1951 and used in training—and movies, including 1961's The Guns of Navarone. Greece returned the ship to a group of U.S. Navy veterans, who towed it to Albany in 1997 and formed the Destroyer Escort Historical Museum.
The enlisted men's sleeping quarters are equipped with fold-up canvas bunks, hung hammock-style with chains. Heavy china graces the officer's mess. Morse code and sonar pings emanate from the radar room. Keg-size depth charges on the main deck look ready for deployment.
Playing for Keepsies
Bonner Springs, Kansas—Time was, kids would squat on the ground and attempt to shoot each other's agates outside a circle drawn in dirt or chalked on pavement. Although video-game shootouts seem to have replaced marble games, Bruce Breslow still handcrafts about a thousand marbles a year in a cinder-block warehouse in a suburb 20 miles west of Kansas City.
The Moon Marble Company is Breslow's museum-like novelty shop, brimming with plastic bins of assorted candy-colored, streaked and tie-dyed marbles as well as other retro toys: tea sets, Chinese checkers, tiddlywinks, Radio Flyers, Sno-Cone machines.
In the back of the store is a classroom where employees demonstrate how to knuckle down and play for keepsies. Three days a week, Breslow turns colored glass into little works of art. As kids and adults observe from gymnasium-style bleachers, he melts two or three different colored glass rods over a torch flame, then pushes a pinch of the mixed molten glass into a graphite mold to create a sphere. Manipulating the ball of glass with a metal pick, he creates the radiant color swirls favored by collectors. The marble is reheated, spun and flame-polished. His handmade beauties sell for $20 to $250, but most of the store's million-plus marbles are machine-made and some cost as little as ten cents.
Breslow, a woodworker, opened the store in 1997 and "developed a passion" for marbles after buying thousands of factory-made ones for wooden game boards he crafted. He then learned glassmaking techniques. He acknowledges that marbles are not a thriving business but also notes they're still used in aquariums and floral arrangements and as agitators in paint cans. "I'm not concerned for the future of marbles," he says. "I'm concerned for the future of play."
Shear Brilliance
Bishopville, South Carolina—No road signs direct visitors to Pearl Fryar's topiary garden, but local residents can point the way. Near the end of a quiet cul-de-sac, not far from the pine woods and cotton fields of this dusty town in the middle of the state, Fryar's brick ranch house stands out. More than 400 carefully groomed evergreen plants billow into Alice-in-Wonderland shapes that cover most of his three-acre property.
For nearly 20 years, Fryar has pruned and twisted and coaxed not only boxwood and yew, the staples of topiary, but also holly, fir and even loblolly pine. Mostly geometric or abstract, Fryar's topiaries start modestly at the curb, then swirl in dizzying patterns around the house he shares with his wife and adult son. Transformed shrubs, resembling a gaggle of chessmen, seem to march up the driveway; trees reach for the sky in arrowhead shapes 30 feet high. Water burbles in Fryar's homemade fountains.
Now retired from his engineering job at a can factory, Fryar, tall and slender at 68, devotes most of his time to his topiaries. Using gasoline-powered shears that leave a velvety finish, he trims each plant every four to six weeks. Special projects, such as turning a lollipop-shaped live oak into a square tree with a topknot, can take years.
As word has spread about Fryar's free, open-to-the-public garden, people from all over have found their way here, sometimes by the busload. The Garden Conservancy, an organization devoted to preserving gardens, adopted Fryar's last year, and a documentary film, A Man Named Pearl, opens this summer. Fryar's credo—"Love, Peace & Goodwill"—not only suffuses his work but is carved into the lawn.