Points of Interest
Notable American Destinations and Happenings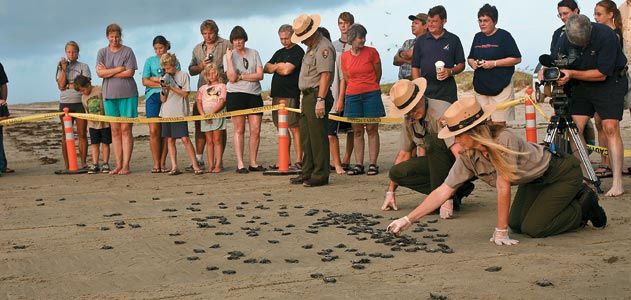 Shell Gains
North Padre Island, Texas—Every few days in the summer, a dozen or so people gather here on the north beach just before dawn to watch newly hatched Kemp's ridley turtles, the size and color of overbaked gingersnaps, plunge into the surf. While it's estimated that only one in 300 will make it to adulthood, the odds for the survival of this endangered species (Lepidochelys kempi) have improved dramatically in the past 20 years. Thanks to conservation efforts, a record 10,596 hatchlings scuttled off Texas beaches last year.
"Humans caused the ridley's decline," says National Park Service biologist Donna Shaver, "and now humans are part of their success." In the 1960s and '70s fishing nets and poaching nearly wiped out the ridleys, which live on the Gulf and Atlantic coasts. In 1978, biologists began collecting turtle eggs from a remote beach in northern Mexico and bringing them to Texas beaches to re-establish nesting. Fifteen years later, the first of those turtles returned to lay eggs. Although commercial nets and predators still take their toll on turtles, the number of nests is steadily rising in Texas, from 8 in 2001 to 128 last year.
This barrier island's annual nesting season begins around April, when adult females come ashore. Each digs an 18-inch-deep hole in the sand, deposits about 100 eggs, covers them and returns to the ocean. To guard against the eggs being eaten by coyotes and raccoons or swept away by a high tide, biologists collect them and incubate them in sand-filled coolers at a laboratory. About 50 days later, the turtles hatch. As scientists release them, the hatchlings head for the surf, swimming several miles in open water to the safety of seaweed, where they can feed and hide from predators. Call the hatchling hot line (361-949-7163) for dates and release times.
Iowa's Bottled Sand
Des Moines, Iowa—Powdery grains of colored sand in a foot-tall bottle form a picture so astonishingly detailed that you can see the fringe on George Washington's jacket and the flared nostrils of his white horse. The sand-art bottle at the State Historical Museum was created by Andrew Clemens (1857-94), an Iowan who collected rocks—colored pink, blue and green by iron oxide—from bluffs along the Mississippi River. After pulverizing the rocks and mixing 42 different hues of sand, he layered it into bottles, creating intricate geometric patterns, flowers, eagles, steamships and more. Though most of Clemens' works have been shaken or shattered, an intact rendering of a ship recently sold for almost $12,000. Of the museum's five Clemens bottles, curator Michael Smith says: "We don't move them much."
Road Work Ahead
West Glacier, Montana—A mere 18 feet wide in some stretches, the scenic 50-mile Going-to-the-Sun Road traversing Glacier National Park hugs cliffs and switchbacks, making a drive as white-knuckled as it is beautiful. During repairs to the road this summer, park officials will provide free rides in large-windowed shuttle buses to ease congestion.
An emerald valley shimmers 3,000 feet below. Waterfalls cascade down rocky parapets. Snowcapped Rockies pierce the sky. There are reasons aplenty to relish the delays.
Storied House
New York City—It stands on what was once the most crowded block in the densely populated Lower East Side. Built in 1863, the five-story, 20-unit tenement at 97 Orchard Street had housed 7,000 immigrants by the time it closed in 1935. Twenty years ago a nonprofit group turned it into the Lower East Side Tenement Museum, restoring six apartments to reflect the lives of former residents. It's 1918 in the apartment of the Rogarshevskys, from Lithuania. Abraham, a presser in a garment factory, has just died and a meal of bialys and hard-boiled eggs is on the table.
Nathalie Gumpertz, from Germany, lived here in 1875. Her sewing machine sits in the parlor. She makes dresses to support her three children since her husband disappeared on his way to his job at a shoe factory. In 2001, Nathalie's great-great-grandson was lost in the World Trade Center attack. A year later, his widow visited the apartment, contemplating the husbands who never returned.
Celestial Mechanics
Springfield, Vermont—A grassy hilltop is home to Stellafane, the nation's oldest convention of amateur telescope makers. Stargazers have gathered here since 1923, bringing their homemade inventions to view the dark sky—and show off. The motley display of ingenuity includes no-frills contraptions fashioned from plywood and copper tubing as well as elegant polished mahogany scopes with painstakingly hand-ground mirrors. One scope last year resembled a three-foot wooden salad bowl with a superstructure of black tubing. Another was so large it came with a stepladder. At this year's annual festival, July 31 to August 3, judges will award prizes for craftsmanship and optical performance. Workshops and swap meets round out the festivities. Stellafane (Latin for shrine to the stars) dates to 1920, when Russell Porter, an arctic explorer, taught 15 men and one woman to hand-grind their own mirrors at a local factory, sparking a build-your-own scope craze. "The amateur movement started here," says Alex McConahay, from California. "It's like going to St. Peter's in Rome."