Points of Interest
Notable American Destinations and Happenings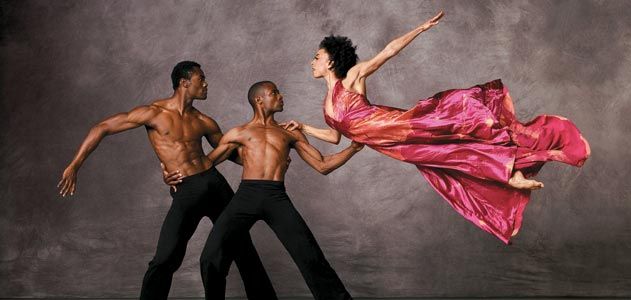 The Soul Man of Modern Dance
Washington, D.C.—On March 30, 1958, an ensemble of nine African-American dancers cobbled mostly from Broadway shows debuted a work at New York City's Young Men's Hebrew Association, a low-cost venue for up-and-coming artists. Choreographed by 27-year-old dancer Alvin Ailey, Blues Suite echoed the bawdy music halls of his native Texas. It redefined modern dance, adding energy, robustness and physicality to traditional restrained moves. Two years later, Ailey unveiled Revelations, a three-part work set to the spirituals he remembered from Southern black churches. Borrowing from ballet, jazz and ethnic dance, Ailey created his own style, recruiting dancers capable of everything from ballet arabesques to acrobatic contortions. Revelations would become the signature piece of the New York City-based Alvin Ailey American Dance Theater, which has performed for some 21 million people worldwide.
A new Library of Congress exhibition marking the company's 50th anniversary includes photographs, costume sketches, performance memorabilia and a short film highlighting key performances. Most of the documents are culled from the library's 30,000-item Alvin Ailey Dance Foundation Archive, acquired in 2006 and accessible to the public. After the show closes on September 6, it travels to the Walt Disney Concert Hall in Los Angeles for exhibit October 4 to April 6, 2009.
The dance company itself will offer free performances and classes this August in several New York City neighborhoods. That gesture would have delighted Ailey, who died in 1989 at age 58 and whose troupe is now under the direction of the former principal dancer Judith Jamison. After all, Ailey once said "Dance came from the people" and "it should always be delivered back to the people."
Kerouac Slept Here
Provincetown, Massachusetts—Nestled among the dunes of the Cape Cod National Seashore are 19 rustic huts that have neither running water nor electricity but are as sought after as any luxury beach property. Over the decades the mostly one-room shingled buildings, built in the early 1900s for the Life-Saving Service, have welcomed the likes of Norman Mailer, Jack Kerouac, Jackson Pollock and Mark Rothko. The dune shacks became a popular retreat after Eugene O'Neill stayed in one in 1919. "A grand place to be alone and undisturbed," the playwright wrote to a friend. Interest has steadily increased to more than 500 applications a year for the six shacks that are not leased long-term. The rentals come equipped with a bed, table, propane fridge, camp stove, a tool kit and composting toilet. Guests must haul their own water from a nearby well. Mice visit regularly.
The objective, of course, is to wrestle with one's muse, face off with solitude and the inner self—and perhaps turn out a prize-winning work. Deadlines for lotteries for one- to three-week stays, which are managed by two nonprofit organizations, are January 1 and February 15, 2009. For details call 508-413-9239 or visit www.thecompact.org.
Playing Fast and Loose
Hawaii—Dressed in a floral shirt and black cowboy hat, Led Kaapana dazzles the audience at a slack-key guitar festival with fancy fretwork and improvised riffs. He delivers the sweet bell-like tones of a music genre that has gone from backyard luaus to winning four Grammys as it spread to the mainland and abroad. It is believed that slack key began in the 1830s after Spanish and Mexican cowboys came to island ranches to help manage cattle. Native musicians adapted the newcomers' guitars to traditional Hawaiian chants and falsetto singing by retuning the strings (usually loosening them) and creating fingering to heighten the contrast of high and low sounds. Slack key can flow gently like water lapping the shore, or roar like big surfing waves. The Honolulu festival, now in its 26th year, takes place August 17, followed by concerts in Kona, on the Big Island of Hawaii, on August 31 and on Kauai, November 16.
Dark Matters
Coudersport, Pennsylvania—With its remote mountaintop location, Cherry Springs State Park is a mecca for stargazers. In the north-central part of the state, it is a protected skywatching site, meaning white lights are prohibited. Its dark velvety sky is ideal for viewing the Perseids, a spectacular annual meteor shower in mid-August.