Paul Polak, Social Entrepreneur, Golden, Colorado
His new book advocates helping the world's poorest people one tool at a time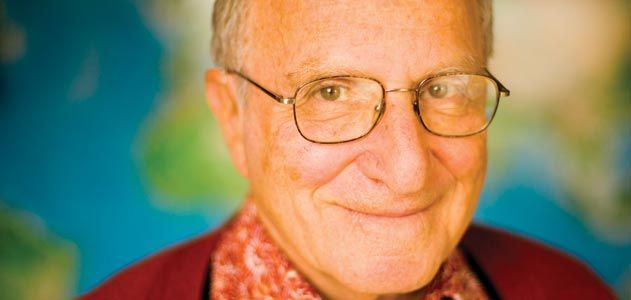 Paul Polak has been helping people escape poverty in Bangladesh, Zimbabwe and elsewhere for 27 years. In Out of Poverty: What Works When Traditional Approaches Fail, the 74-year-old former psychiatrist and founder of International Development Enterprises—a nonprofit that develops low-cost equipment for farmers—argues that simple tools such as a $25 water pump can do more than large cash donations to aid many of the world's "dollar-a-day" people, of which there are an estimated 1.2 billion.
Why did you switch from psychiatry to poverty?
In working with mentally ill people in Denver, I learned that their poverty was a bigger contributor to their state of mind than psychiatric illness. We found them housing and access to employment. Those things helped so much. But I was curious about people who lived on $30 a month or less, so I went to Bangladesh.
You tell the story of a farmer in Nepal.
Yes, Krishna Bahadur Thapa invested $26 to buy a 250-square-meter drip [irrigation] kit. He learned horticulture, and he worked hard to raise off-season cucumber and cauliflower, and all of a sudden he made $256 in one season when he was used to making only $50 to $100 a year. He went from that first tiny plot to a whole acre of irrigated fruits and vegetables. He bought himself a buffalo and made almost $700 selling milk. Then he bought two-thirds of an acre of oranges. He raised goats and sold the kids for meat. Farmers improve in bits and pieces. By that method you can get as big as you want.
You say we can't "donate" people out of poverty.
Right. Poor people have to make an investment of their own time and money to move out of poverty. You can help them by removing constraints. Many of the current approaches to poverty assume you have to give them a large number of things. But there are no sustainable impacts once the money stops.
You have great hopes for a $100 house.
Virtually all "dollar-a-day" people in rural areas own their own houses. But the walls are made of mud and wattle, usually there's a thatched roof, and the floor is a mixture of dung and clay. The house has no value. You can't sell it and, even more critically, you can't go to a bank and use it [as collateral] for a loan. But for $100 you can build a 20-square-meter house—a skeleton of eight beams and a good roof that they can add bricks or cinder blocks to. Then they can go to the bank and borrow against it.
What's an example of a tool that might help America's urban poor?
One thing I learned in Colorado is that homeless people need a secure place to store their stuff. The railroad station had 75-cent lockers, and that's where [a homeless man named] Joe kept his stuff. Well, there were thousands of homeless people in Denver. It would have been a fairly simple matter for someone to finance a loan for a locker facility.
Your family left Czechoslovakia to escape the Nazis when you were a child.
My father sold everything at 10 cents on the dollar to accumulate 2,000 bucks to get a visa to Canada. We arrived as refugees. We worked for a while as migrant farm laborers, and then three of us—three families—bought a farm. My dad worked hauling molten pig iron in a factory, and in the evenings and on weekends he had a landscaping business, and then he started a nursery and made a very good living. I learned about seeing things with open eyes, and about being an entrepreneur.