Oklahoma - Music and Performing Arts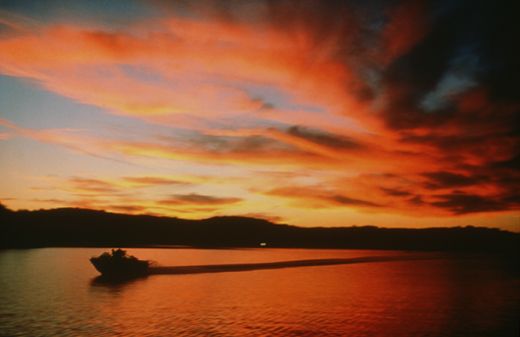 The arts are central to the lives of many Oklahomans—an endeavor that they're elated to share with visitors. Art in the Sooner State ranges from the classical to avant-garde, from world-renowned works to local conceptions. Celebrated artists such as Jerome Tiger, Charles Banks Wilson, Greg Burns, Willard Stone, Enoch Kelly Haney and Father Gregory Gerrer all call Oklahoma home.
The Museum of Art (Oklahoma City)
The Museum of Art contains a permanent collection that explores European and American painting and sculpture, drawings and prints from various artists, photography and a large collection of works by glassblower Dale Chihuly. The museum also houses a movie theater that shows independent, foreign language and classic films. The downtown Oklahoma City art scene has recently seen a growth in venues with the construction of Untitled [ArtSpace]. This unique site once was an industrial building, but now it is "an environment designed to stimulate creative thought and new ideas through contemporary art."
Paseo Arts District (Oklahoma City)
Just north of the downtown area is Oklahoma City's Paseo Arts District. Built in 1929 as a shopping area, the Paseo has gone through several transformations in its lifetime. Despite the changes, this area has always been known for its artistic tendencies. Now the home of more than 20 galleries and studios, several restaurants and cafés, unique shops and businesses, the Paseo pleases just about every art enthusiast.
The Philbrook Museum (Tulsa)
Tulsa is another Oklahoma art haven. The Philbrook Museum, formerly home to oil baron Waite Phillips, displays a collection of art from a broad variety of regions and cultures. Inside the museum, patrons can view works spanning history from Africa, Asia, Europe and North America. Outside, sculptures are delicately placed amid the Philbrook's majestic gardens.
The Gilcrease Museum (Tulsa)
This museum is the place to go for American art enthusiasts. Thomas Gilcrease, oil man and the museum's benefactor, was an avid collector of works celebrating America's western side. Through a partnership with the city of Tulsa, Gilcrease's collection is housed in a public museum and has expanded into the world's largest and most comprehensive collection of art from America's West.
Price Tower Arts Center (Bartlesville)
Just north of Tulsa, in Bartlesville, Frank Lloyd Wright's only skyscraper stands out from the Oklahoma prairie. Inside this restored architectural masterpiece is the Price Tower Arts Center, which houses a permanent collection focusing on Wright and his apprentice, Bruce Goff. The Arts Center also provides space for traveling exhibits. If you're in town for a while, the Price Tower also includes a contemporary hotel that has been renovated by Wendy Evans Joseph Architecture.
Music
Music is a vital part of Oklahoma living, perhaps that's why so many musicians come from this great state. Country musicians Gene Autry, Garth Brooks, Ronnie Dunn, Vince Gill, Woodie Guthrie, Toby Keith and Reba McEntire were raised on Oklahoma soil. Oklahoma's musical contributions don't just include country and bluegrass. Jazz musician Charlie Christian, rock bands All American Rejects, the Flaming Lips and Hinder, pop acts Hanson and Color Me Badd are Okies, too. When you visit Oklahoma, we're sure you'll want to take part in its music scene. Whether you love musicals or thrive in the middle of a mosh pit, in Oklahoma you can hear it all.
Bluegrass music is a big part of Oklahoma's musical heritage, and there's no better place to enjoy it than in Guthrie. The Double Stop Fiddle Shop and Music Hall holds performances on a bi-weekly basis. Every March, visitors can participate in the shop-sponsored Fiddle Fest. Bluegrass enthusiasts can get a hands-on experience by purchasing one of the many instruments in the shop.
Deep Deuce District (Oklahoma City)
Oklahoma City's Deep Deuce district was the foundation of Jazz music in Oklahoma during its heyday. Home to jazz musician Charlie Christian and writer Ralph Ellison, this area once defined by segregation is now recognized as one of the most influential locations of the Jazz Era. Today Oklahomans still love jazz. Just north of Oklahoma City, in Edmond, the University of Central Oklahoma has opened the UCO Jazz Lab as a place for students and professional musicians to perfect their craft. Shows take place on a weekly basis.
Oklahoma Jazz Hall of Fame (Tulsa)
The Oklahoma Jazz Hall of Fame memorializes the people that contributed to the music's popularity. Located in the Greenwood district, once nicknamed Black Wall Street, the Hall of Fame chronicles jazz history and provides a place to cultivate the future of jazz music. Shows at the Hall of Fame frequently are performed by inductees themselves.
Be sure to catch part of Oklahoma music history and a show featuring the latest rock sensations in Tulsa at Cain's Ballroom. Built in 1924 as a garage, the building was bought and transformed into a dance hall by its namesake, Madison W. Cain, in 1930. During the '30s and early '40s, Cain's Ballroom served as the broadcast location for Bob Willis's Western Swing band. It has since changed owners and purposes various times, eventually finding its home as one of the top locations for both local and national acts to play in Oklahoma.
Tulsa Opera (Tulsa)
Music and theatrics have gone hand-in-hand for quite some time. Whether it is a musical or an opera you're looking to attend, you can find it in Oklahoma. Tulsa is home to the state's only professional opera company. Founded in 1948, the Tulsa Opera has brought world-renowned shows such as Carmen and Porgy and Bess to the state. If opera is not for you, you can catch a musical or play in the local theater of many Oklahoma cities.
Tulsa Ballet (Tulsa)
Ballet brought grace to this western frontier many years ago. World renowned ballerinas Maria and Marjorie Tallchief brought their brand of style and poise to their native state. Today, the Tulsa Ballet works diligently to inspire their fellow Oklahomans through their craft.