Oklahoma - History and Heritage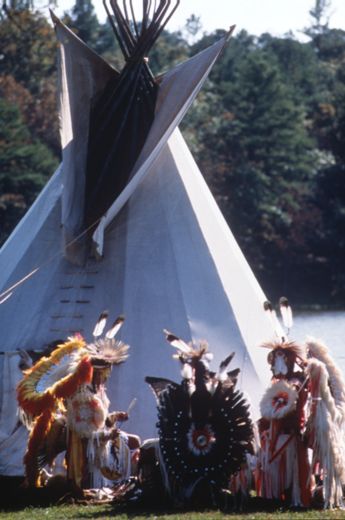 In Oklahoma, you might expect to find scenes much like that of a Spaghetti Western, but there's so much more to experience. The Sooner State has a heritage unlike any other, but don't take our word for it.
Native American Culture
Once lamented as the final stop on the grueling Trail of Tears, Oklahoma has become a center of cultural revival and awareness among the Native American community. Headquartered in Oklahoma are 39 Native American tribes. In Oklahoma there are countless ways to immerse oneself in the heritage of America's native residents.
Powwows and cultural festivals occur year-round, the largest of which is the Red Earth Native American Cultural Festival. This event involves over 100 tribes uniting in celebration through song, dance and art.
Muskogee
World-class museums bring American Indian heritage to life for thousands of visitors every year. Muskogee is home to the Five Civilized Tribes Museum. Housed in the 1875 Union Indian Agency building, this museum chronicles the history of the Cherokee, Creek, Chickasaw, Choctaw and Seminole tribes.
Cherokee Heritage Center (Tahlequah)
The Cherokee Heritage Center is where visitors can learn more about Cherokee history and culture. Exhibits include village scenes, a Trail of Tears exhibit and a genealogical research center. The center is devoted to the preservation and promotion of Cherokee history and culture through several annual events and two competitive art shows.
Pioneers
It was the determination of pioneers that gave Oklahoma its nickname. Beginning April 22, 1889, Indian Territory was opened for settlement, but many people were already here. These "Sooners" became the backbone of Oklahoma's spirit of tenacity. To discover what life was like for these people, you won't have to search far and wide.
Land Run Exhibits
The city of Choctaw holds an annual Land Run Festival to reenact the journey of the pioneers. Permanent Land Run exhibits are on display in the 1889ers museum at the Harn Homestead located adjacent to the Capitol property in Oklahoma City. The property itself was acquired by the Harn family in the 1889 land run and provides a unique look into Oklahoma's past.
Guthrie
This is the original location of Oklahoma's Capitol is now home to the Oklahoma Territorial Museum and Carnegie Library. Here visitors enjoy a firsthand look at artifacts and documents dating back to the Land Run Era.
Cowboys
Of course you can't mention Oklahoma's history without paying homage to its cowboys. Three major trails, the Chisholm, Great Western and Shawnee, traversed Oklahoma's prairies during the height of American cattle drives. To experience the cowboy way of life, you don't have to go very far in Oklahoma.
Chisholm Trail Historical Museum
Life on the trail can be discovered through a trip to the Chisholm Trail Historical Museum. Located in Waurika, the museum provides a glimpse at a full-sized covered wagon, among many other trail artifacts and photographs.
National Cowboy and Western Heritage Museum
The pinnacle of the preservation of cowboy tradition is located within the National Cowboy and Western Heritage Museum. Sculptures, paintings, photographs, artifacts and documents are combined to provide the most complete look at America's cowboys.
Guest Ranches
Adventurous travelers can spend a weekend—or a couple of weeks—at a guest ranch. Places like the Flying W Ranch in Sayre provide visitors the opportunity to try their hand at trail rides, wagon rides and rodeo events. Of course, if you don't want to get that personal with the livestock, spectators are welcome.
Rodeos
In Oklahoma, the rodeo is a way of life for many people. Twelve months a year rodeo enthusiasts can find action at one of the state's many arenas. The Lazy E Arena in Guthrie hosts national and international events of all kinds.
Cattle Drives
Cattle drives led Oklahoma City to become the home to the world's largest stocker/feeder cattle market. In Stockyards City guests can shop for items including western wear, jewelry and more, eat at the famous Cattlemen's Steakhouse or attend a livestock auction.
The Oil Boom Era
This era brought Oklahoma into the 20th century with a splash. Once "black gold" was discovered underneath the state's ruddy soil, Oklahoma became home to many oil companies and their barons. To get a glimpse of how oil helped Oklahoma, visitors can stop by the former homes of one of the state's oil barons.
The Philbrook Museum
This museum is a 1927 Tuscan-style estate that once served as the residence of oilman Waite Phillips. Today the Tulsa home is one of the top 60 art museums in the country. Waite's relative, Frank Phillips, made his home in Bartlesville. This 26 room neoclassical mansion was completed in 1909. It is now open to the public and houses an award-winning interpretive exhibit, "Frank and Jane Phillips, Oklahoma Oil Pioneers."