North America's Most Spectacular Waterfalls
Six must-see waterfalls you can visit in the United States, Canada and Mexico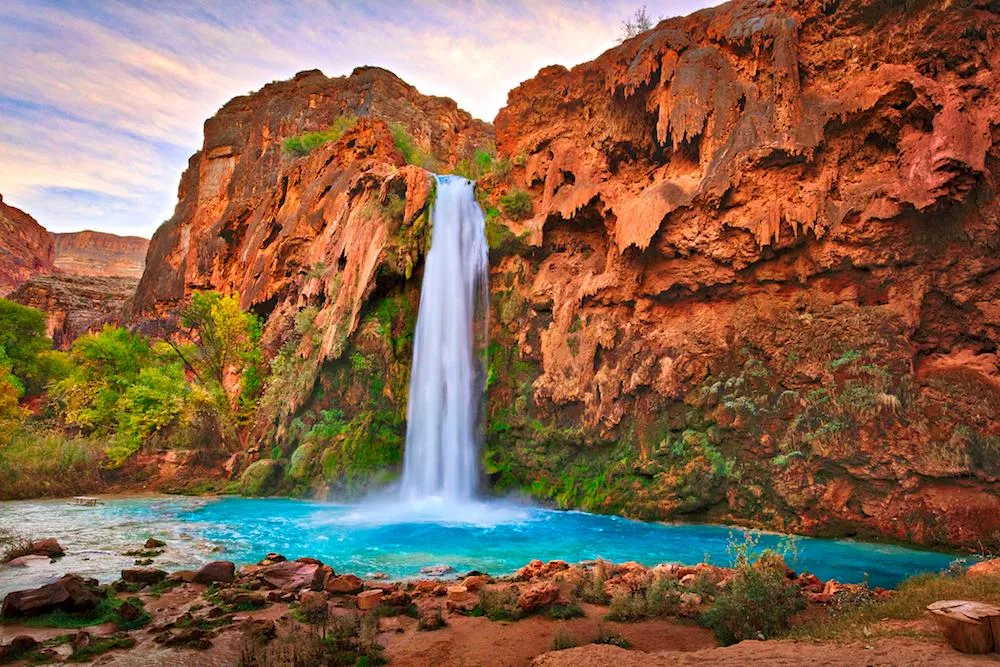 Few forces of nature are both as beautiful and imposing as waterfalls. On the surface, these cascading bodies of water may appear picturesque, but in reality they're powerful and, in many cases, dangerous.
In North America alone, there are hundreds of waterfalls dotting the landscape, some cascading at volumes of more than 3,000 tons of water per second (Niagara Falls), while others are little more than a constant trickle.
Here are six breathtaking waterfalls in the United States, Canada and Mexico, along with the best ways to see them.
Montmorency Falls, Québec City, Québec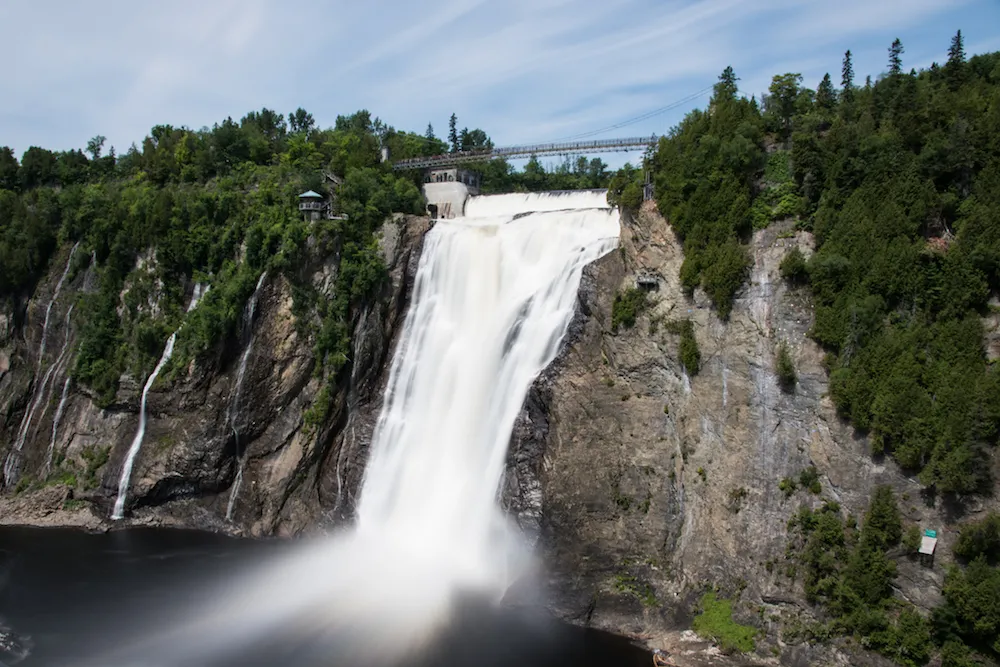 Montmorency Falls is often overshadowed by Niagara Falls, its imposing neighbor to the southwest, despite being nearly 100 feet taller. But Montmorency Falls makes up for its lack of notoriety thanks to its sheer height, towering more than 270 feet above the heavily wooded landscape located along the Saint Lawrence River in Quebec City.
Over the years, the falls have played a pivotal part in Canadian history. In 1759, the falls served as an important battleground during the Battle of Montmorency, part of the Seven Years' War. A century later, in the late 1880s, Québec City harnessed the falls as a source of hydroelectric power to fuel the city's streetcar system and streetlights. While Montmorency still remains a source of power for the city, it's also a popular tourist destination and can be experienced a multitude of ways, including via cable car and zipline.
Yosemite Falls, Yosemite National Park, California

Covering an area that stretches more than 1,160 square miles, it should come as no surprise that Yosemite National Park is home to numerous waterfalls—but one of the most recognizable is, no doubt, Yosemite Falls. Standing at approximately 2,425 feet, the tiered falls are actually made up of three falls—upper (1,430 feet), middle (675 feet) and lower (320 feet). And at one time, Yosemite Falls served as home base for the Yosemite Indians, who lived at the base of the falls in a village called Ah-wah´-nee.
The ideal time to visit is during the summer months, when peak snowmelt takes place. There are a number of vantage points to see them, but one of the best spots is Yosemite Village, which connects to a trailhead that goes to the foot of the falls for easy access.
Niagara Falls, United States and Canada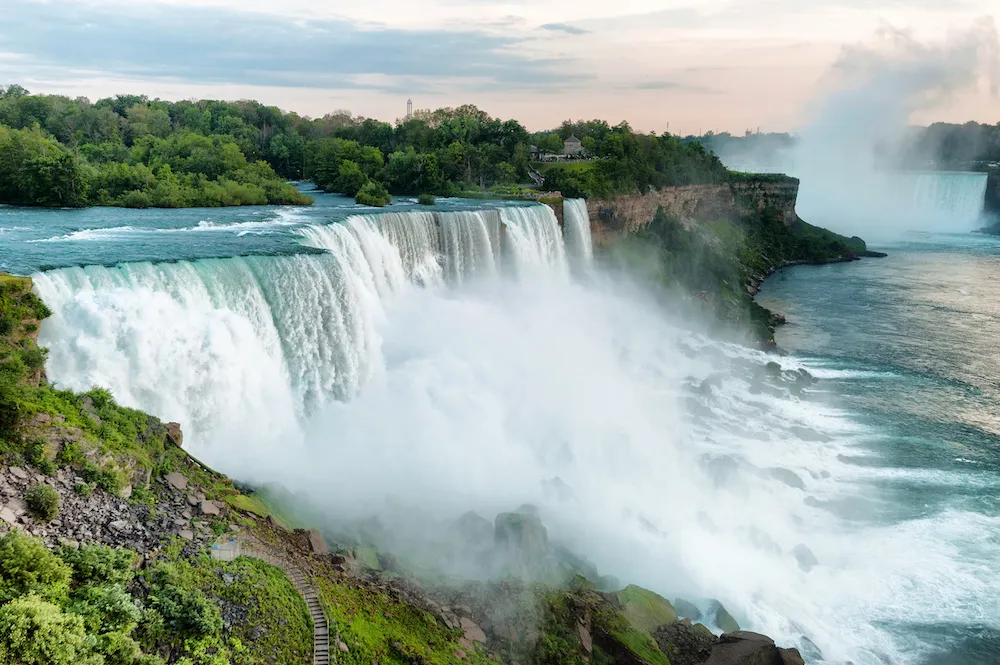 Few waterfalls come close to matching the sheer size and power that define Niagara Falls. Made up of two falls (the American Falls and the Canadian Horseshoe Falls), every second, 3,160 tons of water flows over Niagara Falls—about 75,750 gallons per second for the former and 681,750 gallons per second for the latter, according to Niagara Falls State Park. Not only do the bowl-shaped falls provide hydroelectric power for both Canada and the United States, but the water's force has caused the falls to recede approximately one foot each year.
There are a number of ways to view the falls, but one of the most popular is by boat. Warning: You will get soaked.
Agua Azul, Chiapas, Mexico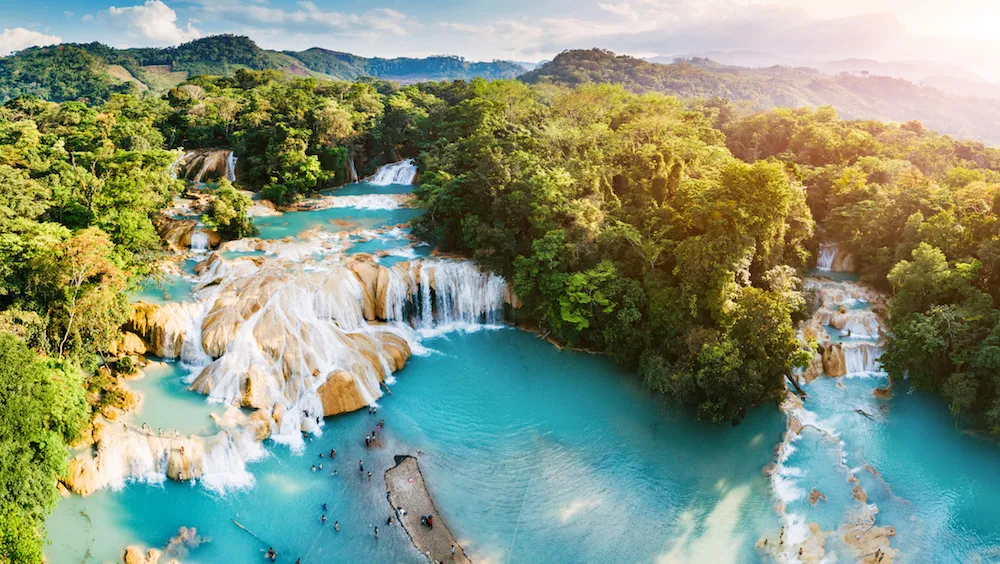 Located in Mexico's Chiapas state, Agua Azul (also known as Cascades de Agua Azul) roughly translates to "blue waterfalls" in Spanish, and it's easy to see why. The crystalline-blue waters stand in stark contrast against the limestone cliffs they cascade over. Unfortunately, at one point in late 2017 after an 8.2-magnitude earthquake shook the area and shifted the course of the river that fed the falls, worry spread that Agua Azul had dried up for good. Fortunately, thanks to the fortitude of some local residents who came to the rescue armed with shovels and axes, the area was brought back to its original splendor, according to CNN.
To access the falls, it's common for visitors to hitch a ride from a taxi in the town of Palenque, located to the north. Once there, you'll be greeted by vendors selling food, trinkets and other wares.
Havasu Falls, Havasupai Indian Reservation, Arizona
Sharing land with the Havasupai Indian Reservation, Havasu Falls was named after this Native American tribe, who used it for irrigation purposes (the tribe's name translates to "people of the blue-green waters.") The water's Instagram-worthy color is thanks to a chemical reaction, according to UC Davis, that occurs when the spring-fed water intermingles with minerals like calcium and magnesium found in the rocks and then introduced to the surrounding air.
Visiting the falls has been a bucket list item for many travelers over the years, thanks in part to their close proximity to Grand Canyon National Park to the east. However gaining access to the falls takes some coordination. They're not open to day hikers, only campers, who must make a reservation using the Havasupai Indian Reservation website.
Multnomah Falls, Multnomah County, Oregon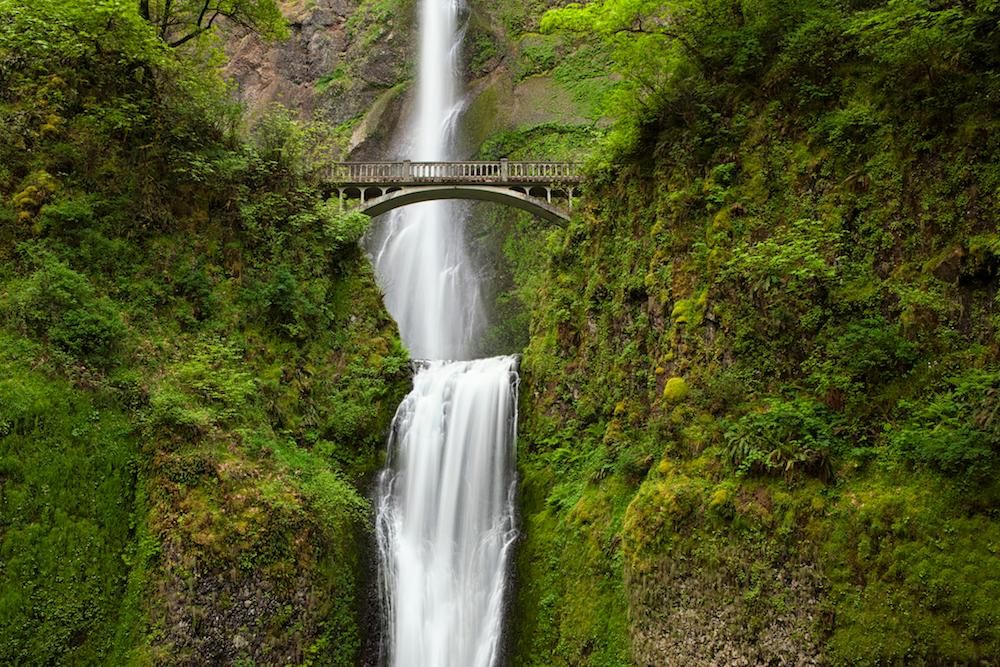 Located 30 miles east of downtown Portland in the Columbia River Gorge National Scenic Area, the approximately 610-foot Multnomah Falls is just a short drive from Rose City and is known for being the tallest waterfall in Oregon. (During the early 20th century, rumors swirled that Multnomah was the second tallest waterfall in the United States, but that little bit of trivia was eventually put to rest, according to OregonLive.com).
Once of the best vantage points to experience Multnomah Falls is from Benson Bridge, a footbridge built in 1914 that gives visitors an eye-level, knee-knocking view of the two-tiered falls.