Nine American Airports for Art Lovers
Your layover just got better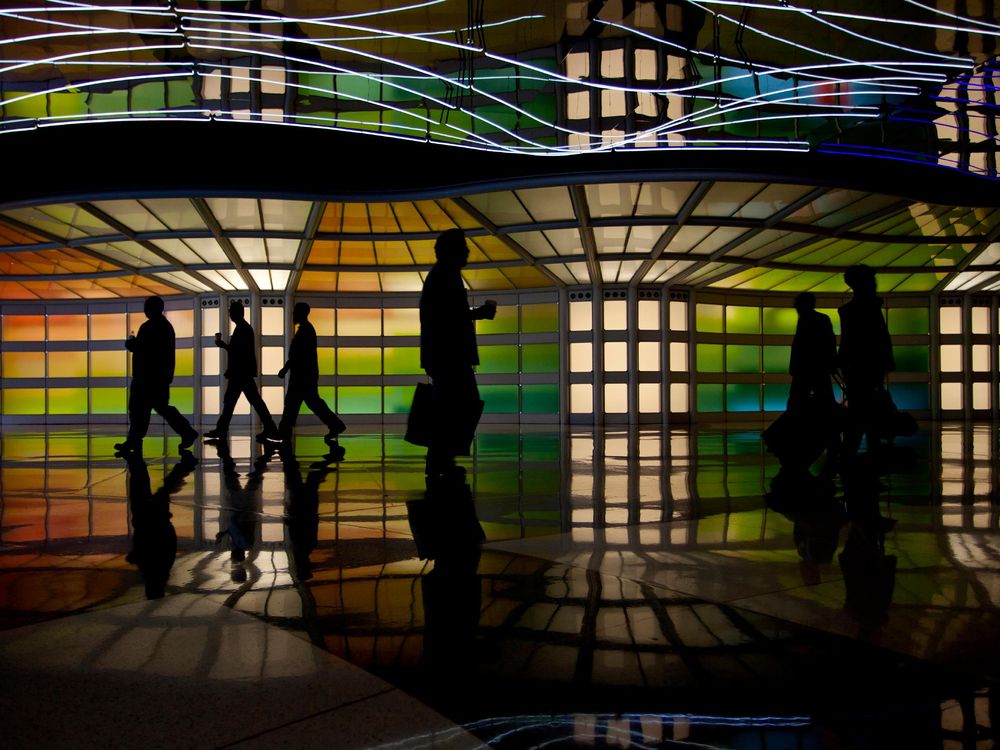 Often filled with hours of cramped seating, tabloid reads, and fast food eats, long layovers are rarely culturally enriching experiences. But here in the United States, a few airports are attempting to improve the flight-delay experience with in-terminal public art.
Read on for giant leaping rabbits, rainbow walkways, and a bright spot in one of America's most notoriously ugly airports.
More from Travel+Leisure:
Miami International Airport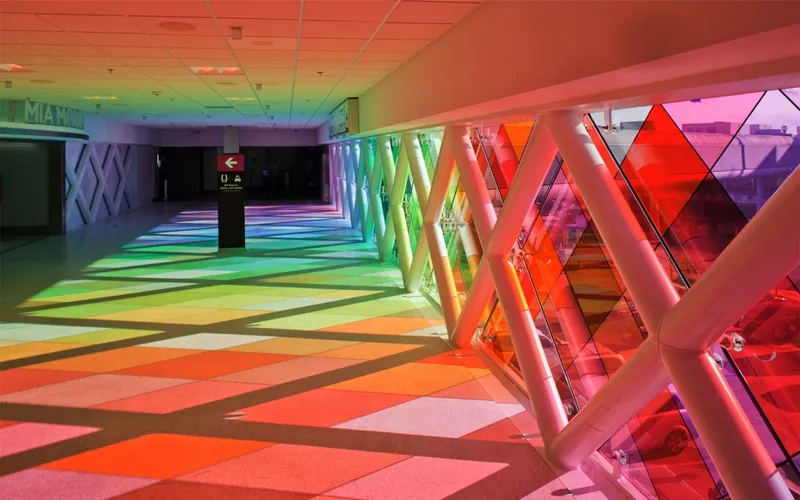 Host to Art Basel, The Magic City is no stranger to the art scene, and Miami International Airport certainly reflects its locale's cultural aesthetic. Stroll through an immersive rainbow of light in Christopher Janney's "Harmonic Convergence," explore "Meltdown," a new, permanent mural by local artist Jen Star, and check out the rotating series of exhibits, including photographer Bruce Mozert's black-and-white underwater prints near gate D-31.
LaGuardia Airport in NYC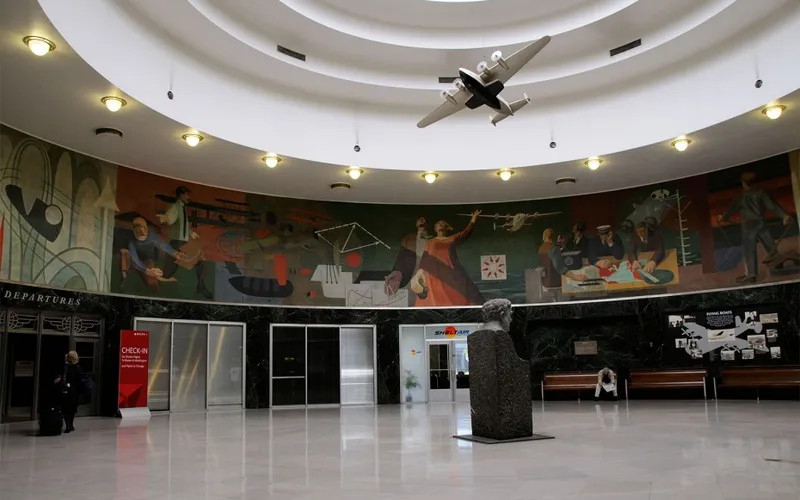 A somewhat unexpected addition to this list, New York's LaGuardia is often criticized for it's lackluster aesthetic. However, Terminal A of the airport hosts "Flight," a Works Progress Administration-assigned mural created during the Great Depression by artist James Brooks. The 237-foot long work was restored in 1980, and currently hangs in the ticketing hall.
Denver International Airport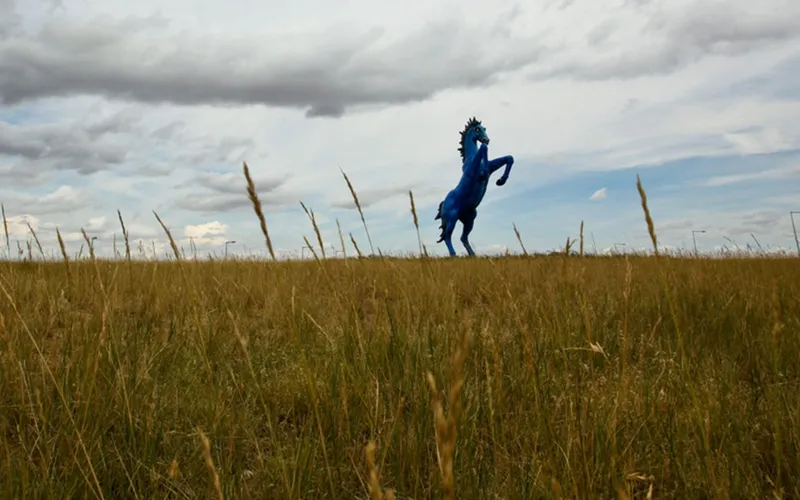 Housing a controversial collection of public works, Denver International is the subject of an art-related conspiracy theory. With striking, somewhat fear-inducing works like the large apocalyptic mural "The Children of the World Dream of Peace" and "Blue Mustang," (pictured here) a statue that literally killed its creator, Luis Jiménez, when a piece fell, severing his artery, it's not hard to see why the allegations exist. However, later this year, three new commissions will be revealed with the opening of the airport's Hotel and Transit Center that may change the airport's reputation. The pieces "have aspects that reflect the region," said CEO Kim Day. And they will add "a bit of joy and serenity to the traveling experience." Here's hoping.
Sacramento International Airport
Fortunately for travelers connecting through northern California, Sacramento law recommends that for every county construction project, 2% of the funds be used for public art. At the airport, that translates into 18 playful works, each designed to "infuse your journey with culture before you ever leave the ground." Even if you drove into town, the airport's worth a trip. Many of the pieces, including Lawrence Argent's massive "Leap," (pictured here) are located before security, so you can pop in and take a look, sans-ticket.
Dallas/Fort Worth International Airport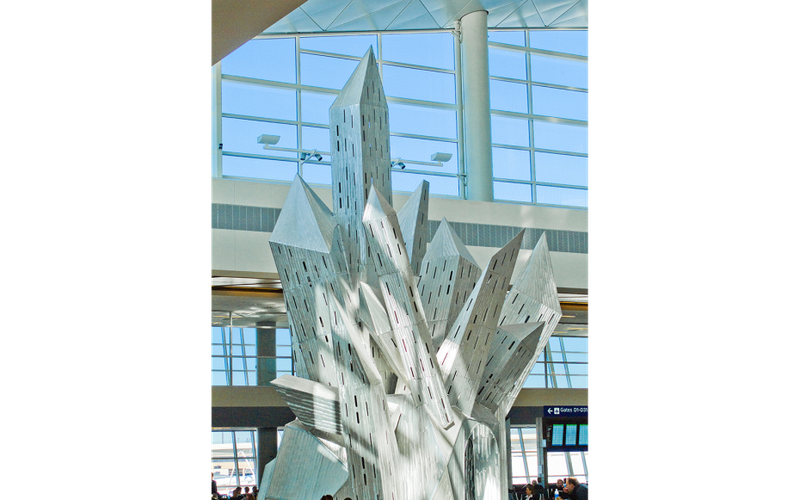 When flying through DFW, keep fingers crossed for a flight that connects through Terminal D, home to the airport's extensive public art program. Colorful, terrazzo medallions designed by local, national, and international artists cover the floors, while sculptures like Dennis Oppenhein's "Crystal Mountain" (pictured here) and Christopher Janney's interactive work, "Circling" will delight both seasoned road warriors and traveling tots. If your itinerary requires a few hours in the airport, step outside to the sculpture garden; it'll help restore your sanity.
Chicago Midway International Airport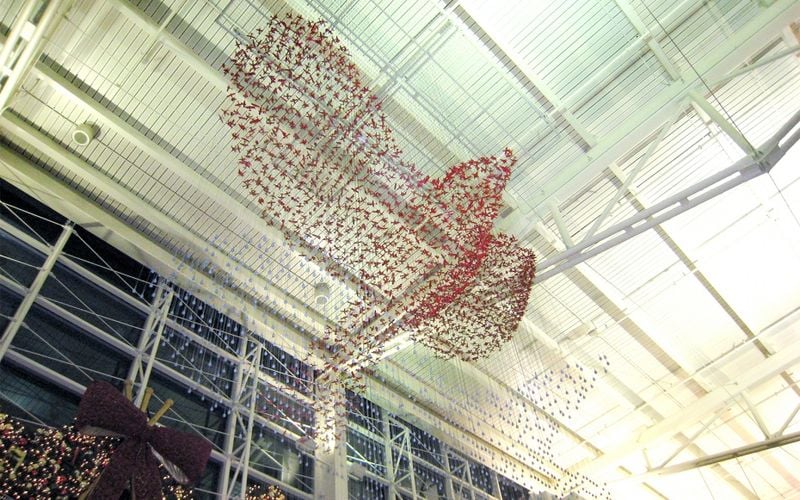 Chicago's cultural experience begins long before you hit the streets of downtown. Works like "Rara Avis" by Ralph Helmick and Stuart Schecter (pictured here) and "The Body of Lake Michigan," an expansive suspended sculpture located just beyond the security checkpoint, are highlights of the airport's permanent art collection, but history buffs might prefer the Battle of Midway Memorial, which features photos, narratives, and video honoring the World War II veterans, in addition to a recovered SBD Dauntless Dive-Bomber.
Seattle–Tacoma International Airport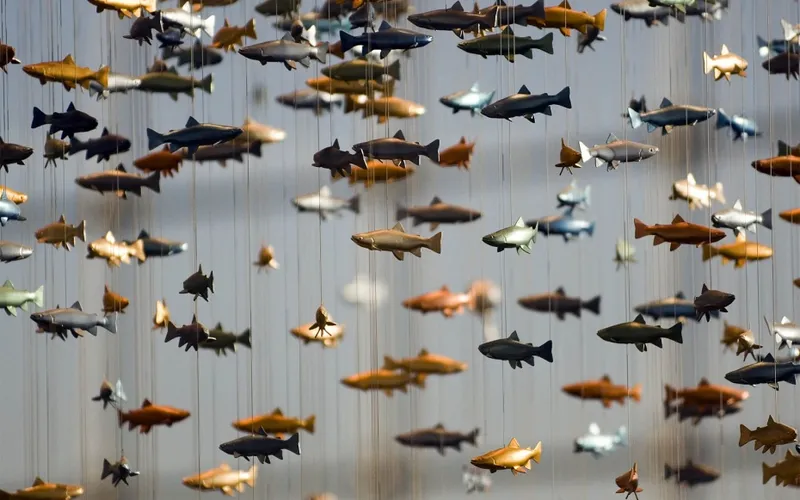 In 1969, the Port of Seattle Commission prudently voted to set aside $300,000 for permanent works in the airport, a commitment to public art that continues today with regular investments and rotating exhibitions. Over 50 contemporary works (including Ralph Helmick and Stuart Schechter's "Landing," pictured here) are scattered throughout Sea-Tac's multiple concourses, ticketing areas, and baggage claim, ensuring all travelers get a dose of culture during their layover.
More from Travel+Leisure: