Nevada - Nature and Scientific Wonders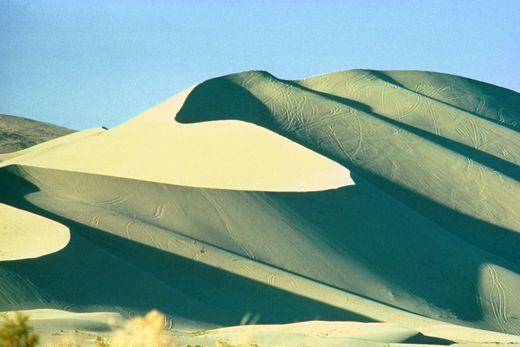 Nevada's 110,567 square miles offer an almost boundless variety of natural beauty. Here are some of the State's favorite natural attractions.
Colorado River
With depths ranging from just six feet to some 90 feet, the Colorado stretches about 242,000 square miles and offers terrific white-water rafting and kayaking.
Humboldt River
The Humboldt runs roughly east to west through northern Nevada. At about 300 miles, it is the longest river in the Great Basin of North America and formed the historical route for western migration.
Truckee River
Famous for its excellent fly-fishing and rafting, the Truckee starts off in Lake Tahoe and runs 140 miles, flowing through Tahoe City, California, Reno and Sparks, Nevada, along the northern edge of the Carson Range before finally ending at Pyramid Lake.
Pyramid Lake
Green sheets of water and pastel mountains temp visitors to explore this lake on the Pyramid Lake Paiute Tribe reservation, about 33 miles from Sparks. Slightly saline, the lake is punctuated by spectacular tufa formations. One of them, Anaho Island, is a wildlife refuge and home to a colony of American White Pelicans. The tribe operates camping facilities at the lake, as well as a nearby museum where visitors can learn about the area and purchase fishing licenses.
Lake Tahoe
Perhaps one of the most beautiful spots in North America, Lake Tahoe forms part of the border between California and Nevada and is a world-renowned vacation destination. Snow from the surrounding mountains fills the massive basin with crystal-clear water, which in some parts reaches a depth of 1,645 feet. In the summer, sandy beaches, all manner of water sports, hiking and mountain biking are the activities of choice. In the winter, ski or snowboard fresh powder at any of the area's 12 ski resorts.
Walker Lake
A watery jewel in the arid, central-west region of the state, Walker Lake is a sanctuary for those on a quest for terrific fishing, bird-watching and camping. The lake is home to Lahontan cutthroat trout, migrating loons, and grebes.
Lake Mead
A product of the Hoover Dam, Lake Mead is the largest man-made lake and reservoir in the U.S. Against magnificent backdrops of deep canyons, sheer cliffs, colorful soils and rock formations, the area offers a full complement of recreational activities. Visit ancient dwellings, explore the habitat of wild animals, or just enjoy the water and views.
Lake Mojave
Just a short drive north of Laughlin, Lake Mojave has become one of Nevada's favorite lake destinations. There are two full-service resorts, as well as campgrounds, smaller hotels, restaurants, stores and a marina. Wakeboarding, similar to waterskiing, is particularly popular here.
Death Valley National Park
Experience a land of extremes. A mixture of snowcapped mountains, three million acres of stone wilderness, water-fluted canyons and sand dunes comprise the park, which also includes the lowest point in the Western Hemisphere, 282 feet below sea level. As its name suggests, the valley proper is the hottest, driest, lowest valley in the country. In the summer, Death Valley can reach an egg-frying temperature of 120 degrees.
Great Basin National Park
Relish the fresh scent of pine trees and sagebrush after a rainstorm in this east-central Nevada park. Bighorn sheep, beavers, pygmy rabbits and yellow-bellied marmots are among the animals indigenous to the region. Nature lovers can explore the spectacular rock formations of the Lehman caves and ponder the bristlecone pines, many of which are thousands of years old. At night, sleep beneath a canopy of stars.
Valley of Fire State Park
Just an hour outside of Las Vegas, Valley of Fire is a must-see experience and a convenient day trip. Check out exuberant red and orange sandstone rock formations, 3,000 year-old petroglyphs, and petrified wood. The visitor center provides exhibits on the geology, ecology, prehistory and history of the park and nearby region.
Hoover Dam
Also known as Boulder Dam, Hoover Dam is an engineering wonder and a National Historic Landmark. Conceived as a means to provide hydro-electric power, water for irrigation and flood control throughout most of Nevada, the dam was built between 1931 and 1935. At its completion, the dam was an instant tourist attraction. Seventeen turbines generate up to 2,074 megawatts of hydroelectric power. Tours are available daily.