Navigating the Yangtze River
Dubbed "the wildest, wickedest river," this 4,000-mile-long waterway has played a major role in Chinese civilization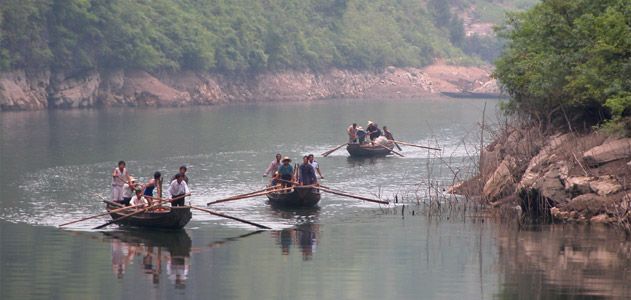 Nearly 4,000 miles long, the Yangtze has watered civilizations for millennia—and laid waste to them too. The eighth-century poet Li Bai wrote that navigating the river was "even harder than climbing the sky." The 20th-century novelist Pearl S. Buck dubbed it "the wildest, wickedest river" for its murderous floods. So much of China's past lies on the Yangtze; now, a trip along the river also affords a glimpse of its future.
Start on the coast: Shanghai has been a market town for a thousand years. Once a stepchild of China's fledgling Communist government (the city's freewheeling capitalism made it ideologically suspect), today it is the country's largest port. Upriver lies Nanjing, the on-again, off-again national capital across 17 turbulent centuries and home to the tomb of Sun Yat-sen (1866-1925), the founder of modern China. Next comes Wuhan, which boasts the third-century Xiang Pagoda. And then there's the Three Gorges Dam, China's 21st-century moment.
The dam is an engineering colossus—more than 600 feet high and nearly a mile and a half long—intended to control floods and produce electrical power. Yet the project presents a host of environmental concerns and has begun to inundate the majestic Three Gorges. Locks on the dam allow ships to keep traveling up to Chongking, where rescued artifacts are displayed in a museum. "If you like traveling on rivers, which is a great way to travel, there's still a great deal to see and learn about the scale of change and construction the Chinese are going through," says photographer Linda Butler, who visited the river eight times between 2000 and 2003 (see above) for her book Yangtze Remembered.