The Nation's Stash of Lost Luggage Finds a New Life in This Alabama Town
Buy yourself a new wardrobe, iPad or other oddities at the Unclaimed Baggage Center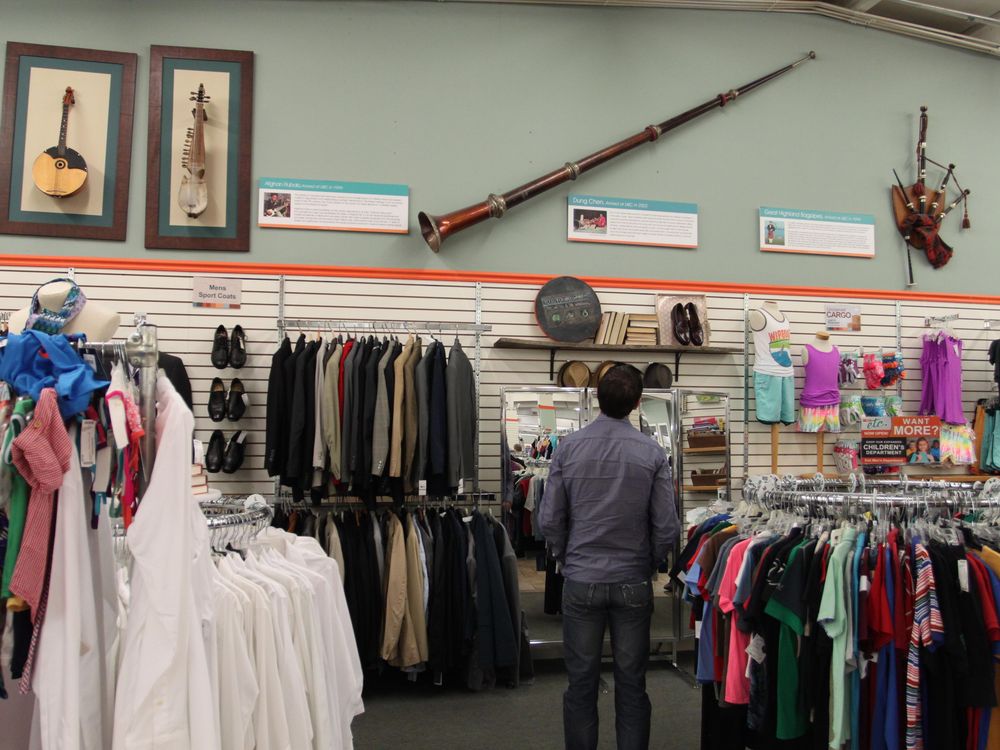 The red duffel bag lies in front of me, an unwitting time capsule waiting to be unzipped. When its owner packed it months ago, she (I assume) fully intended to unpack it hours later. Somewhere along the journey, however, bag and owner became separated. It might have happened on the plane; carry-on luggage gets left behind all the time, and the bag is small enough that it would fit in the overhead bin of all but the tiniest jets. Alternatively, the airline entrusted to deliver it to its final destination might have misplaced it, or put it on the wrong flight.
In any event, the bag was lost. Which is how it came to be here, at the Unclaimed Baggage Center in Scottsboro, Alabama, waiting for me to open it. Although this far-flung town has a population of just 14,800, nearly a million visitors hailing from all 50 states and 40 different countries come here each year to undertake their own lost baggage treasure hunt.
Stepping through the center's glass doors, a shopper would be justified in feeling overwhelmed by the 40,000-square foot space. Racks upon racks of clothing feature sections dedicated to categories as precise as men's white button-ups, wedding dresses, fur coats, ski gear, wet suits and international items ranging from djellabas to hanboks. In the electronics section, families gather around displays stocked with seemingly brand new iPads, Kindles, SLRs, Bose headphones and laptops. Other areas are dedicated to jewelry, books, eyeglasses, toys, tools and more. Sprinkled throughout are oddities aplenty, including a 10-foot long paddleboard, a fax machine, and a ceiling-high work of art painted with elephant dung. Some items—including a Hoggle doll used in the movie Labyrinth, a set of WWII samurai swords, and a taxidermy ram named Sam—aren't even put up for sale, and are instead displayed as part of the center's permanent collection.
"Our motto is, 'You never know!'" says Brenda Cantrell, who goes by the title brand ambassador. "Our shelves provide both a snapshot of what's going on in America right now and also a chance for shoppers to essentially travel the world."
Some consider a visit to the center as something to check off their bucket list—akin to gazing upon the world's largest ball of twine or basking in the aura of Stonehenge. Others schedule annual family vacations around it. Some Scottsboro residents drop by nearly every day, drawn by the hope of finding that once-in-a-lifetime bargain, like the oyster face Rolex appraised for over $60,000 but sold last year for $30,000; the perfect rug to tie their room together; or the ukulele of their dreams. One local woman buys all of the center's African masks, Indian saris and Japanese kimonos, which she stores in a shed behind her home. "She's been shopping here for 40 years," Cantrell says. "Her personality is just as eclectic as her collection."  
Only about half of a single percent of checked bags do not arrive at their final destination, and within a week, around 98 percent of those bags have been safely reunited with their owners. If a bag's owner cannot be found after 90 days, however, the center purchases the bags through a salvage agreement with the airlines. With 87,000 flights daily in the US, that slim margin of error is enough for the Unclaimed Baggage Center to stock up to 7,000 new items each day. That figure represents just 40 percent of the total number of items that pass through the center, however, which employs 150 people to manage the seemingly unlimited flow of newly arrived baggage. What doesn't wind up on shelves goes into the trash, or is given away as donations. Although the center does not disclose how many pieces of luggage it receives each year and does not name names when it comes to the airlines it works with, it claims to have exclusive deals with the nation's top carriers, making it the only store of its kind in the country.
Scottsboro seems an unlikely destination for the entirety of the country's unclaimed baggage, but a mix of history and chance landed the town its unique claim to fame. In 1970, Doyle Owens, a local part-time insurance salesman and father of two boys, heard from a friend who worked for a bus company about unclaimed bags that were gathering dust in the company's office. Thinking that the bags' contents could be worth something, Owens purchased them from his friend and started selling what he found inside, garage sale-style, once a week. Scottsboro residents responded well, and by the mid-70s, Owens had begun approaching the airlines. The airlines and the center have been going steady ever since then.
Before the bags' contents are put up for sale (usually at 20 to 80 percent the market price), they first undergo a sorting process. Today, I've been tasked with conducting a hands-on demonstration of that process with the red mystery bag, in a daily spectacle called "the Unclaimed Baggage Experience." At Cantrell's beckoning, a small crowd—some looking on eagerly, others apathetically—has gathered around the bag and me. "We know nothing about this bag," Cantrell emphasizes over the loud speaker. "We don't know if what's inside is clean or dirty, or belongs to man, woman or child!"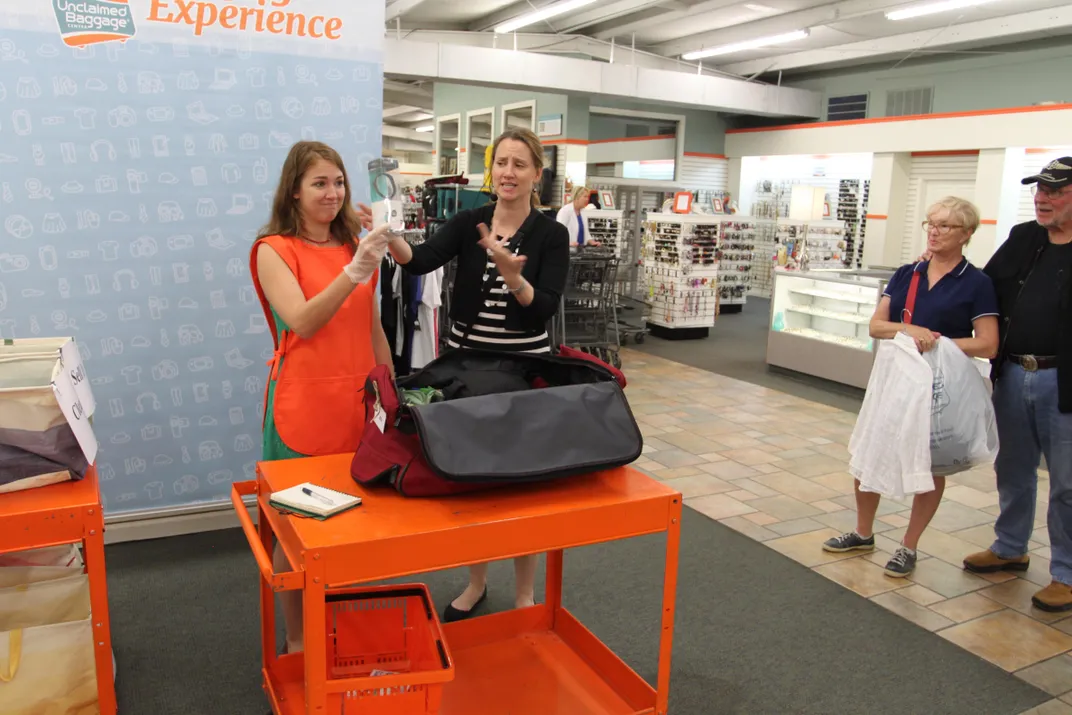 Some of the bag's contents will likely be on the shelves later today. Other items will be cleaned and prepped for sale, donated or thrown away. While the bag has been inspected for any potentially harmful items like stray razors and for embarrassing or unhygienic finds like dirty underwear, besides that, it has been left just as it was found when it was delivered to the center. It's time to unpack this enigma.
I am giddy with anticipation as I unzip the bag. The contents, whatever they are, were never meant for anyone to see but the owner. Yet here I am—a mix of voyeur, bargain hunter and detective—digging through a complete stranger's personal belongings. Pulling open the top, I see a tangle of clothes, shoes and toiletries, thrown in haphazardly as if the owner was in a hurry. While a stash of jewels or a bundle of shrunken heads would have proved a more stunning discovery, I'm eager to learn all I can about the former owner. I pull out the first finds—a beat-up pair of sneakers, the laces missing.
"Ok, what do we think we should do with these shoes?" Cantrell says, simultaneously addressing both the crowd and me. "They aren't in great shape, but that doesn't mean someone else can't use them."
"Donate them?" I suggest. Several audience heads nod approvingly.
"Right, we give them away!" she says.
I toss the sneakers in a bin to my right, labeled "Give It Away."  
I pull out the next items, a pair of Nike shoes. They're dirty, but in good overall shape. Into the "Clean It" bin they go, along with the jeans I find next. I'm starting to get the hang of this game, whipping out items more rapidly now: a pair of flannel moose-print pajamas (clean it), a Muppets T-shirt (clean it), several types of facial cream (trash it and sell it, depending on the condition) and—oddly enough—a banana slicer (I took it home as a memento). As I work, a picture begins to emerge of the person who once owned this bag.
The delicate gold sandals (sell them), tank tops (clean them) and shorts (clean them) suggest a woman; the running shoes (clean them), still-packaged indoor pull-up bar (sell it) and fitness tracker (sell it) tell me she is probably one who likes to stay in shape. Several of her shirts (clean them) reference Canada—a maple leaf, Ottawa—and she has what appears to be swag (sell it) from Wolfram Alpha, an Illinois-based start-up. I begin to imagine a woman not much different than myself, perhaps off to the Midwest for a weekend work trip, or maybe up to visit friends in Canada.
Soon, however, I hit the bottom of the bag. Somewhat unsatisfyingly, I realize that this is all we'll ever know about the bag's mystery owner. She's long since been compensated by the airline for her loss, but does she ever wonder what happened to her favorite pair of shorts, or to her old Nikes? How would she feel, knowing that a group of strangers in northern Alabama can provide at least part of the answer? By now, though, the fate of her hastily packed things has once again become lost and unknowable. Adopted by new owners and taken by car, plane and bus to destinations both near and far, those items have been given new lives.
Later that day, I arrived at Hartsfield-Jackson Atlanta International Airport, carry-on in tow. I was one of the last people to board the plane and the attendant informed me that I would have to gate check my bag. In it were my passport, digital SLR, notes for this story and my grandmother's ring—all things that I would be very upset to lose. Yet I barely gave checking the bag another thought. Like most travelers, I assumed that my luggage would be waiting for me on the other side of the journey—as the vast majority of checked bags are. Indeed, statistics were on my side that evening, and I collected my carry-on without incident at La Guardia. Yet as I left the arrivals lounge, I noticed a handful of bags, seemingly forgotten, standing in a shadow next to an empty carousel. Just maybe, I thought, they were beginning their own journey to the Unclaimed Baggage Center.