National Park Service Map Shows The Loudest, Quietest Places In the U.S.
Want some peace and quiet? Avoid cities, the East Coast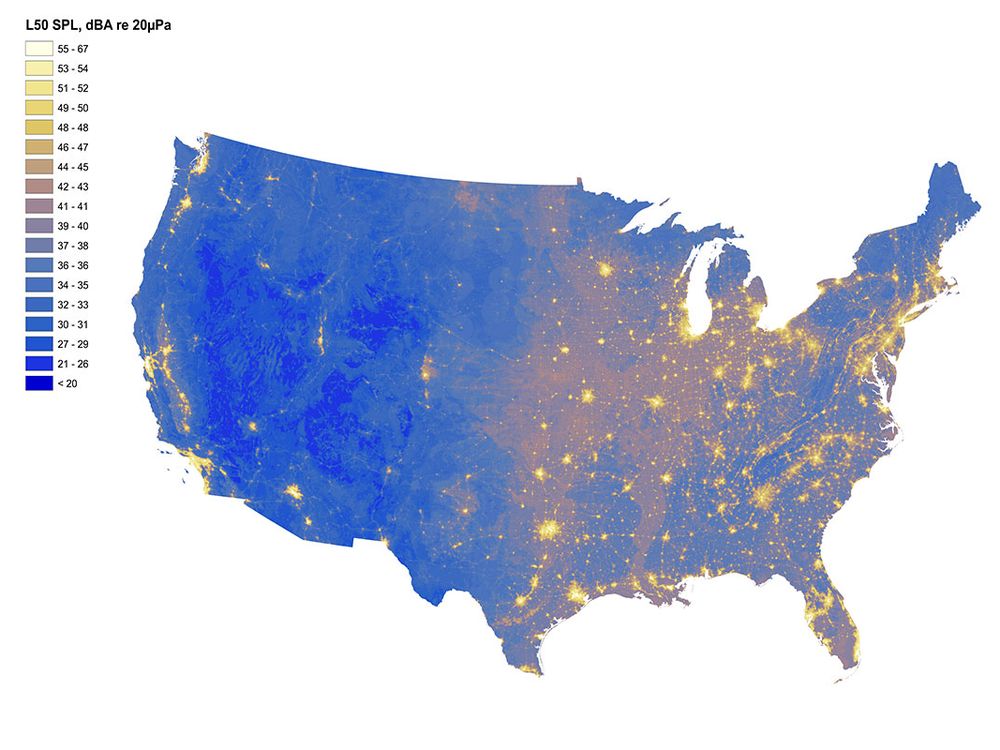 A new map created by the National Park Service's (NPS) Natural Sounds and Night Skies Division shows where the country's loudest—and quietest—places are located. Unsurprisingly, the loudest spots are clustered around cities, while the quietest are relatively wild–but the map also shows that even some rural locations have fallen victim to sound pollution.
Released at the annual American Association for the Advancement of Science in San Jose, the map represents 1.5 million hours of sound data from 546 park sites around the country. After recording sound levels at the sites using sound meter gauges, the NPS scientists used computer modeling to extend their findings across the entire country. The quietest places on the map, like Yellowstone Park in Wyoming, have a background noise level of less than 20 decibels—a noise level similar to that of the areas before European colonization, according to Science. Urban areas, represented on the map in yellow, have background noise levels much higher—sometimes upwards of 60 decibels.
Though urban areas are the loudest, rural and wilderness areas are not immune to noise pollution. According to Kurt Fristrup, a senior scientist with the NPS' Natural Sounds and Night Skies Division, "most people live in environments where night skies and soundscapes are profoundly degraded, and...noise and light pollution issues span much of the continent."
Sound pollution does more than disrupt a hiker's sense of solitude in National Parks—it can alter the Park's wildlife. According to CityLab, certain species have been shown to avoid noisy places, and sound pollution can disrupt certain animals' mating cycles. But sound and light pollution don't have to permanently alter the U.S.'s wildest areas. "Unlike many other forms of environmental degradation," Fristrup told CBS News, "sound and light offer opportunities for rapid improvement."