Montana - Nature and Scientific Wonders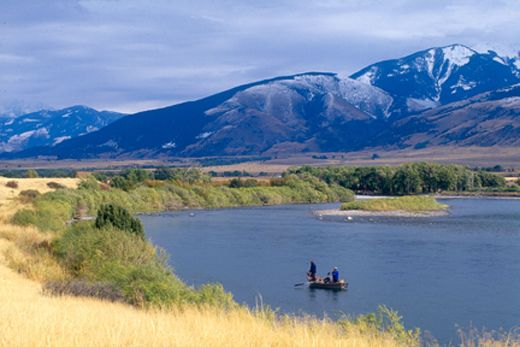 Montana, known to many as "Big Sky Country," lives up to its name. Whether it's the rolling grasslands in the eastern part of the state or the jagged mountains of the west, a giant expanse of sky stretches out overhead. The national parks, forests, and wilderness areas are some of Mother Nature's best offerings in Montana.
Glacier National Park (West Glacier)
"Crown of the Continent;" "World Heritage Site;" "International Peace Park;" "Biosphere Reserve." Glacier National Park answers to many names, but the grizzlies and brown bears, mountain goats, Rocky Mountain sheep, wolves, mountain lions, moose and elk, along with hundreds of other species living there, just call it home.
Glacier became a national park in 1910, and today it's still a throwback to the time when Mother Nature was in charge. Its more than one million acres are filled with wildlife, dense forests, jagged peaks and alpine glaciers. And, it's home to one of the most stunning drives in America: the appropriately named Going-to-the-Sun Road, which climbs the Continental Divide to Logan Pass Visitor Center.
Visitors to Glacier National Park now have access to the new Apgar Transit Center (ATC). This transit and shuttle area, located approximately one mile from the west entrance, will provide two-way shuttle tours to 18 shuttle stops in Glacier, primarily along the Going-to-the-SunRoad. These stops are along the Apgar, the Lake McDonald Valley and St. Mary Valley Routes, with transfers available at Logan Pass and the ATC. The ATC provides shuttle access, additional parking and public restrooms, as well as public information displays and self-service, interactive computer kiosks for trip-planning.
With more than 700 miles of trails, Glacier is a hiker's haven. Five self-guided interpretive walks with brochures and signs let visitors experience Glacier's outdoor wonders at their own pace—the Trail of the Cedars, Huckleberry Mountain, Hidden Lake, Sun Point and Swiftcurrent Nature Trail. The Trail of the Cedars is a wheelchair-accessible path through giant, old-growth cedars.
Visitors can find scores of day hikes throughout the park, but four areas in particular are popular: Lake McDonald, Many Glacier, St. Mary/Logan Pass and Two Medicine. Hikers can also camp overnight in Glacier's backcountry with a permit from a visitor center or ranger station. Permits are issued on a "first-come, first-served" basis no more than 24 hours in advance. Other popular activities in Glacier include horseback riding, scenic boat tours, snowshoeing and cross-country skiing.
Together with Waterton Lakes National Park in Canada (its neighbor to the north, with which it shares a border), Glacier National Park became the world's first International Peace Park in 1932. In 1995, both parks were additionally designated as a "World Heritage Site," joining other worldwide attractions such as the Taj Mahal, Australia's Great Barrier Reef and the Egyptian pyramids. This honor was bestowed by the World Heritage Convention, an international organization of 147 nations that recognize sites of "outstanding universal value" to all people of the world. Waterton-Glacier was selected because of its "incredible biological diversity and majestic natural beauty." Recent visitors have declared it "the national park they would most like to return to."
Glacier National Park is open year-round.
Yellowstone National Park
It was the world's first national park. And in the minds of many, it is still first for its scenery, beauty and wildlife. Yellowstone's geothermal features, such as the world-famous "Old Faithful," were the original attractions. Within the park's boundaries are 10,000 thermal features and about 200 to 250 active geysers. That's enough to give Yellowstone more geysers and hot springs than the rest of the world combined. Other major draws are the inspiring Grand Canyon of the Yellowstone River (featuring the 308-foot-high Lower Falls), fossil forests and Yellowstone Lake (136 square miles).
Ninety-nine percent of the park's 2.2 million acres are still undeveloped, allowing Yellowstone to support a wide range of wildlife, including 58 mammal species (such as the ever-present buffalo and elk), 290 bird species and 18 fish species. In fact, Yellowstone is home to the largest concentration of free-roaming wildlife in the lower 48 states and the global temperate zone.
About 80 percent of the park is forested, thanks to eight species of conifers and 1,050 species of native plants. Some of the most popular activities in the park include backpacking, bicycling, boating, cross-country skiing, snowmobiling, fishing (permit required), horseback riding and, of course, wildlife viewing.