Missouri - Cultural Destinations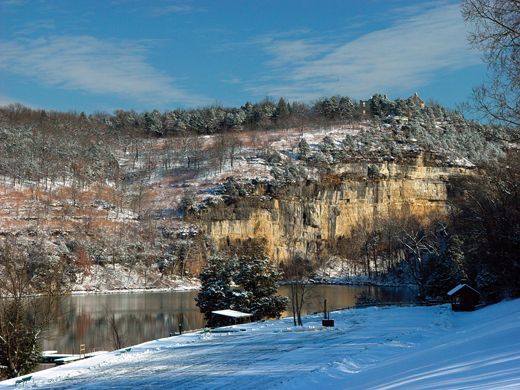 Ashby Hodge Gallery of American Art (Fulton)
Opened in 1993 on the Central Methodist University campus, the Ashby Hodge gallery focuses on regional artwork. Many of the artists are from Missouri and depict the Midwest spirit.
Berlin Wall Sculpture (Fulton)
This piece of history was brought to Fulton to commemorate the "Iron Curtain" speech given by Sir Winston Churchill and his visit to Westminster College. Attached to the Winston Churchill Memorial and Library, the Berlin wall sculpture was given by Churchill's granddaughter. Visit this historic place that many others have come to see, including Presidents Reagan, Ford and Bush.
Provenance Project (Hannibal, Louisiana, Clarksville)
Take a cue from this organization and visit the 50 Miles of Art on scenic byway Route 79. From town to town, watch artisans at work inside their shops, see the finished product in their galleries, and attend their annual festivals. Check out this award-winning program online and then experience it for yourself.
Crossroads Art District (Kansas City)
Peek around this cozy area of Kansas City and you'll find more than 60 art galleries and shops waiting for your arrival. Developed in vacant buildings in a portion of downtown, this grassroots area has many vibrant restaurants, shops and entertainment open to the public on the first Friday of every month.
Kemper Museum of Contemporary Art (Kansas City)
Explore the world of contemporary art at this fixture north of the Country Club Plaza. Since its opening in 1994, the permanent collection has tripled, and the exhibits still feature the work of emerging artists in rotation. The architecture of the building also creates a free-flowing, inventive atmosphere.
Nelson-Atkins Museum of Art (Kansas City)
Discover the majestic sights of this museum, which carries artwork and artifacts up to 5,000 years old. The building opened in 1933 and is undergoing construction to provide 71 percent more space. Visit the free permanent collection anytime and the exhibits on Fridays. Don't forget to take a picture with the giant badminton birdies on the front lawn.
The Daum Museum of Contemporary Art (Sedalia)
This collection of contemporary art has been collected in an effort to preserve abstract paintings, sculptures, drawings and prints for educational and public purposes. Recently opened in 2002, the permanent collection consists of works created since the mid-20th century.
Sikeston Depot (Sikeston)
Built in 1916, and a major part of transporting goods in WWI, the depot now houses the area's art and historical museum. The history of Southeastern Missouri is captured in different exhibits, both permanent and traveling. The Depot is open Tuesday through Sunday, free of charge.
Foundry Art Centre (St. Charles)
Located in St. Charles's Frenchtown district, the Foundry Arts Centre has interactive and ongoing displays of artwork. Studios in the Centre feature artists at work for visitors to watch and examine. The Grand Hall often holds performances and special events. This gallery truly brings the importance of the arts to this community.
The Albrecht-Kemper Museum of Art (St. Joseph)
This museum, opened in 1966, houses the finest collection of 18th-, 19th- and 20th-century American art. It serves as a center to educate the community and nurture regional artists. On occasion, the museum hosts wine tasting and musical performances. The Performing Arts Association, along with the St. Joseph Symphony, cohabits this building, providing year-round entertainment.
Contemporary Art Museum St. Louis (St. Louis)
Unlike most art museums, the Contemporary Art Museum in St. Louis does not have a permanent display. Instead, it features nationally recognized traveling exhibitions. Over the past 25 years, the museum has built a new location and showcases six to eight exhibits a year, which feature all types of artistic media.
Saint Louis Art Museum (St. Louis)
A major building in the 1904 World's Fair, the museum today is still a major attraction in Forest Park. Sitting atop Art Hill, the museum has more than 100 galleries and 30,000 items of historic, cultural and artistic value. Free admission to the permanent collection allows visitors to learn about nearly every historic period and place in the world.
City Museum (St. Louis)
Take the kids to this incredible museum. Walk through the mouth of a whale, climb into a log cabin in the sky, crawl through giant Slinkies and play in MonstoCity outside. Located in downtown, this is a unique experience for anyone. An everyday circus, gargoyle exhibit and arts and crafts corner will keep the whole family busy for hours.